Meet the Faces Behind our Next Ad: "Your Voice Matters"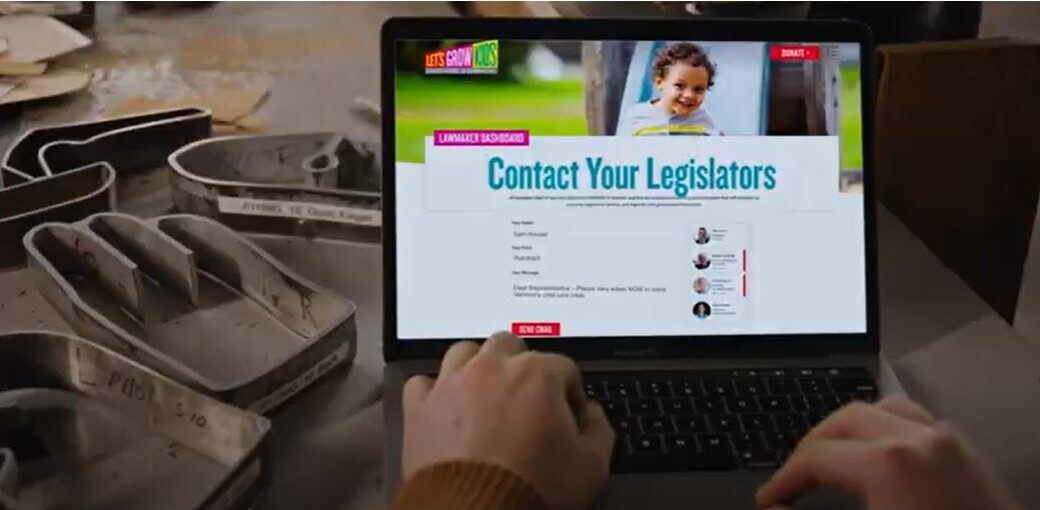 Our next ad, "Your Voice Matters," is all about inspiring action. The child care crisis impacts families and businesses just like yours all over the state. But, Vermont's child care movement has garnered so much momentum because of actions YOU have taken. Your voice truly does matter.
In the ad, we called on real Vermonters (aka, your neighbors) to highlight their child care struggles, and showcased how they're creating change through simple, easy actions.
Watch the "Your Voice Matters" ad spot below, and then learn more about the faces featured in it:



Kelsey Guarino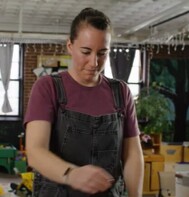 Kelsey is the lead infant teacher at Robin's Nest Children's Center, located in Burlington, where she also resides with her wife and their dog. She started working at Robin's Nest in 2018 while working toward her master's degree in psychology, but her experience at the children's center altered her path; she fell in love with early childhood education and left grad school to teach long-term.
Kelsey soon realized how child care lags affect families. "People call our center every day, struggling to find care. Other centers have a two-year waitlist," she explains, adding that the stress doesn't stop there. Teachers need second and third jobs to afford bills, which results in high turnover.
That's why becoming involved with the Child Care Campaign was "an easy decision" for Kelsey. "I am proud to be an early childhood educator," she says, "but teachers should be better compensated. It'd allow more centers to be open and create more spots for families who desperately need child care. I'm hopeful for a future when affordable, guaranteed child care is the standard in Vermont, not just the dream."

Sam Hooper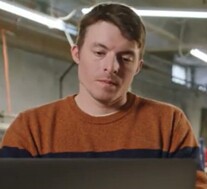 Sam Hooper is the owner and president of Randolph's Vermont Glove – a Vermont-made goat leather glove company that has been in business since 1920. From an employer's perspective, Sam understands how critical child care is to the success of his business.
"When we look at the barriers to success for a small businesses like Vermont Glove, access to affordable, high-quality child care for our employees is top of the list," he says. "Employees should not have to make a decision between showing up to work and taking care of their young children because they can't find or afford care. Yet employees around the state make this emotional decision daily because of the child care crisis, and the ramifications of these decisions are crushing small businesses."
That's why Sam's become a leader in Vermont's Child Care Campaign. "As a young person choosing to live in Vermont, it's important that we invest in our state's future," he says.
Lauren Bomalaski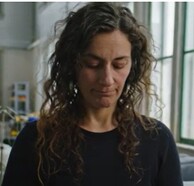 Lauren is team lead at Vermont Glove, where she's worked for the past five years. She also has two young children, ages 3.5 and 7.

While Lauren raves about the flexible scheduling and the great work environment, she says the child care crisis affects her availability for work.
"From the over-a-year-long waitlist at our local child care center to the numerous educator shortages that force early closures or last minute cancellations, I've experienced first hand how the child care crisis affects our community," says Lauren. "With very few options, my husband and I are often left to scramble for child care, resulting in one of us sacrificing a full day of work. These common situations are not sustainable for anyone in the workforce. I joined the Let's Grow Kids Campaign to contribute what I can to further the goal of making child care fully accessible to everyone who needs it in the state of Vermont."

Now you know how easy it is to be apart of Vermont's Child Care Campaign. We know the answer: One email CAN help solve the child care crisis. Spread the word!!!