Statement from Vermont's Child Care Campaign on the Start of the 2023 Legislative Session
The following is a statement from Aly Richards, CEO of Let's Grow Kids on the start of the 2023 Legislative Session and the work ahead to end Vermont's Child Care Crisis:
"This is such an exciting time when the State Legislature convenes for the first of our two-year biennium. This week we welcome dozens of new lawmakers, inaugurate our governor and state-wide officials, and continue the critically important work of solving our child care crisis. This work has been decades in the making and the child care crisis in our state has never been more dire. Vermonters have made clear, child care is essential and we can no longer afford to get by with small steps or half measures. We need a child care system that meets the needs of our children, families, and early childhood educators, and supports our workforce and economy.
"In the weeks to come, we are counting on lawmakers and our governor to advance and support legislation that provides a comprehensive and equitable solution to the child care crisis. The solution must include ongoing and long-term public investment to ensure: Every child who needs it has access to quality child care; families spend no more than 10% of their income on child care; and early childhood educators are fairly compensated. The solution must also improve the state's child care governance structure by creating a single empowered state entity to oversee the child care system. Additionally, state leaders must keep their focus on equity and accessibility, so that every child has access to care regardless of zip code, ability, racial or ethnic background, health needs, or family composition.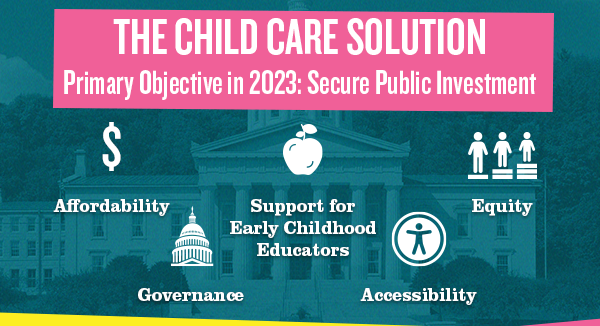 "Anything less than this is a disservice to Vermonters. This is the time for leadership to fully address this crisis and that means investing in child care as public infrastructure.
"Bringing an end to the child care crisis is fiscally responsible, it makes Vermont a more affordable and livable place and most importantly allows all of Vermont's youngest kids to thrive. When we fully invest in a system that is affordable for families and pays early childhood educators fairly, access and quality will increase. It will allow young families to stay in Vermont and relocate here reversing our aging demographic trend. It will support Vermont's working families who are the backbone of our economy and will help businesses be more successful. This is a win-win for everyone.
"Public investment in our child care system solves so many of our state's toughest challenges. Thousands of business leaders, community stakeholders, parents, and Vermonters from every corner of the state have banded together in this moment. Vermont's youngest children are relying on us to get this done."
###
About Vermont's Child Care Campaign
Vermont's Child Care Campaign is led by Let's Grow Kids, a nonprofit organization on a mission to ensure affordable access to high-quality child care for all Vermont families by 2025. With nearly 40,000 supporters, Let's Grow Kids, in partnership with Let's Grow Kids Action Network, is empowering Vermonters to advocate for sustainable child care policy change. Learn more at www.letsgrowkids.org.