In Show of Unity, Vermont Legislators Override Governor's Veto to Pass Historic Child Care Bill into Law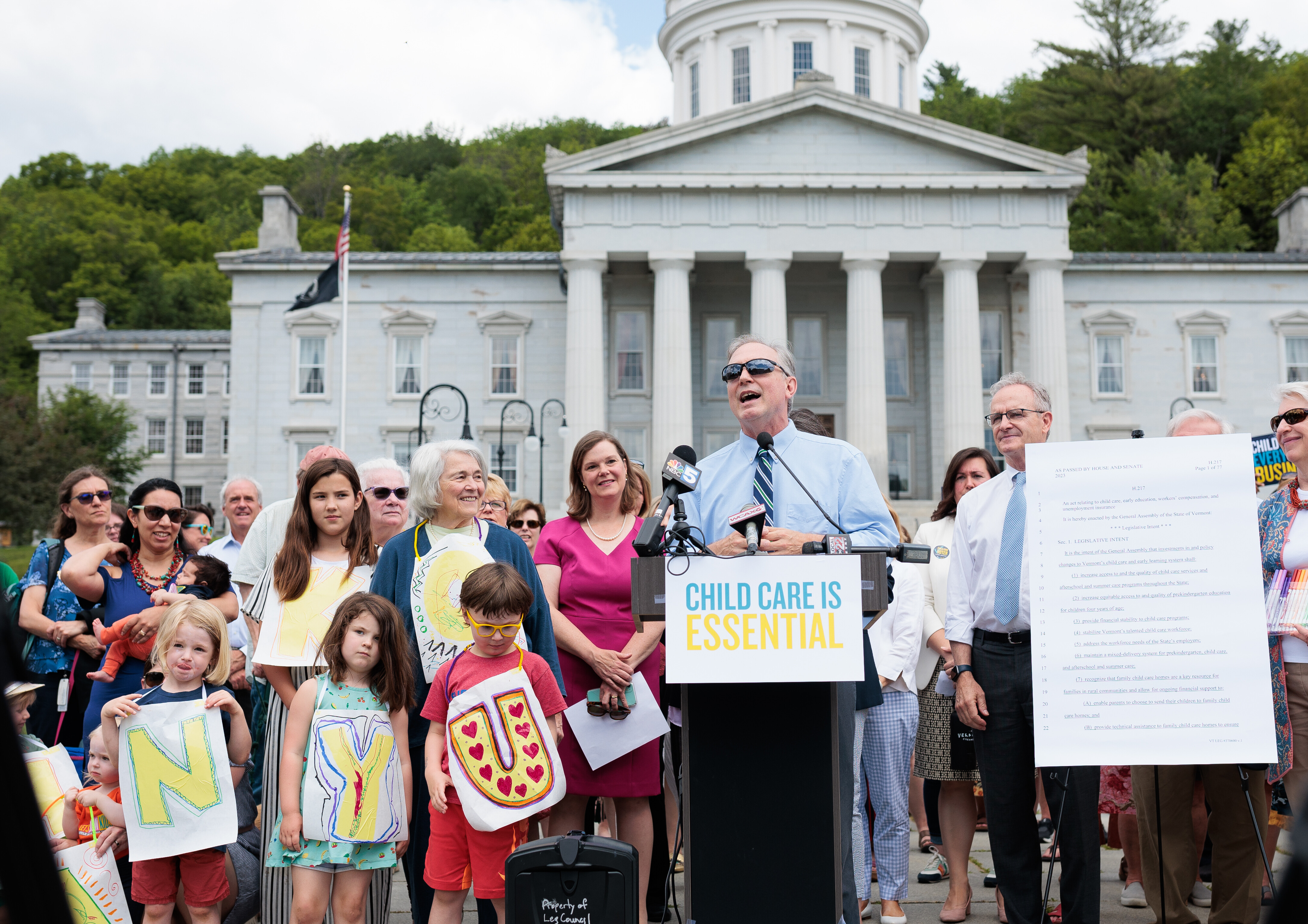 Montpelier – In a show of unity this week, lawmakers passed Vermont's most comprehensive child care bill into law. The landmark legislation, referred to by elected officials and advocates as the 2023 Child Care Bill, will make Vermont's child care system one of the most expansive in the nation. The bill will stabilize Vermont's child care sector and makes the state's most significant leap forward in providing access to affordable, quality child care for all Vermont families. On an annual basis, the bill invests $125 million into Vermont's child care system, which will make child care more affordable for thousands of families, enhance the quality of child care programs, increase compensation for early childhood educators, and provide relief and increased support to child care programs.
Today, children and their families, child care advocates, early childhood educators, and business leaders joined lawmakers on the State House steps for a child care bill celebration to highlight the bill's impact and benefits to Vermonters and to recognize the years-long effort that went into its passage. Surrounded by his legislative colleagues, Senate Pro Tem Phil Baruth began today by saying: "This child care bill represents the Legislature's unwavering commitment to transforming Vermont's child care system, making child care more accessible and affordable for thousands of Vermont families and improving compensation for early childhood educators. This is what people-powered politics looks like." Baruth was followed by the Speaker of the House Jill Krowinski, who said: "We are investing in people and investing in families in this state. Passing this child care bill is one of the most important things we can do. This shows the rest of the country what a state that truly supports families looks like."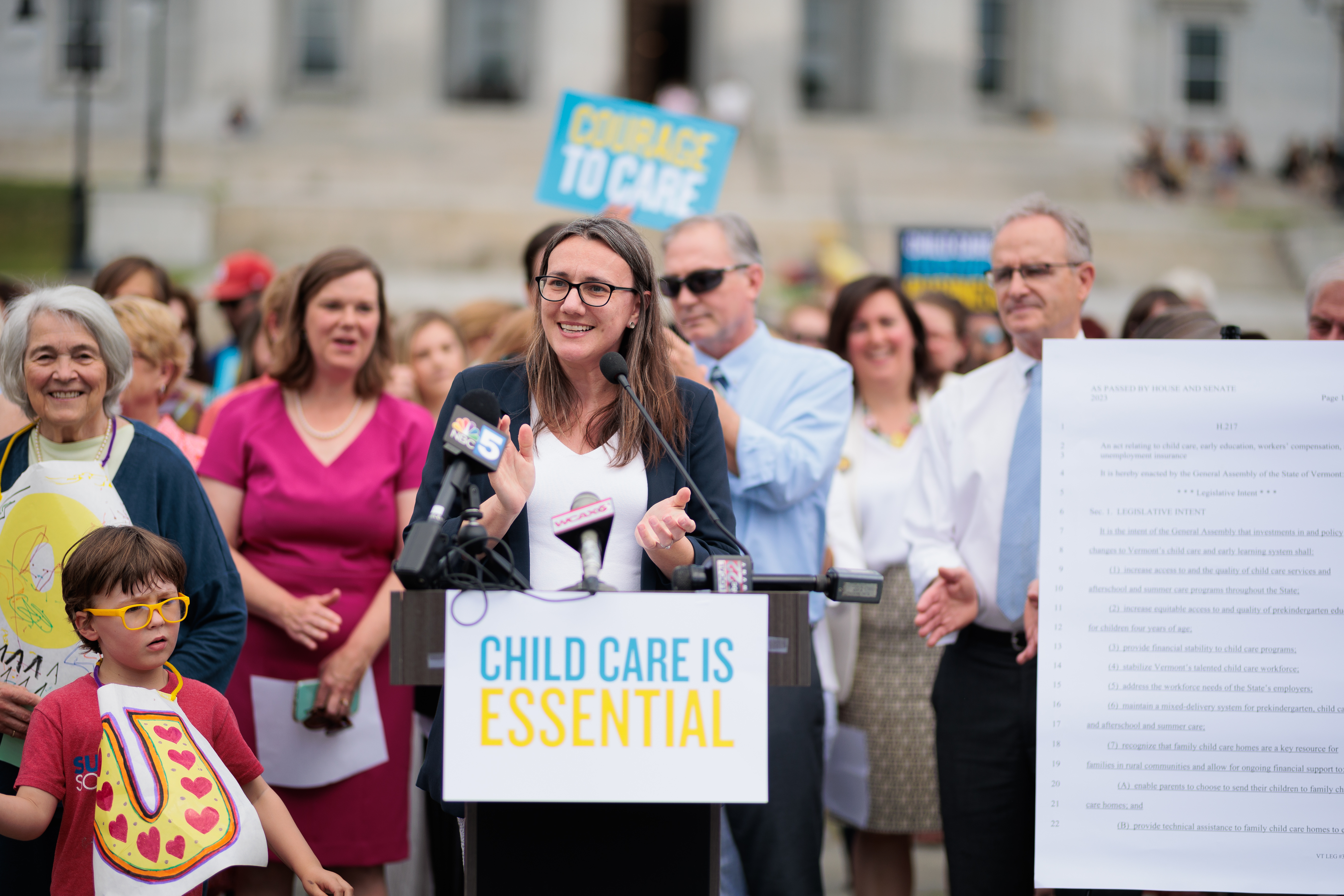 The legislation passed this week does what child care champions have been working toward for years: creates a long-term, fiscally responsible and sustainable revenue source that can fund a quality, accessible and affordable child care system. "This is a historic, celebratory moment for Vermont, one that child care advocates, parents, employers, and lawmakers have been working towards for years. The 2023 Child Care Bill will change the lives of thousands of Vermonters and is a monumental step forward for our state in addressing the ongoing child care crisis," said Aly Richards, CEO of Let's Grow Kids. "The legislation will result in a more affordable Vermont, increases access to quality, affordable child care for families, improves compensation and support for our essential early childhood educators, and provides much needed relief for child care programs in every corner of the state. This bill secures Vermont's place as a national leader in child care and this was only made possible by the tens of thousands of Vermonters who made their voices and stories impossible to ignore. On behalf of the child care movement here in Vermont, we thank lawmakers for their leadership and for having the political courage necessary to get this done. Our work does not stop today – we'll be there every step of the way to support the success of this new law and we will keep pushing forward until quality, affordable child care is a reality for Vermonters."
The bill makes Vermont the national leader for child care financial assistance income eligibility, providing support to families earning up to 575% of the federal poverty level (FPL). This will make child care more affordable and accessible for over 7,400 additional children and their families. As the bill is implemented, financial assistance income eligibility will be expanded twice in 2024; the first time in April to 400% of FPL, and then to 575% in October.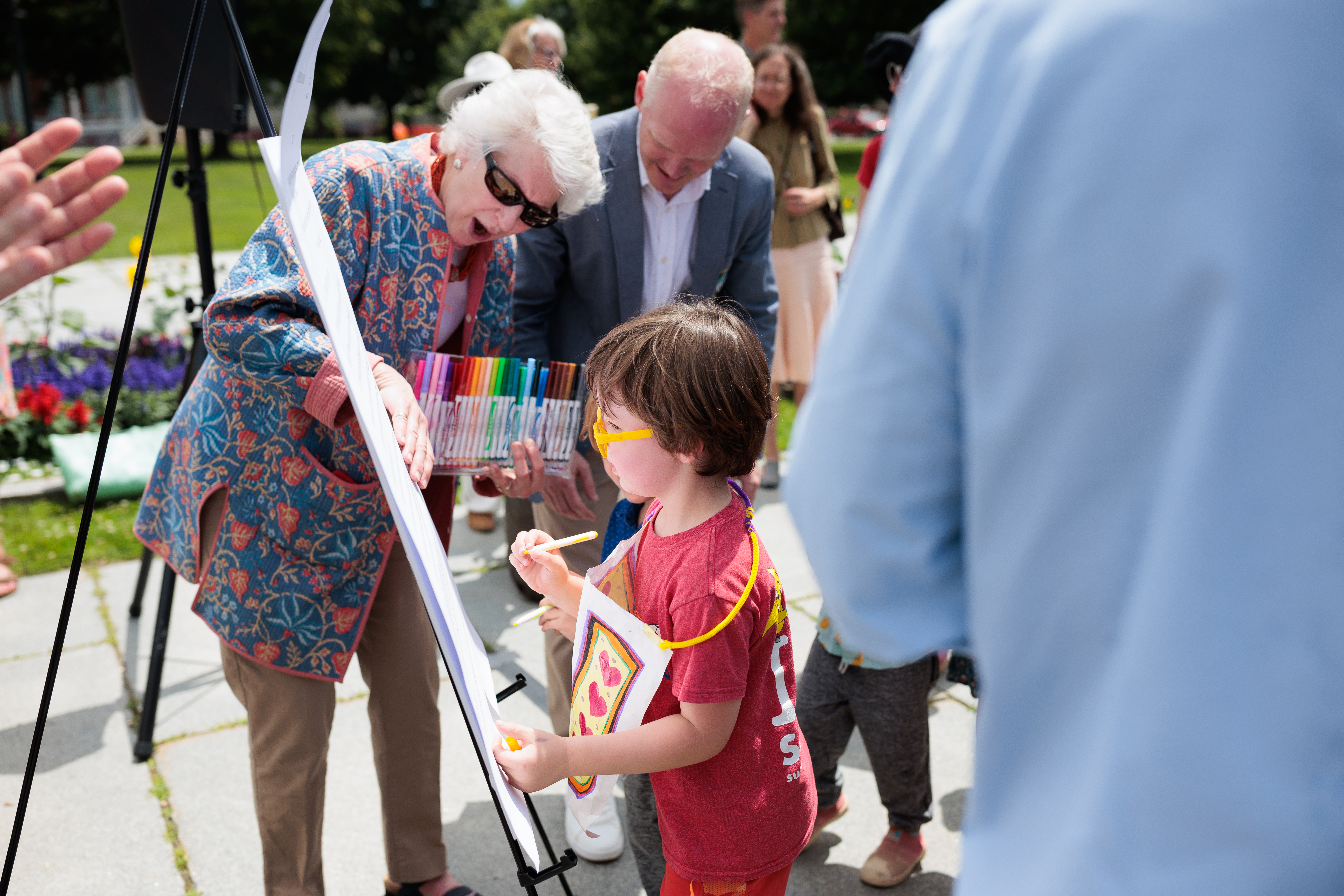 At the State House today, Vermont leaders in the field of early childhood education praised the 2023 Child Care Bill's passage into law and touted its immense benefits for the struggling child care sector: "Until today, early childhood education programs have been reducing hours and limiting spaces, trying to stay open for one more year, month or week. This is the relief that educators, families, and businesses have been waiting for," said Christina Goodwin, Board President of the Vermont Association for the Education of Young Children and Executive Director of Pine Forest Children's Center. "This bill means programs like ours can offer more spots to more families. It means financial relief for families who attend our school. It also means stability, as we can pay teachers closer to a living wage and retain our talented early childhood educators."
Under this historic bill, child care programs that have been struggling for years will see relief this summer through funding from the state to help stabilize programs and get ready for expansion. Then in 2024, the state will increase the reimbursement rates paid to programs by 35 percent – with an additional increase for family child care homes – allowing centers and home-based programs to continue to improve quality, expand capacity for families, increase compensation paid to educators and staff, and make much-needed facility upgrades. The increased investment in child care programs will lead to stronger early childhood educator recruitment and retention and enhanced resources and professional training for early childhood educators.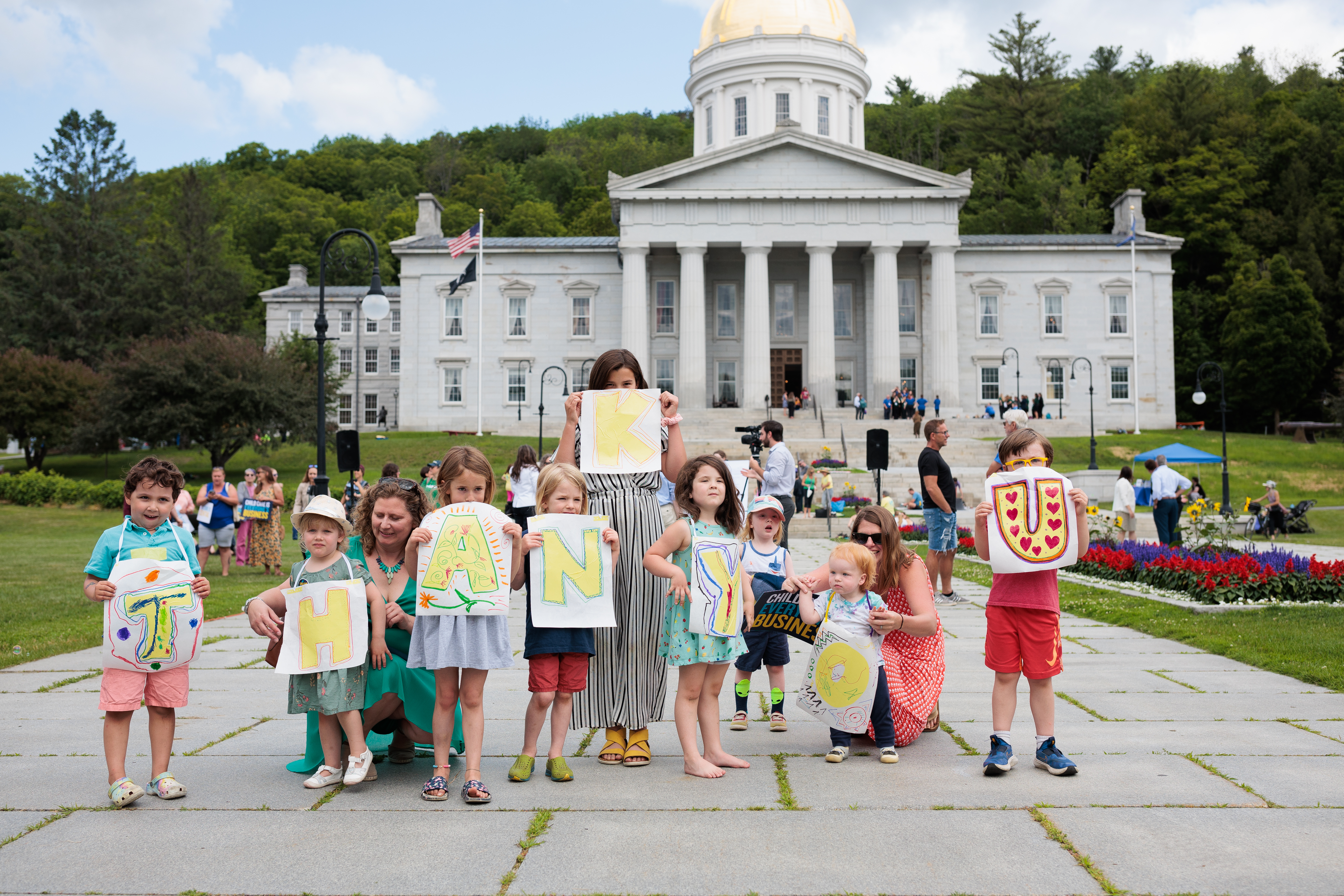 In the lead up to, and during Legislative Session this year, Vermont working parents had been vocal about the child care crisis' direct impact on their day-to-day lives. After the bill passed this week, today's celebratory event provided a glimpse of relief for working mothers and fathers throughout the state. "As a working professional and parent, I know first-hand how hard it is to find quality, affordable child care in Vermont," said Nikki Tetrault, mother of a 20 month-old and Director of Marketing at Instrumart, a South Burlington-based industrial distributor. "After spending months commuting two hours a day for child care, just yesterday my daughter started at a program in our community, and now we are only driving 15 minutes down the road. I'm already able to be more productive and present at work, as is my husband, who runs a general contracting business. My family represents just one example of how thousands of Vermont families will benefit from the increased access to affordable child care this bill will soon provide. Today, change is here."
Earlier this month, Governor Scott vetoed the 2023 Child Care Bill, setting lawmakers up for veto override votes this week. This week, the House went first and voted to override the Governor's veto with 116 votes in favor, and then the Senate finished the job with 23 votes in favor. With support from across the political spectrum, legislators easily reached the two-thirds majority threshold needed in both chambers to successfully override the Governor's veto, enacting the 2023 Child Care Bill into law.
Learn more about the bill, its implementation, and how it will impact you here.