What's in Vermont's Historic 2023 Child Care Bill?

This month, the Vermont Legislature made history by passing the 2023 Child Care Bill with overwhelming supermajority support from across the political spectrum! We commend legislators on passing a comprehensive child care bill that will change the trajectory of our state. Many of you are wondering what's exactly in the bill and what happens next!
There's a lot in this bill so we've broken down what the bill does, how the funding works, and what the next steps are. Here's what you need to know:
What is in this bill?
The 2023 Child Care Bill makes Vermont's child care system one of the most expansive in the nation. The bill will stabilize Vermont's child care sector and makes a quantum leap forward in providing access to affordable, quality child care for all Vermont families who need it. The bill includes long-term, sustainable public funding that will make a difference for years into the future — not just for young children, their families, and early childhood educators, but also for businesses and our state's economy. On an annual basis, the bill will invest $125 million into Vermont's child care system.

The 2023 Child Care Bill also expands income eligibility for families so they qualify for the state's Child Care Financial Assistance Program (CCFAP). Vermont is a national leader in this way, and this bill provides support for families earning up to 575% of the federal poverty level — $172,500 for a family of four.

The highlights:
Accessibility: The bill invests millions of dollars to recruit and retain child care program staff; help programs expand to better meet demand; offer non-traditional hours of care; and expand access to culturally competent and multilingual programming.
Affordability: An estimated 7,450 more children and their families will have access to child care financial assistance!
Quality: Through increased funding, child care programs will be able to raise early childhood educator compensation and invest in quality programming.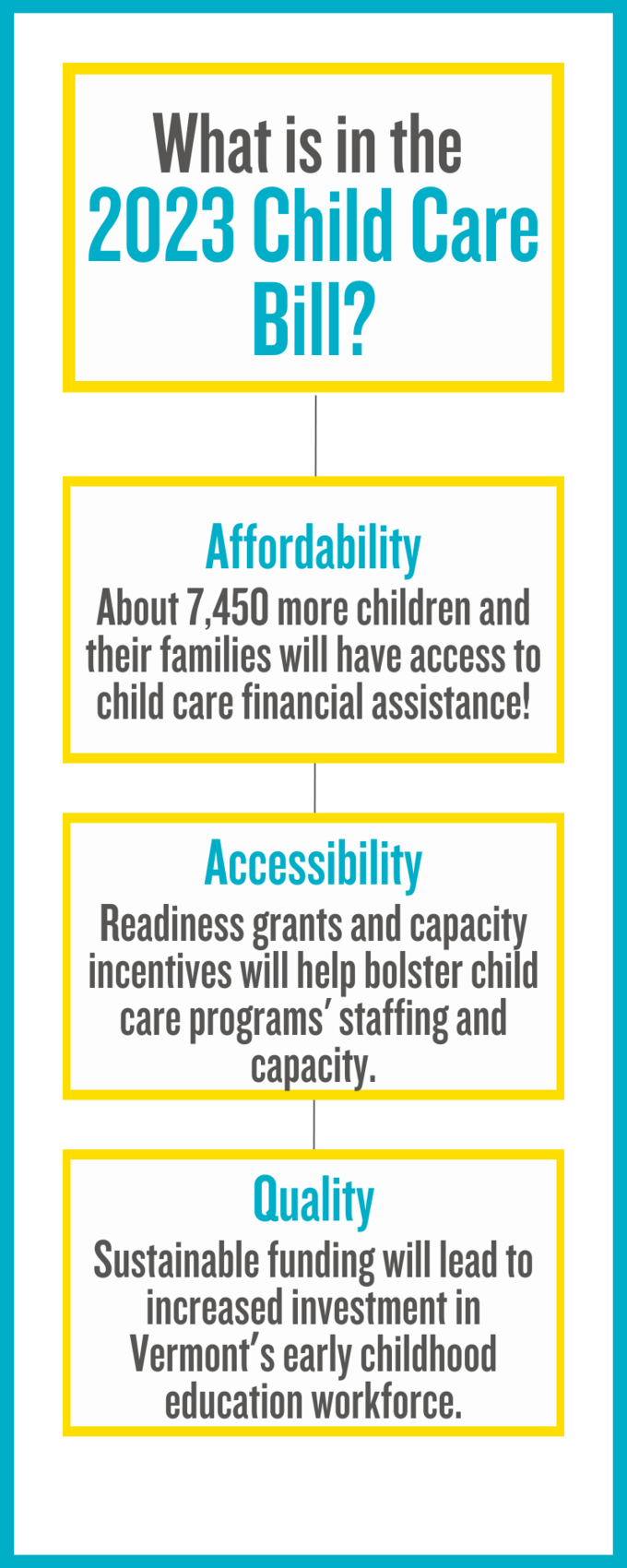 When will these changes happen?
The short answer: changes will start this summer! The bill makes significant investments in Vermont's early childhood educators and child care programs. Additional funding will go to child care programs starting this summer. The bill invests $20 million in one-time "readiness payments" to support child care programs in preparing for the expansion of the child care subsidy system. These readiness payments will be used to support and sustain the ECE workforce; improve facilities; increase capacity, especially for infants and toddlers; expand the number of family child care homes; expand child care hours of operation; address gaps in services; and other priority needs.
Additionally, in an effort to ensure more access for families, child care programs participating in CCFAP will benefit from an increase in reimbursement rates (the funds paid directly to a child care program on behalf of an eligible family). All child care programs will now receive reimbursement rates equal to what programs with a 5-Star program designation currently receive. STARS is the state's quality recognition system, and this change ensures increased equity across the state. (Learn more about how public investment helps boost child care program quality here.)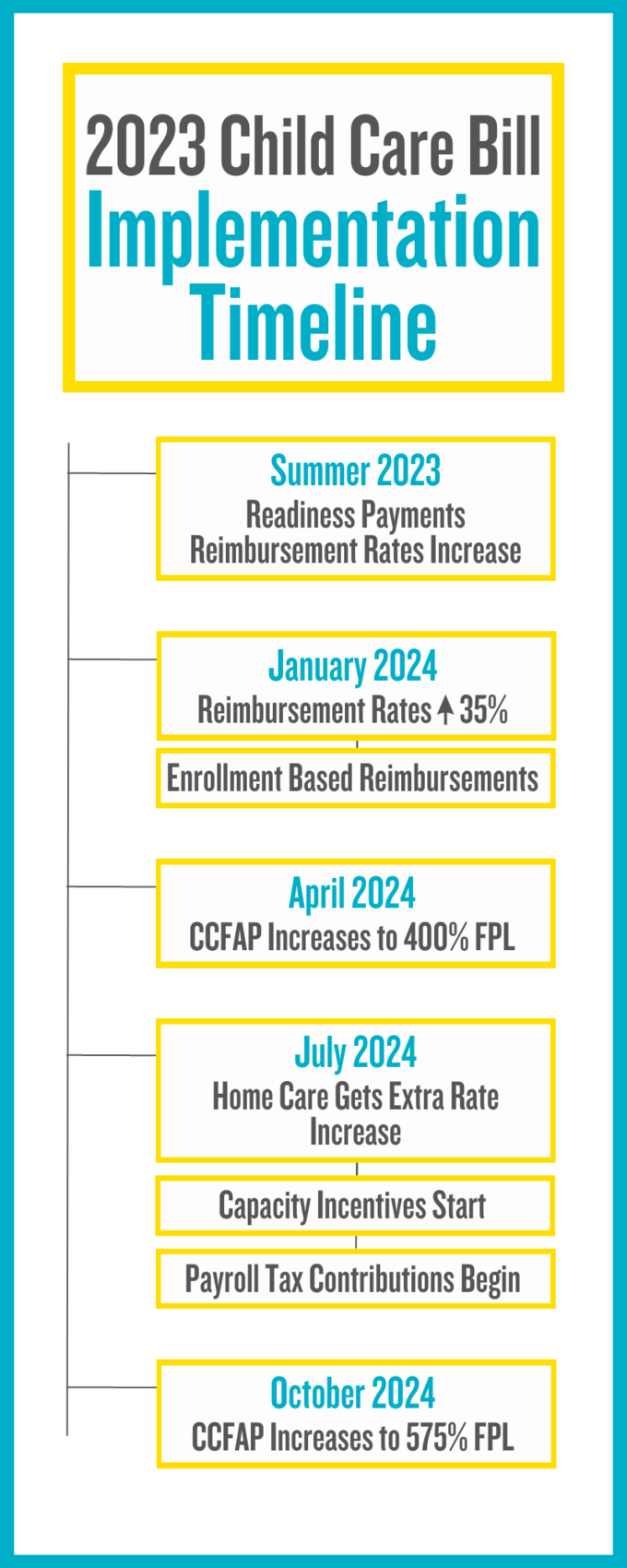 Major Investments to Come in 2024
In January 2024, CCFAP reimbursement rates will increase 35 percent. The 35% increase moves the state almost halfway towards reimbursing programs based on the true cost of providing quality care as outlined in the 2023 RAND report. Notably, reimbursement rates will also shift from attendance-based to enrollment-based, which will provide stability and predictability to programs. In July 2024, family child care home programs will also receive an additional investment to begin to address the gap between home- and center-based reimbursement rates.
The bill also expands the income eligibility cap for child care financial assistance. The current income eligibility for families is capped at 350% of the federal poverty level (FPL) – or $105,000 for a family of four. By the end of October 2024, the income eligibility cap for financial assistance will expand to 575% FPL –or $172,500 for a family of four. Again, this will make Vermont the national leader in child care financial assistance income eligibility, making child care more affordable for thousands and taking a huge step towards the goal of no family spending more than 10% of their income on child care.
The bill will also expand the number of families who qualify for free child care. Currently families with an income at or below 150% FPL ($45,000 for a family of four) have no copayment; starting in April 2024, families with an income at or below 175% FPL ($52,500 for a family of four) will have no copayment.
Also included in the bill is a new, ongoing child care quality and capacity incentive program, where the Legislature intends to earmark $10 million annually beginning in July 2024 for the purpose of incentivizing child care programs to do the following:
Engage in continuous quality improvement;?
Expand or maintain infant and toddler capacity;
Provide non-standard hours of care;
Increase culturally competent child care and multilingual programming, as well as child and family support services similar to Head Start programming; and
Address other priority needs identified by Child Development Division.
Laying the Foundation for Future Success
Professionally Compensating ECEs
The 2023 Child Care Bill also sets the stage for minimum pay standards for early childhood educators in the future (standards that will make sure no early childhood educator earns less than a set amount). It calls for those future pay rates to align with the recommendations of the Vermont Association for the Education of Young Children's Advancing ECE as a Profession work.
Governance, Accountability, and Technical Assistance
The 2023 Child Care Bill calls for the Agencies of Education and Human Services to create plans to reorganize in order to elevate the status of child care and early education across state agencies. It also details a specific role for Building Bright Futures, the state's early childhood public-private partnership, to ensure successful implementation. BBF will be responsible for monitoring implementation and transitions, working with stakeholders to develop benchmarks, and define and measure success.
Better Support for Children with Special Needs
Vermont has a Special Accommodation Grant program to assist child care programs to help families with children with special needs in accessing child care (for example, to provide a one-on-one aide or specific equipment for the child while they attend child care). However, those funds have been difficult for many child care programs to access and funds have run out before all needs are met. The 2023 Child Care Bill addresses this by asking the State to restructure the grant program to better meet the needs of children with special needs who are in child care programs.
What are the Next Steps?
This moment is the result of YOUR years-long commitment to solving the child care crisis, your hard work, and your courage to advocate for change! And now, while there's still more work to be done to turn this policy into law, we want to take a moment to celebrate and thank our lawmakers for getting the 2023 Child Care Bill this far!
We'll let you know when the bill arrives on Governor Scott's desk; at that moment, we'll need your help in urging him to sign the bill.