River Branch Community School Responds to Vermont's Catastrophic Floods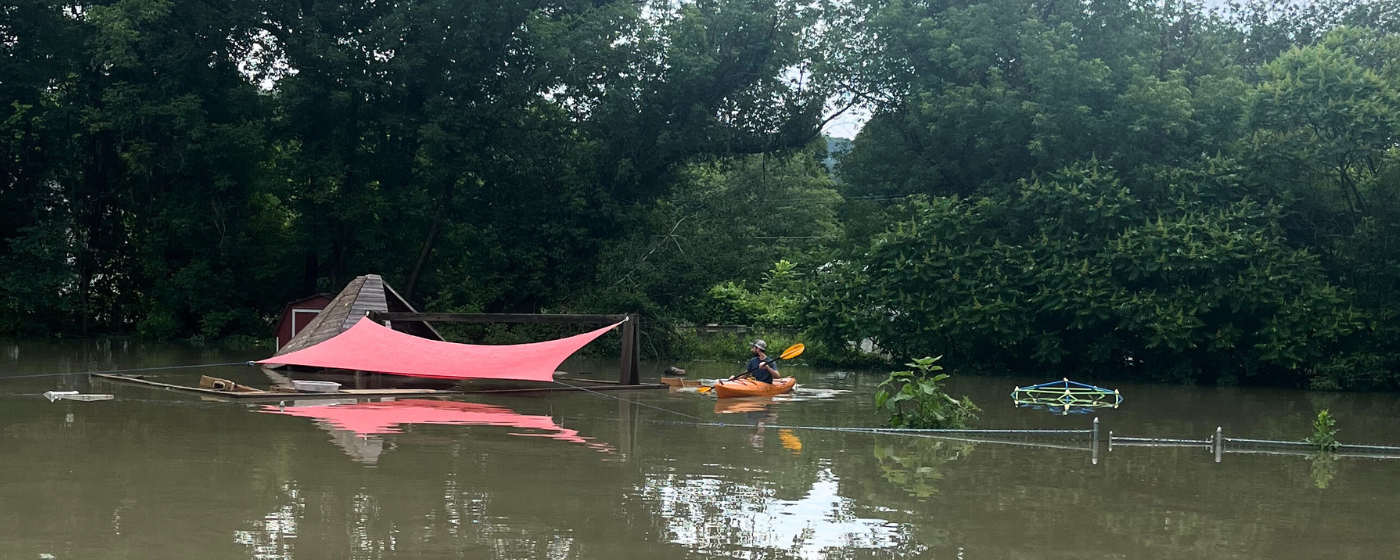 Authored by Victoria Ward, executive director of River Branch Community School in Waterbury.

Last month, our child care program launched its rebranding, which included a name fit for our location by the Winooski River and our nature-based, 0-5 program in Waterbury. We didn't expect the river to respond.
The River Branch Community School integrates years of work developing a vision for what was formerly The Children's Early Learning Space. It launched on July 1, 2023. It's as if our new name foreshadowed the catastrophic rains that came, causing the river to overwhelm our property and displace our kids, our tenants, and even our staff.
When we purchased the Main Street building in 2021, it was a dream come true. But on July 10, 2023, our critical play area and gardens sat four feet underwater, while our picnic tables, shade structures, and other materials floated above it. Our septic system became unusable. And two of the three first-floor apartments flooded, one of which housed one of our early childhood educators.
The first time I saw the damage, I cried – years of hard work and progress just washed away.
Without access to toilets and sinks, we were closed for a week, a significant burden for our families, some of whom were impacted by the flooding themselves. With community support, we temporarily moved our 19 preschoolers to Brookside Elementary. Our children had lots of questions. They hear "flood," and they see several feet of water covering the beloved landscape that they interact with daily. Staff balanced programming and supplies between the two schools, while taking more time to comfort and reassure our kiddos in an unfamiliar space. Meanwhile, parents shuttled between locations to pick up multiple children. There was alot of stress on everyone.
I cannot speak enough about how quickly our community jumped in to assist. The labor and knowledge base that parents offered helped us to find our feet quickly. Even our displaced educator stayed optimistic; "we can do this," she said.
We are lucky to have received such overwhelming community support. But the reality is that our field has long been underfunded and under-supported.
If you speak to any child care program director, they'll tell you there's never enough time to do what we need to do – even on a good day. As early childhood educators, we are trained to stay flexible and pivot – and that's what we're doing. But my question looking forward is: to what extent do we continue to stress an already maxed-out child care system? As we saw before the flooding arrived, the pressure on our child care programs ripples out into our communities, with families also bearing the brunt of staffing shortages, closures, and now, environmental disasters.
Act 76 – Vermont's historic child care bill passed in 2023 – is a quantum leap forward in mitigating this stress. This new law will bring the long-term investments we need to support a more resilient child care system.
As many throughout the state rebuild homes and business, let's continue to invest in a child care system that works for Vermont's future. Join me in supporting Vermont's Child Care Campaign to ensure we're building a resilient child care system.
Victoria Ward is the executive director of River Branch Community School, a nature-based, 0-5 child care program located in Waterbury. She is passionate about the educational opportunities available for children in the natural world and strives to connect future generations with the outdoor environment.