Vermont Makes Child Care History with a Bipartisan Veto Override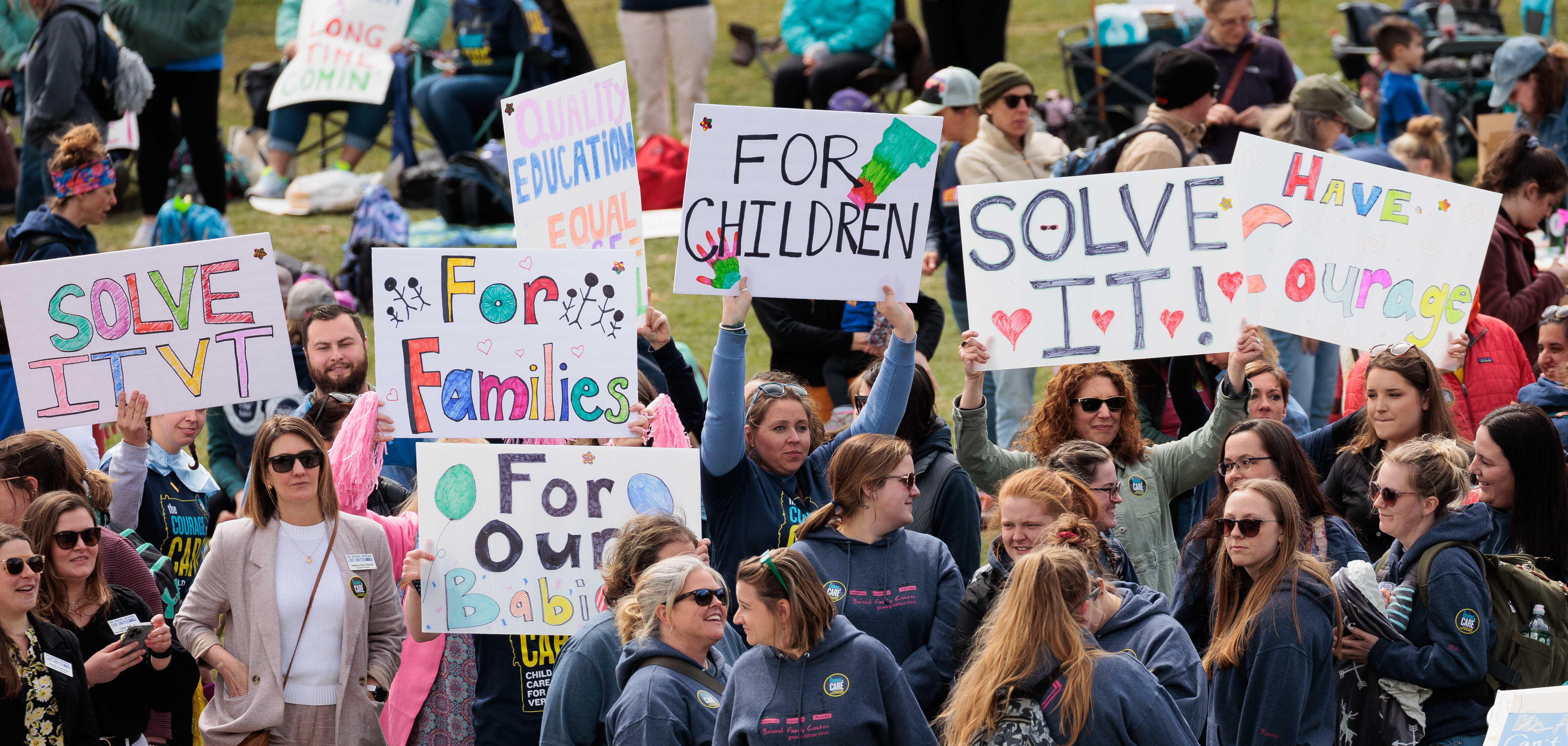 On Tuesday, June 20, Vermont's state legislature met in a special legislative session to consider a bipartisan veto override of a number of state-wide priorities, including $125 million to shore up the state's child care infrastructure. The House voted to override the Governor's veto with 116 votes in favor; the Senate voted to override with 23 votes in favor, easily reaching the two-thirds majority threshold needed in both chambers to successfully override the Governor's veto and bring about a historic funding increase for child care and early education.
In a country that lacks any federal infrastructure for child care, state efforts like Vermont's are charting a course forward on what a more universal care economy could look like for families.
How did it happen? Vermont's efforts come after a decade of advocacy, lobbying efforts and coalition building to shore up a strong majority in favor of universal child care in the state. The state's aging workforce meant incentives were needed to recruit and retain young families to the area – and the availability of stable, affordable child care allows more parents to work and stay in their jobs for longer periods of time.
The money for the child care plan will expand the subsidies to families with incomes up to 575% of the federal poverty guidelines. In addition, Aly Richards, CEO of Let's Grow Kids, explained how money was also set aside to increase pay for child care workers. This will be funded from a .44% payroll tax, which is split between employers and employees.
Vermont has caught national attention, particularly among advocates and educators, for its bold and comprehensive approach. The process to get the initiative over the finish line was unique as Vermont is the only state with a Democratic veto-proof majority and a Republican governor.
"The dynamic that played out in Vermont shows what is possible when you have committed legislators, cultivated over years by grassroots organizers, advocates and community members speaking out on the importance of comprehensive investments in child care," said Nina Dastur, director of state and local policy for Community Change, a national racial and economic justice organization. "We're seeing the importance of grassroots organizing and everyday peoples' participation in elections making real, tangible change for the better. The boldness of this veto override is backed by the community."
In his comments explaining his reason for his Veto, Governor Scott explained that he had used the $390 million in surplus revenue "to fund many of these shared priorities like child care, voluntary paid family and medical leave, housing, climate change mitigation, and more." But the initial child care funding had been primarily geared toward families paying less for care. And while the lack of affordability is a crucial piece of the child care crisis, another aspect is the low wages that the providers make, or the very thin or nonexistent profit margins that child care centers face. The additional payroll tax funding is designed to boost wages for providers and increase the subsidy amount they receive for each child enrolled – allowing centers to compete for and retain staff, and to be more financially soluble long term.
Many early childhood education programs in Vermont had been reducing hours and limiting spaces to try and stay open, explained Christina Goodwin, board president of the Vermont Association for the Education of Young Children and executive director of Pine Forest Children's Center. "This bill means programs like ours can offer more spots to more families. It means financial relief for families who attend our school. It also means stability, as we can pay teachers closer to a living wage and retain our talented early childhood educators."
Changes will go into effect beginning in summer 2023 with $20 million in one-time "readiness payments" to support child care programs in preparing for the expansion of the child care subsidy system. Then through new public investment in January 2024, programs will receive a 35% reimbursement rate increase. Providers will also receive reimbursements based on enrollment and not attendance, which can be crucial for providers for staffing and planning purposes, and critical for more vulnerable populations that are subject to disruptions. More changes continue through 2024, culminating with the child care subsidies reaching the state population at 575% of the federal poverty level in October 2024.
The success in Vermont took over a decade to come to fruition, but it's possible that— similar to policies like paid family leave—other states can see Vermont's actions as a model to emulate. "The public demand for child care legislation in Vermont is loud and clear and legislators heard that cry," said Julie Kashen, director of the Women's Economic Justice and senior fellow at The Century Fund, where she writes about child care policy. "When the public demand meets the political will, elected officials can overcome obstacles to lead the way on child care."
This article was written by Rebecca Gale, and was originally published via Early Learning Nation on June 27, 2023.