Child Care is Essential; 5 Reasons Why we Need Action on Child Care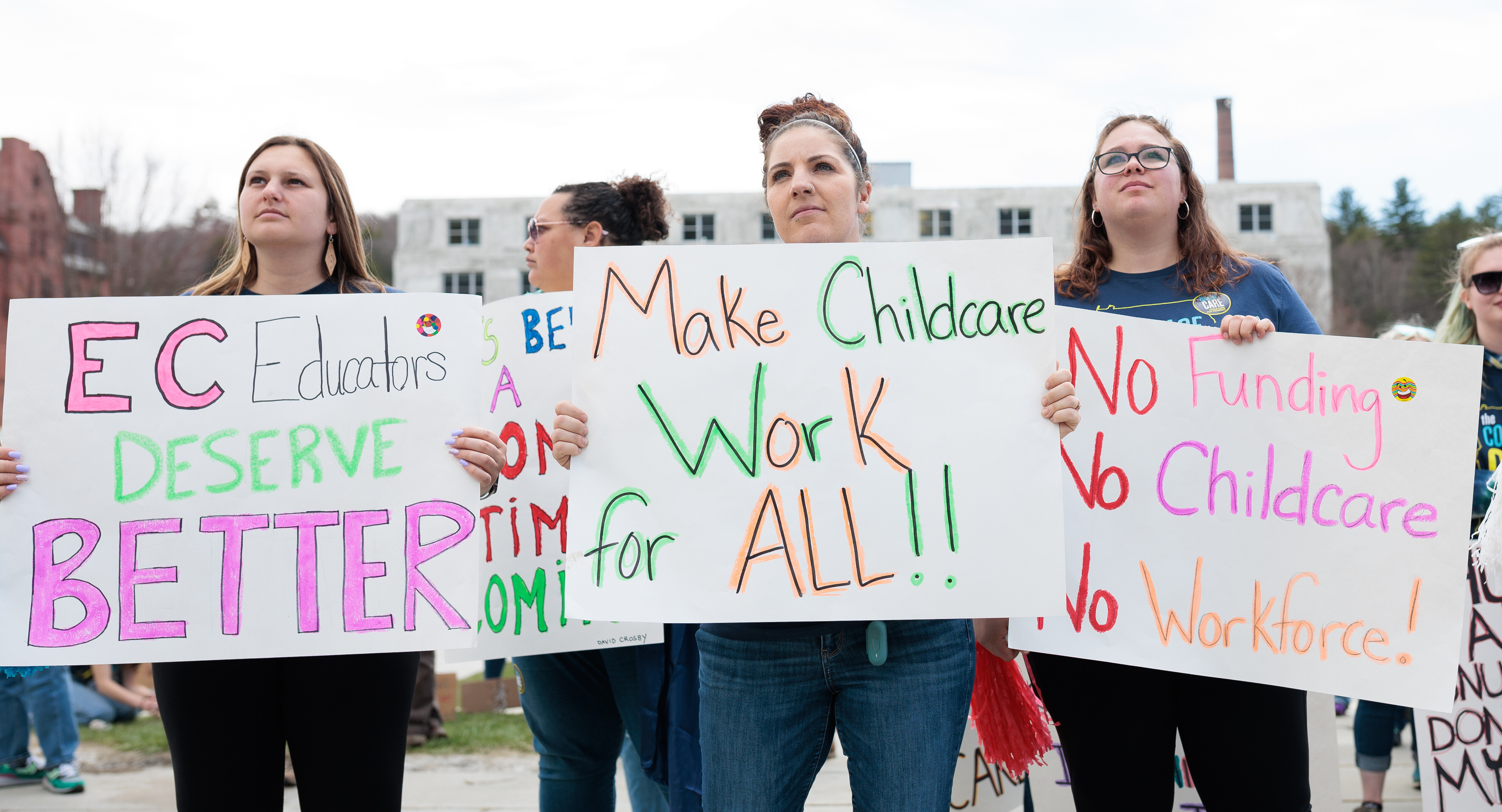 Vermont's child care crisis has never been more dire, and it continues to greatly impact our youngest kids, their families and every one of our communities. As it currently stands, if families secure child care for their young children, they struggle to afford it. The educators we trust to care for and engage our children all day do not make enough money to get by. And the people who pay the price for this scarcity is everyone else – business owners don't have employees due to a lack of child care, and resources are stretched thin when there is a limited workforce. Educators burn out; parents burn out. And lastly, our youngest children don't get the foundation they need to thrive.
But this escalating crisis has also resulted in a historic movement. Vermont's Child Care Campaign is 40,000 strong, and nearly 1,000 of you convened on the State House lawn only weeks ago to urge lawmakers to act.
Vermonters need long-term public investment in child care – and they've been advocating for it for years. Here's what's at stake: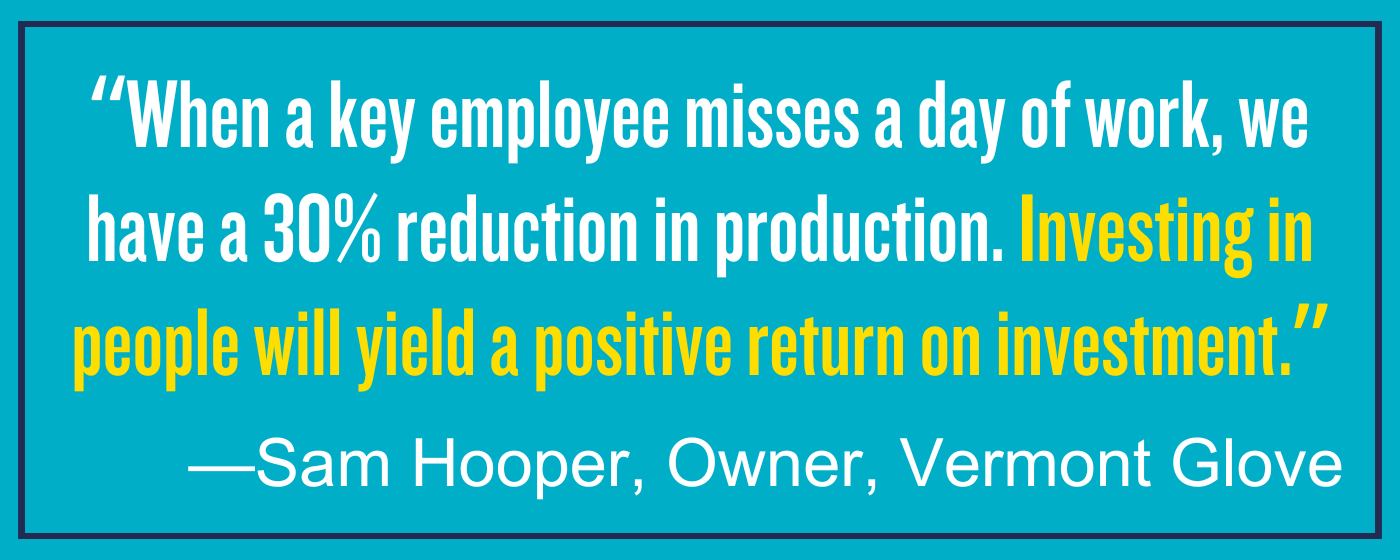 Vermont's Economy.

In Vermont, 76% of parents with children under 5 years old are in the labor force – meaning they likely need some form of child care while a parent works. With affordable, quality child care, thousands of additional parents could be able to participate in Vermont's workforce.
"We need to ensure that our employees can come to work and financially support their families, while also having safe and reliable care for their kids," explained Sam Hooper, owner of Vermont Glove, to Senate committee members. "When a key employee misses a day of work, we have a 30% reduction in production. Investing in people will yield a positive return on investment."
When businesses are able to hire the workforce they need to expand, the indirect annual economic impact nears $375 million, with another $68.8 million in spillover effects as a result of the business growth and increased buying power.
"Our communities will thrive when we address the critical need for child care," says Sean Larkin, CEO of OnLogic. "When we support each other, everyone benefits."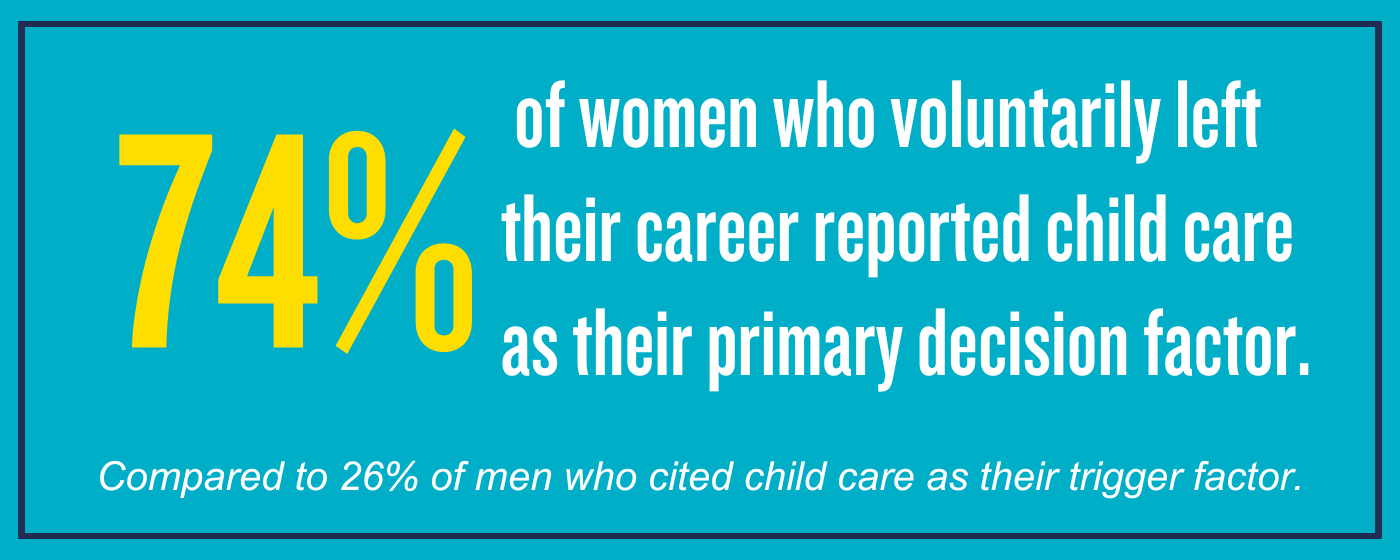 Gender Equity.
When child care becomes unaffordable for families, women pay the price. The child care crisis disproportionately affects women; nationally, women leave their jobs at higher rates than men to address families' child care challenges. As of January 2023, women's labor force participation is 58.3% nationally. Seventy-four percent of women who voluntarily left their career reported child care as their primary decision factor.
More locally, Vermont was one of the top three states in the US for child care disruptions – which include daily staffing shortages and program closures. This again primarily affects women, 56% of whom take on more than half of the household child care duties even though they work full-time.
These child care disruptions disproportionately affect women of color, who tend to fill essential frontline occupations and have less flexibility than peers performing remote work.
"It takes time, energy, and money to build our support networks to raise our families. We can no longer fend for ourselves to build our village," said Mieko Ozeki, owner of Radiance Studios and cofounder of Womenpreneurs.
These examples of gender inequity disempower mothers across the state by affecting their finances, their career trajectories, and their health. They also cripple Vermont's economy.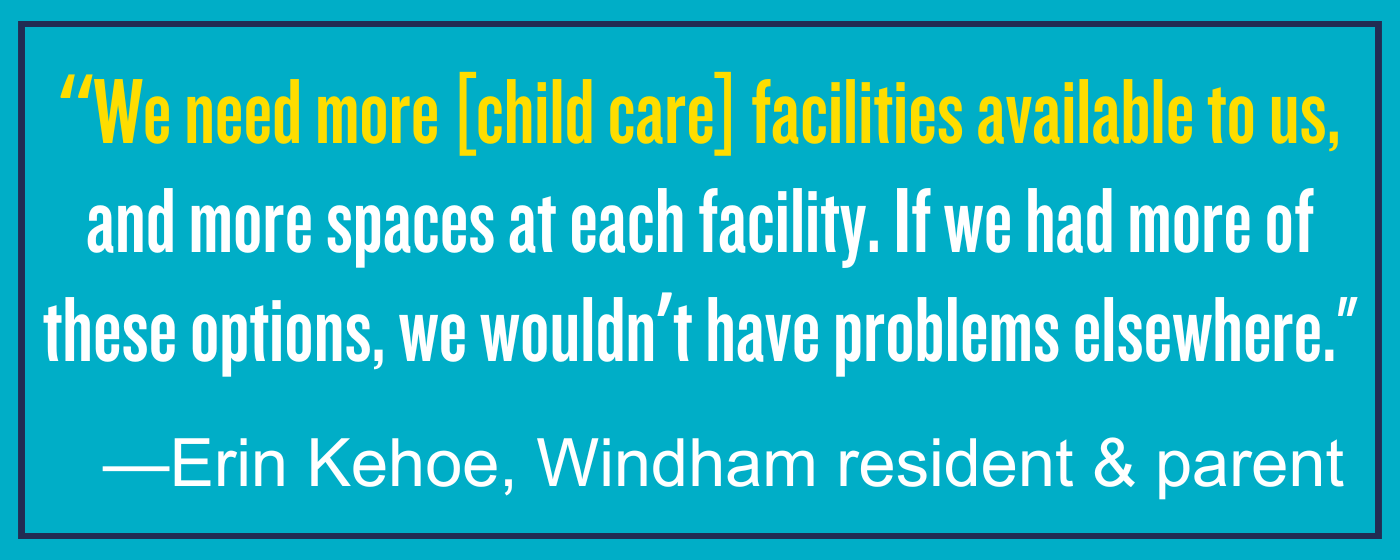 Rural Communities.
More than 60% of Vermont's youngest children likely to need child care currently live in a child care desert. In some of Vermont's most rural areas, that number is as high as 90%. Residents report having to drive 80 miles or more each day to access child care so parents can remain in the workforce.
"We need more facilities available to us, and more spaces at each facility," says Windham resident Erin Kehoe, who drives 32 miles one-way to access child care for her youngest child. "If we had more of these options, the rest of the business sector would grow, and we wouldn't have problems elsewhere. But it all comes down to having child care."
Governor Scott acknowledges the needs of rural neighborhoods in his proposed Rural Infrastructure Assistance Program, state aid that would assist Vermont's underserved communities – ones with few people, high social and economic needs, and few resources to make changes.
By sustainably investing in child care, rural communities and business have the opportunity to maintain a more consistent workforce, increase child care slots, and better service their communities – which in turn creates economic spillover and expansion opportunities in those communities.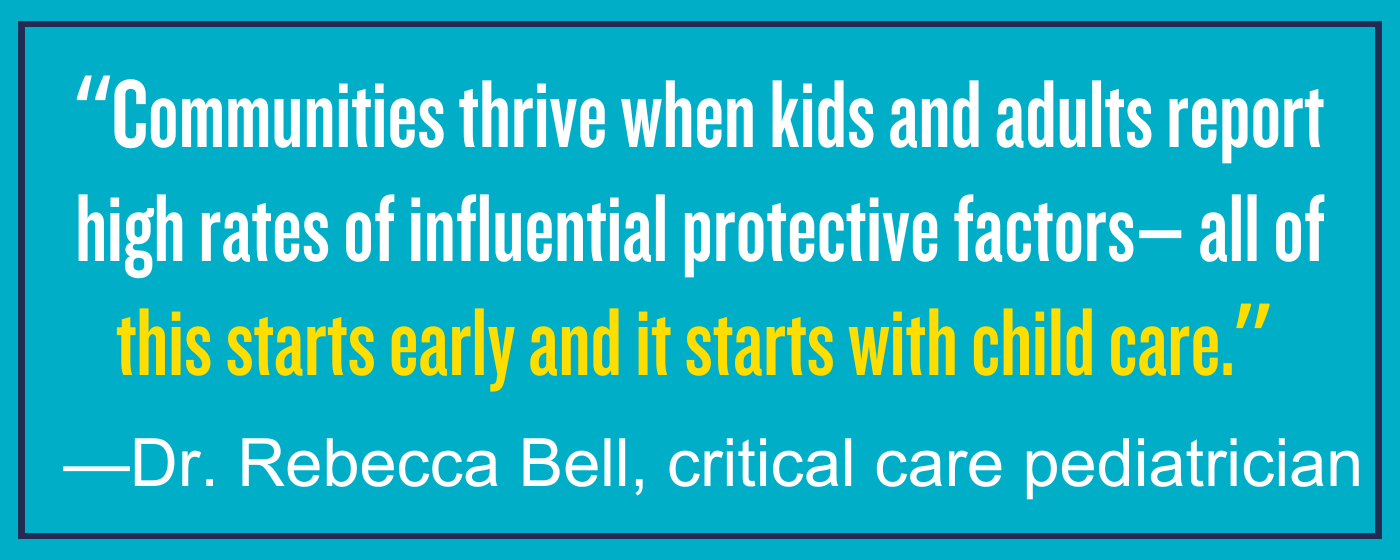 Future Generations.
At the end of the day, public investment in child care is all about supporting future generations, and one of the best ways to do that is to ensure a healthy start.
"Pediatricians rely on information from important people around the child, like parents and early childhood educators, to help them best support each child and family," said Dr. Rebecca Bell, a critical care pediatrician and president of the American Academy of Pediatrics, Vermont chapter. "Early childhood educators are perfectly positioned to do developmental screenings for children in their care."
Early childhood education also ensures stimulating, hands-on learning, which is crucial to a young child's growth and development when 90% of the brain is developed by age 5. Quality programs also offer activities proven to promote healthy social and emotional development and nurturing relationships with caregivers while also keeping children safe.
More than 70% of Vermont's infants and toddlers have both parents in the workforce, so having access to quality child care and staff who are educated in the field of early learning and development only improves their future success. In fact, children in quality programs are less likely to be held back a grade and are less likely to commit a violent crime.
"Communities thrive when kids and adults report high rates of influential protective factors like: consistent, positive relationships with trusted adults, community connectedness, and a strong sense of belonging – all of this starts early and it starts with child care," said Dr. Bell. "Well-supported, high-quality child care leads to healthy kids, healthy families, and healthy communities."
Making more quality child care available to every child and family who needs it is an investment in our future.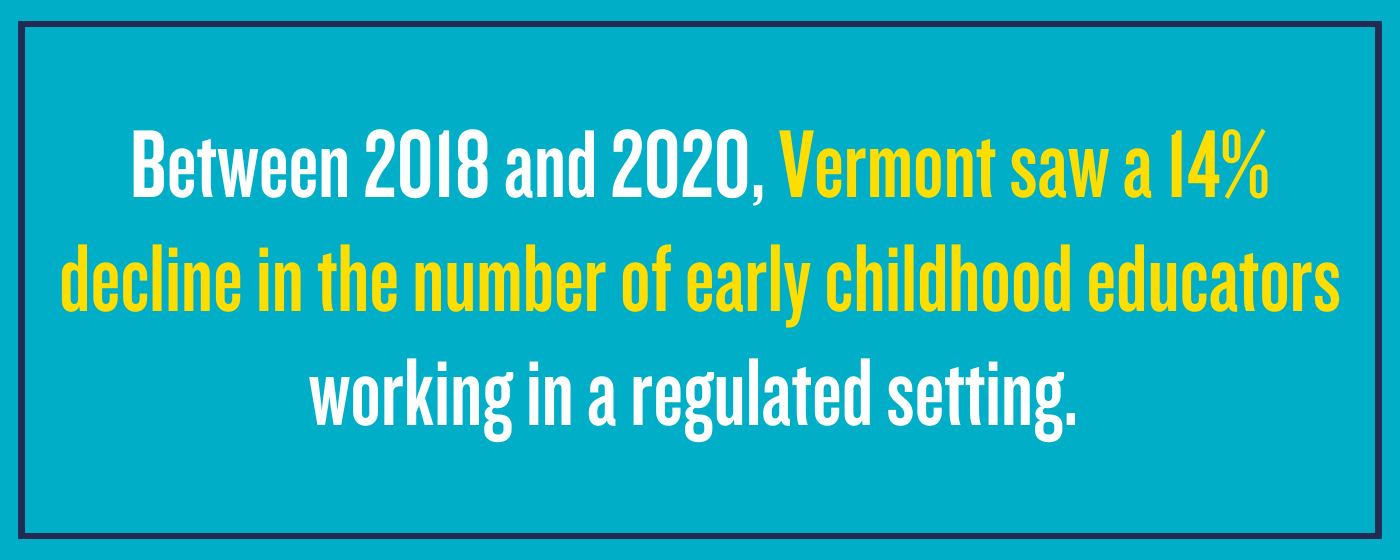 Vermont's Child Care Sector.
Vermont needs upwards of 8,000 additional child care slots statewide to meet the current demand. But according to a recent survey by the First Children's Finance, most programs reported a staffing shortage that results in under enrollment.
Low pay, along with little to no benefits or professional training, has left a gap in the child care sector. Between 2018 and 2020, Vermont saw a 14% decline in the number of early childhood educators working in a regulated setting.
"The foundation of quality child care is quality educators who are invested in the work they do. But first, those teachers need to be invested in," said Caitlin D'Onofrio, toddler teacher at Robin's Nest Children's Center in Burlington.
Vermont's early childhood educators, the majority of whom are women, earn a median hourly wage of $14.07 and a mean annual salary of $32,950. Comparatively, a kindergarten teacher with similar qualifications will make $20,000 more a year.
"You want to make sure the people who are taking care of your kids everyday are taken care of," said Sarah Rhatigan, a Springfield resident who is also on the Board of Directors at Stepping Stones Preschool in Proctorsville. "It's one of the most important jobs I can think of."
To open more child care slots, programs need public investment that they can use to pay their employees what they deserve, attract and retain talent, reduce turnover, and better support community needs.
For years, Vermonters have called for a fully-funded solution to the child care crisis. Early childhood educators are the workforce behind the workforce, and investing in the childhood sector undoubtedly benefits the whole state. Vermont's children, its families, its employees, and its communities deserve a long-term solution. Public investment in the communities that exemplify Vermont's values and way of life is the right thing to do, and time and time again, Vermonters have urged lawmakers to address the child care crisis.
Vermont's child care movement has one clear ask to lawmakers: Pass the 2023 child care bill. The finish line is in sight.
Ready to pass a 2023 child care bill that benefits all Vermonters? Tell your legislator to vote YES on S.56, the 2023 child care bill.