VTDigger: Health care group plans to build day care for 125 children at former Bennington college campus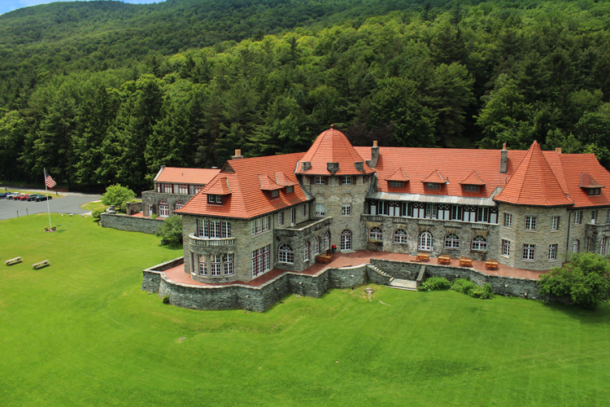 A Bennington health care group plans to build a child care center at the former Southern Vermont College campus with the help of $827,000 in congressional funding.
Southwestern Vermont Health Care, which operates Southwestern Vermont Medical Center in Bennington, plans to increase its child care slots by constructing a facility that can accommodate up to 125 children. That is twice the capacity of its existing day care, Learning Tree Child Care, which is licensed for 59 children from 6 weeks to 5 years old.
Learning Tree is struggling to cope with demand, fielding calls from prospective clients almost every day, said Kevin Dailey, the health care group's vice president of administration and chief human resources officer.

And leaders know the organization's sustainability is related to its ability to offer child care — especially amid a child care crunch statewide.
"It ties directly to our ability to recruit and retain our own workforce," Dailey said.
Vermont currently lacks regulated child care for an estimated 8,750 infants, toddlers and preschoolers around the state — children between 6 weeks and 4 years old, according to a February report from Let's Grow Kids. The nonprofit organization's work includes providing grants and technical assistance to Vermont child care programs in an effort to increase their availability and quality.
In Bennington County specifically, the data shows that 586 child care spaces are needed to meet the local demand.
"Right now, three out of five of Vermont's youngest children don't have access to the care they need," said Aly Richards, CEO of Let's Grow Kids. "When families can find child care, it is unaffordable for too many. Our early childhood educators are also struggling to make ends meet."
Though Southwestern Vermont Health Care's proposed child care center will prioritize the group's employees, as does Learning Tree, it also would serve other families.
"By doubling the size of the facility," Dailey said, "the thinking is, not only will it give us a better ability to serve our own employees, but there'll be additional capacity for the community."
It plans to build the new day care at the former Southern Vermont College campus, which closed in the spring of 2019 after financial pressures cost the school its accreditation. The health care group acquired the property for $4.65 million at a U.S. Bankruptcy Court auction in December 2019.
Organization leaders said they're still in the initial stages of planning the child care center, which they hope would open in a couple of years.
Dailey said they've already retained an engineering firm and architectural firm, and envision a building that could be expanded to meet higher demand down the road.
There's no cost estimate for the center yet, but it got a boost from the 2022 federal budget bill, which President Joe Biden signed into law last Tuesday.
The $1.5 trillion in appropriations include $200 million for various Vermont projects; among them the proposed Bennington child care center. The project has been earmarked $750,000 through Sen. Patrick Leahy's funding requests and $77,000 through those of Sen. Bernie Sanders.
In order to solve Vermont's child care crisis, said Richards of Let's Grow Kids, society needs to continue working toward long-term public investments in a strong and stable child care system.
The new child care center could be the first building Southwestern Vermont Health Care puts on the former college campus, which its medical center has been using for Covid-19 testing and vaccination since the pandemic began. The organization is still discussing its overall development plan for the property.
Southwestern Vermont Health Care operates the hospital in Bennington, located across the street from the former college campus, along with other primary and specialty care practices in New York and Massachusetts.