Child Care Overhaul Becomes Law as Legislators Override Veto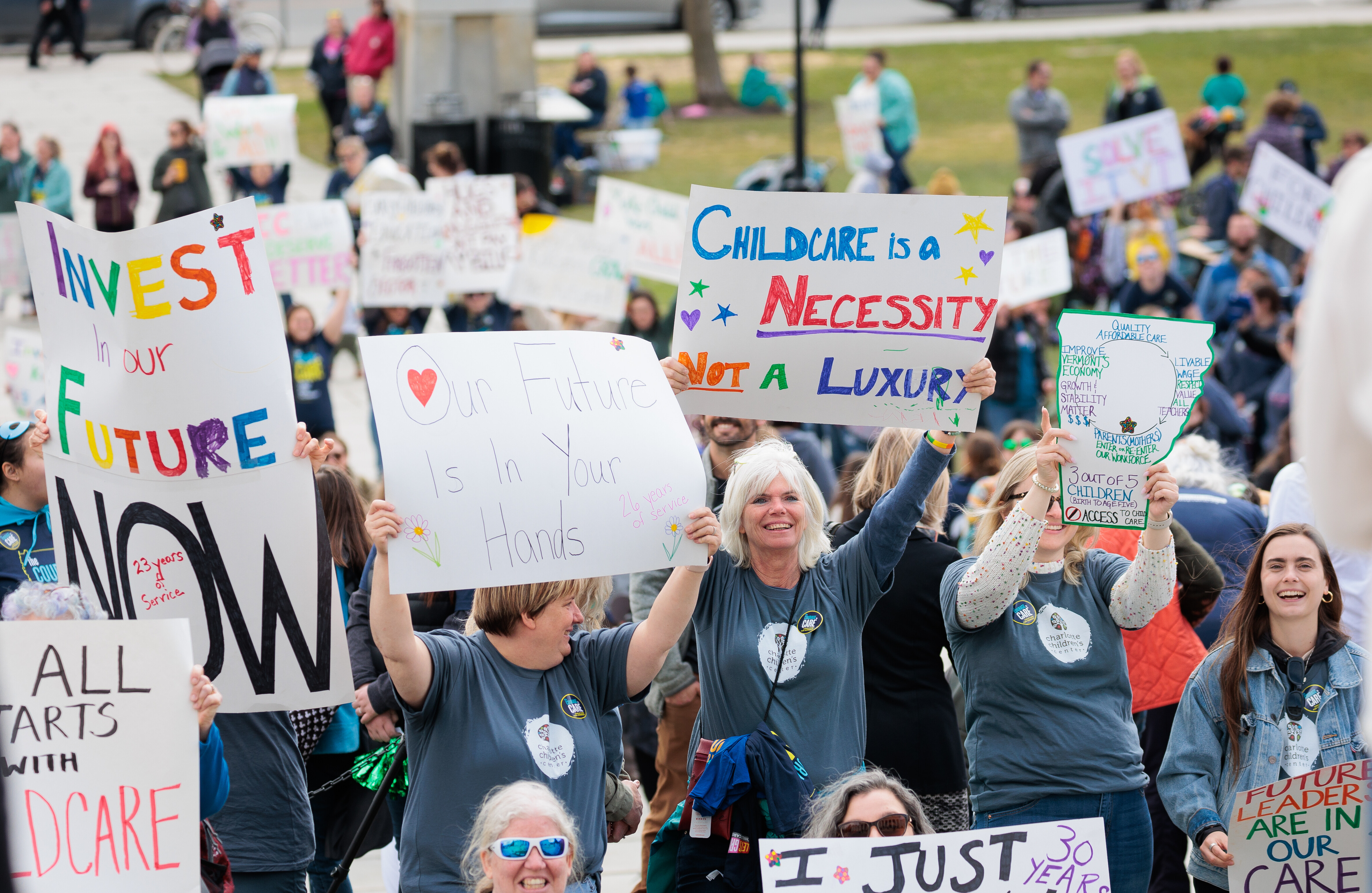 As predicted, lawmakers on Tuesday easily overrode Gov. Phil Scott's veto of H.217, a bill set to invest well over $120 million annually into Vermont's ailing child care sector, enacting the measure into law.
The only surprise, at the end of the day, was how quickly it all happened. The House voted early in the day, 116 to 31, to override Scott. (It takes a two-thirds majority to override a gubernatorial veto.) And as of early afternoon, the plan remained for the Senate to take up the measure on Wednesday, followed by a noontime celebration with advocates, parents, and child care workers on the Statehouse lawn. But as the whirlwind day wore on, the upper chamber decided to conclude its business ahead of schedule, and voted 23 to 7 to override Scott.
"The child care bill which we overrode today is, I believe, a historic achievement," Senate President Pro Tempore Phil Baruth, D/P-Chittenden Central, told his colleagues after the vote.
He encouraged senators to attend the event with advocates, still planned for Wednesday. "It will be, I think, a joyous celebration," he said.
The child care legislation is intended to help mitigate twin problems in the labor-intensive sector: poverty wages for many workers, and sky-high prices for families.
Starting on Jan. 1, 2024, the state will reimburse child care providers at a rate 35% higher than they did this year — enabling them to significantly raise wages.
Currently, families living at or below 150% of the federal poverty level are not charged a co-payment to receive a full subsidy from the state. The bill would eliminate co-pays for those making up to 175% of that metric, increasing that threshold from $45,000 to $52,500 for a family of four. And the bill would extend partial child care subsidies to families up to 575% of the federal poverty level — $172,000 for a family of four.
The bill is the culmination of nearly a decade's worth of advocacy from Let's Grow Kids, a well-funded nonprofit that has led the charge on child care in Montpelier. But the cause was also strengthened by the Covid-19 pandemic, which underlined both the sector's fragility and importance to the state economy, and a new Democratic supermajority in the House and Senate, which moved aggressively to enact several new expansions to the social safety net.
But while Democrats and Progressives universally supported the bill, votes did not fall entirely on party lines — a few Republicans and independents also backed the measure.
"This is a historic, celebratory moment for Vermont, one that child care advocates, parents, employers, and lawmakers have been working towards for years," Aly Richards, CEO of Let's Grow Kids, said in a statement. "The 2023 Child Care Bill will change the lives of thousands of Vermonters and is a monumental step forward for our state in addressing the ongoing child care crisis."
The bill will be funded in part by a new 0.44% payroll tax, which is why Scott objected to the legislation. The Republican governor has long supported additional investments in early childhood education, but has always drawn the line at raising taxes to do it. The draft state budget he presented to lawmakers in January included $50 million to boost child care subsidies, a proposal legislators incorporated into their own financing mechanism.
Written by Lola Duffort; originally published via VT Digger on June 20, 2023.