Vermont CEOs, Business Owners Call for Public Investment in Statewide Child Care System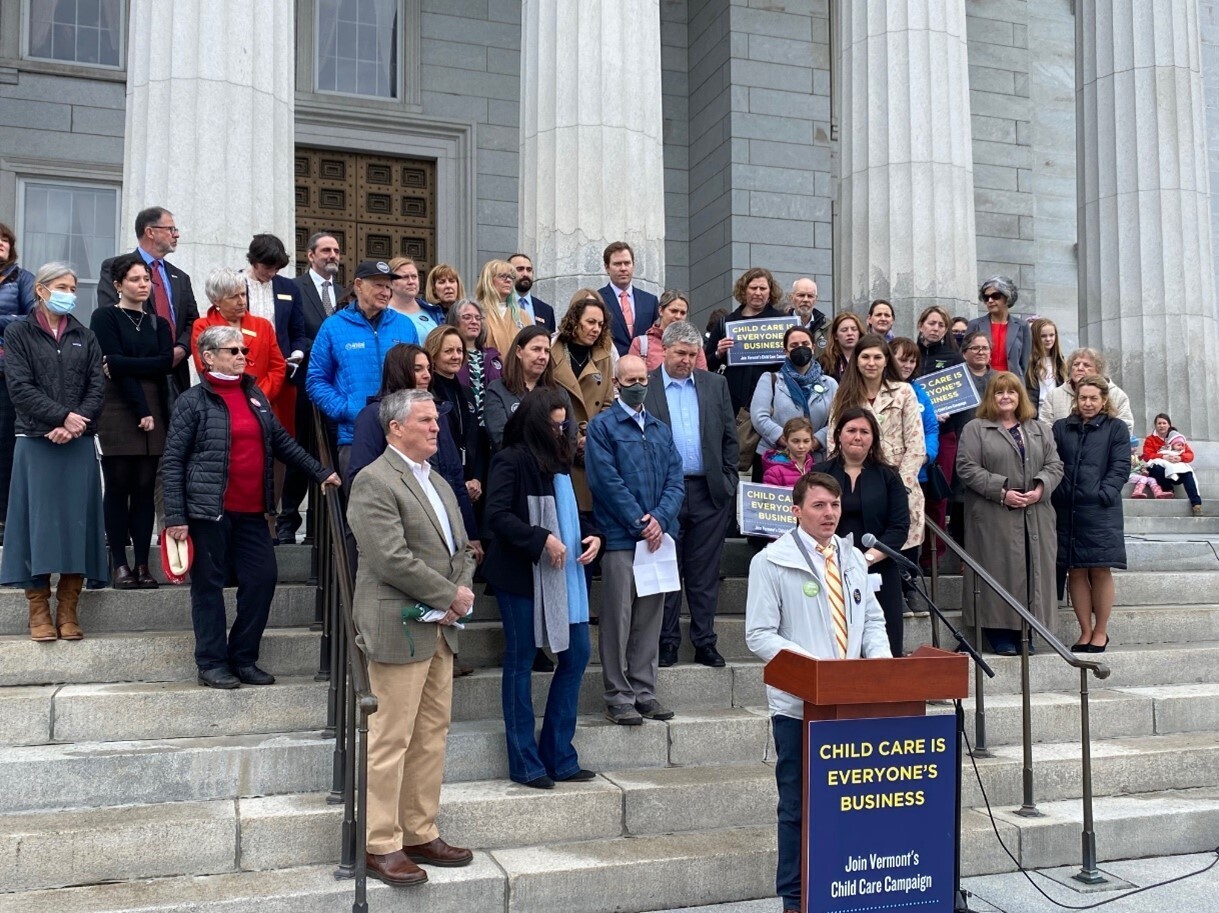 Montpelier – CEOs and business owners from across Vermont, representing nearly every industry, joined Vermont's Child Care Campaign today on the steps of the state house and declared their collective support for a publicly funded child care system that meets the needs of all Vermont's children, families, businesses, and economy. Employers including Lisa Groeneveld, Co-Founder of OnLogic, Mark Foley Jr., CEO of Foley Distributing, Dimitri Garder, CEO of Global-Z International, and Sam Hooper, President of Vermont Glove, during the event identified the extreme lack of high-quality child care as a central barrier to rebuilding Vermont's workforce and economy. The Vermont Business Roundtable (VBR), Vermont Regional Development Corporations, Main Street Alliance, and Vermont Businesses for Social Responsibility also participated and affirmed their support for public investment in child care.
New estimates highlighted at today's event predict the economic impact of a publicly funded, comprehensive child care system in Vermont could exceed $755 million a year. Using data from state and federal agencies, the report released by Let's Grow Kids, estimates annual family savings, new child care sector jobs created, and annual economic returns.
Standing on the steps of the state house, with lawmakers also in attendance, business leaders spoke to the challenges they and their employees are facing due to the child care crisis. "The real scope of our child care problem becomes clear - not only for Vermont's current businesses struggling to find employees they need to survive now - but Vermont's ability to entice new businesses, recruit top talent, and attract more young families and working adults to our state," said Lisa Groeneveld, Co-Founder of OnLogic, a leading computer hardware manufacturer in South Burlington. "Vermont has the quality of life that so many people are looking for and the potential for new businesses, especially tech companies like OnLogic, to establish themselves here, but only if we can support our workforce with high-quality, affordable and accessible child care."
Sam Hooper, President of Vermont Glove, a family-owned business, founded over 100 years ago in Randolph, spoke to the many challenges smaller businesses face due to the lack of child care. "When I look at the barriers to success for Vermont Glove, child care is top of the list. We operate on thin margins. When one employee can't make it in because of child care, I know it's going to be a long day and our productivity will suffer. We absolutely must create a child care system that works for every family, as well as our businesses."
Mark Foley, CEO of Foley Services in Rutland, which has been serving Vermont businesses for over 130 years, called child care essential infrastructure. "I am convinced that child care is absolutely essential to Vermont businesses. Just like roads, bridges and broadband, child care is critical infrastructure that enables Vermont's working parents to get to their jobs, to earn a living, and contribute to our economy - and we must invest in child care the same way. As a state, it's time we invest public dollars to create and fund a child care system that truly meets our needs. By working, advocating and investing together, we can build a child care system that works for all Vermont's children, families, early educators, businesses and our economy."
Dimitri Garder, CEO of Global Z International, former board member of VBR, and co-chair of the VBR Early Child Care and Learning Taskforce encouraged all Vermont business owners and employers to come together to join in support for public investment in child care. "The child care crisis in Vermont is both costing us money and limiting our ability to fill essential roles in order to grow and thrive - a toxic combination with dire consequences for Vermont business and our economy. Business owners from every region of our state must come together now to show our collective support for public investment in a child care system for Vermont that will not only empower our workforce to rise and meet the demands of a thriving Vermont economy, but more importantly, ensure every Vermont child has equitable access to the high-quality early learning opportunities that will set them up for success in school, relationships, career, and beyond."
According to the new economic impact estimates released today, a comprehensive child care system in Vermont with child care costs capped at no more than 10 percent of family income would save households $99 million annually and enable over 5,000 working parents fully participate in the workforce. "Whether you're looking for short-term gains or long-term solutions - public investment in child care is the single most important decision we can make as a state for a stronger, more resilient future for all Vermonters," said Let's Grow Kids CEO Aly Richards. "Parents, business leaders, employees, early educators - not only is child care everyone's business, but it's also our business to make it a reality for Vermont. It's time to continue prioritizing child care in the legislature, and it's time to put our money and our votes where our values are - with Vermont's youngest children."
The full economic impact report from Let's Grow Kids is available here.
###
About Vermont's Child Care Campaign
Vermont's Child Care Campaign is led by Let's Grow Kids, a nonprofit organization on a mission to ensure affordable access to high-quality child care for all Vermont families by 2025. With nearly 40,000 supporters, Let's Grow Kids, in partnership with Let's Grow Kids Action Network, is empowering Vermonters to advocate for sustainable child care policy change. Learn more at www.letsgrowkids.org.