OPINION: Our child care industry is in free fall, and that's bad news for all children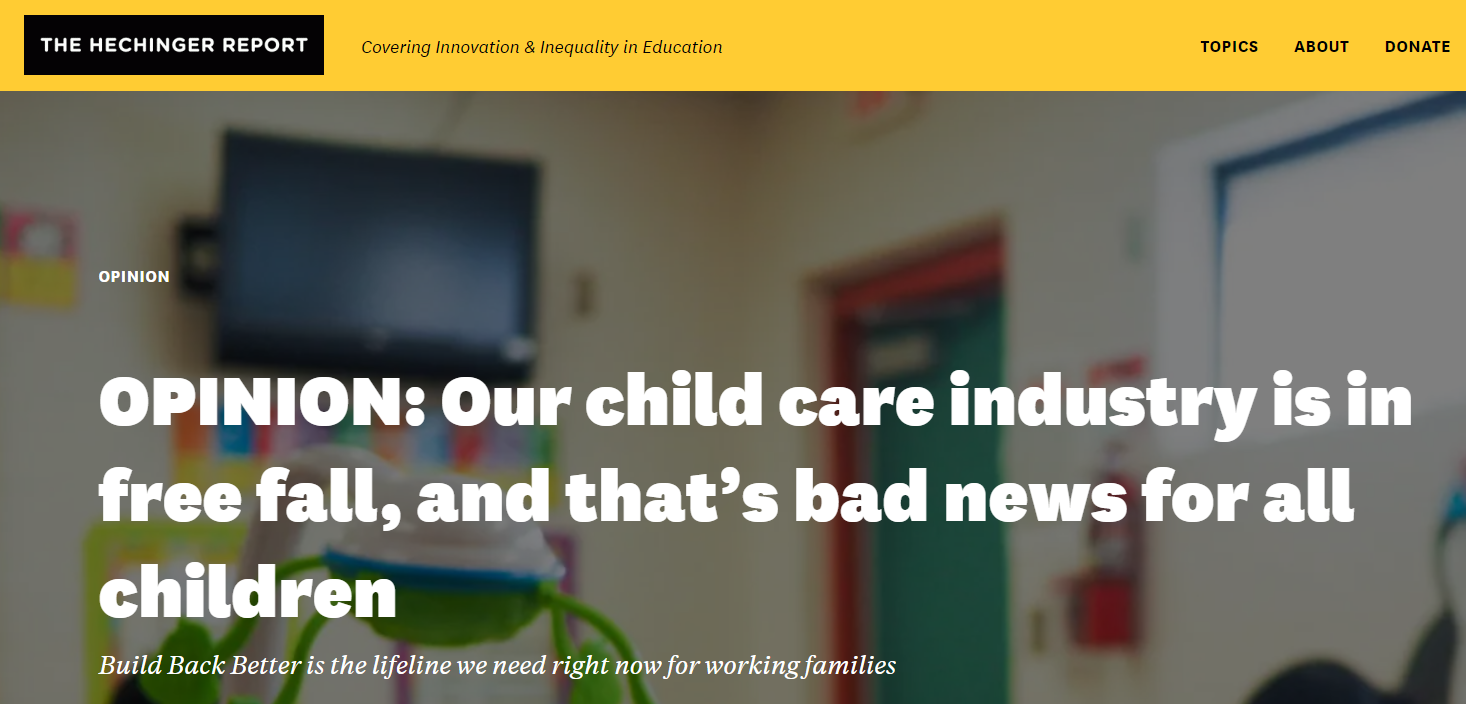 The Hechinger Report is a national nonprofit newsroom that reports on one topic: education. Sign up for our weekly newsletters to get stories like this delivered directly to your inbox.
Democrats are hoping to bring President Biden's Build Back Better bill to the floor of the Senate before the end of this year. Its fate hangs in the balance.
Some of the bill's major elements are for child care, including funding for universal preschool for 3- and 4-year-olds and to increase the accessibility of affordable, high-quality child care for all families.
To pass, the bill needs the support of every single Democratic senator, including Joe Manchin (W.Va.) and Kyrsten Sinema (Ariz.), who have not committed — even though child care in the U.S. remains in free fall. At this moment, parents are not finding the care they need, and early care and education providers are not able to afford to remain in the profession they love. Build Back Better could go a long way to improving this untenable situation.
Labor Department data shows that the child care industry is down more than 125,000 educators, with 10,000 having left their jobs since June. Horror stories abound about limited child care spots, restricted hours and the intense competition for care that results.
For the lucky few who are able to find and afford child care, the quality of that care is limited by the broken state of this market, and that's bad news for all our children.
The lack of available and affordable quality child care is not a new problem; even before the pandemic, the industry was not meeting the needs of working families. Covid has exacerbated the problem, with thousands of child care workers laid off and thousands more deciding that the median wage of $12.24 per hour, or an annual salary of $25,460, is not worth it — especially when companies from Amazon to Starbucks are paying well over that rate.
For families who need child care but cannot access it, there are usually no good options. Some mothers quit their jobs in order to care for their young children, resulting in a trip back in time to 1980s levels of women's labor force participation. Some place children in child care situations that are not as safe or high-quality as they would like.

Quality often takes a backseat even for families who can access and afford child care. The exodus of child care staff means that centers are forced to relax their standards and hire people who are less experienced or educated than they would like. Knowing how to manage a class full of toddlers is a hard-won skill that comes with training and experience, and those who lack that training and experience seldom provide the highest level of care.
At the same time, high turnover among child care workers is a loss for children, who benefit greatly from consistency and the chance to build relationships with caregivers who know them well. No family likes to hear their child ask, "Who will be my teacher today?"
The word "quality" means different things to different people. To many parents, high-quality care comes from caregivers who are warm, caring and trustworthy.
To researchers like myself, high-quality care encompasses those traits along with certain classroom characteristics, including low child-to-staff ratios, smaller numbers of children and a well-educated staff with specialized training — all of which are fairly easy to measure and are often regulated by state or local authorities.
Other sought-after characteristics include positive teacher-child interactions, the use of developmentally appropriate activities and language and the provision of learning opportunities. These characteristics are harder to measure, and not usually subject to state or local regulations.
But to fully understand the quality of care that children are receiving, it's necessary to understand why quality is important.
Numerous studies over the past 60 years have shown that high-quality care comes with educational, economic and health benefits. Children who attend child care centers that offer higher-quality care, particularly more language stimulation, show more advanced cognitive and language development. The quality and stability of children's relationships with their child care providers appears to be particularly important to their social and emotional development. As the National Research Council noted more than 20 years ago, "high-quality care is associated with outcomes that all parents want to see in their children, ranging from cooperation with adults to the ability to initiate and sustain positive exchanges with peers, to early competence in math and reading."
These are indeed outcomes we all want to see in our children; we all want high-quality care. But as child care in the U.S. is currently configured, that level of care is available to only a very few families.
An industry that is destabilized, that only functions by exploiting its workforce (disproportionately women, particularly women of color), cannot provide high-quality care, despite the best efforts of its extremely dedicated workers.

We must offer a lifeline, and Build Back Better would provide one. Though like any ambitious plan, it comes with risks, it is our best chance for saving the child care industry and mitigating the devastating economic consequences that we are already experiencing.
We must reconfigure our child care system so that high-quality care is available to everyone. Until then, its full benefits will be available to no one.
Wendy Wagner Robeson is a senior research scientist at Wellesley Centers for Women. She has spent 30 years studying early childhood education, with a focus on quality.
Written
Dec 15, 2021
by Wendy Robeson