National Life Group Foundation awards $500,000 to Let's Grow Kids
National Life Group Foundation
3 min
The National Life Group Foundation announced a $500,000 grant, the largest single award in its history, to Let's Grow Kids to advance the campaign for high-quality, affordable child care for all Vermont families who need it by 2025.
The grant is intended both to boost Vermont families' ability to find the best possible care for their children and to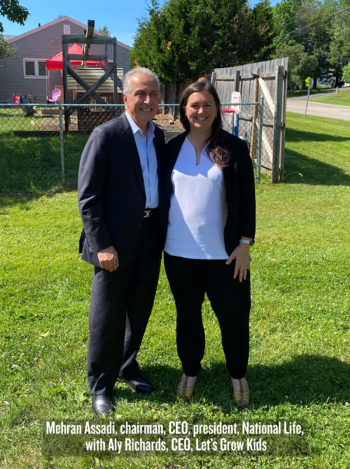 make the state even more competitive for businesses large and small.
"This investment is the right thing to do and it also makes good business sense," said Mehran Assadi, Chairman, CEO and President of National Life and a member of the Foundation's board. "When parents know their children are in a quality child care setting, they're better able to pursue meaningful careers and advance Vermont's economy."
Let's Grow Kids is a statewide campaign that has committed itself to securing by 2025 an equitable child care system that is affordable, high-quality, and responsive to the needs and preferences of children and families.
"We are incredibly honored to receive this historic grant from the National Life Group Foundation. National Life has been demonstrating their commitment to solving Vermont's child care crisis for several years. Theirs is exactly the kind of leadership we need from the Vermont business community to achieve an equitable, high-quality, affordable child care system for all Vermont families who need it," said Let's Grow Kids CEO Aly Richards.
The child care campaign has set a series of mileposts over the next four years toward that goal. This year it advanced H.171, Vermont's child care bill, which will help determine a long-term funding source for a transformed child care system.
Click here to read a blog post by Aly Richards about National Life's historic gift to LGK.
Assadi and Richards were joined at a news conference by state Sen. Ann Cummings and state Rep. Theresa Wood, who both spoke of the importance of quality child care. Ben Doyle, whose family uses a day care in Montpelier, also endorsed the work of Let's Grow Kids at the event.
The National Life Group Foundation's largest previous single grant was for $250,000 to support the construction of the National Life Cancer Treatment Center at Central Vermont Medical Center.
The Foundation has made more than $15 million in grants since its founding in 2006 to charities primarily in northern Vermont and the Dallas, Texas, area, which is where the company's primary offices are located.
National Life Group is a trade name of National Life Insurance Company, founded in Montpelier, Vt., in 1848, Life Insurance Company of the Southwest, Addison, Texas, chartered in 1955, and their affiliates. Each company of National Life Group is solely responsible for its own financial condition and contractual obligations. Life Insurance Company of the Southwest is not an authorized insurer in New York and does not conduct insurance business in New York. Learn more at NationalLife.com.
Written
Jun 9, 2021
by National Life Group Foundation