Blog: Why do You Have the Courage to Care?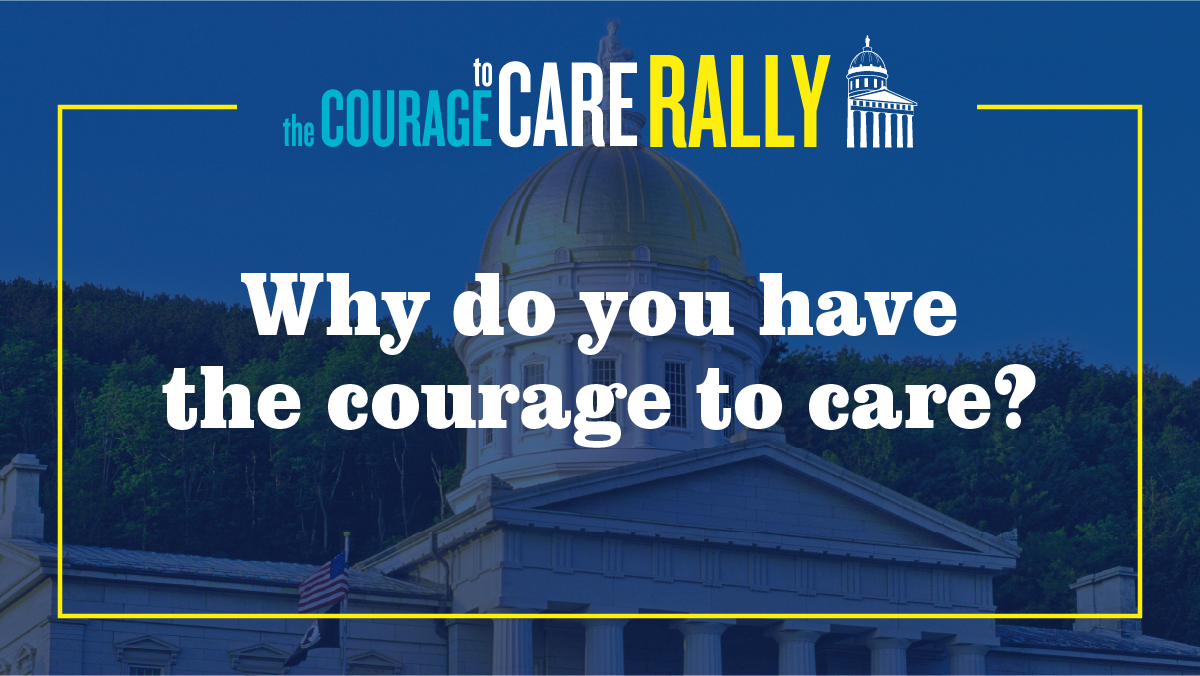 It takes courage to do what's right — just like it will take courage to solve the child care crisis. All the pieces are in place for Vermont to make history and end our state's child care crisis, and while we set the stage (literally) and continue to support lawmakers in passing the child care solution this year, we need your help to keep the momentum going!

Here's what you can do:
After you register for the Courage to Care Rally on April 12, invite your networks to do the same! Create a short video that answers this question: "Why do you have the courage to care about solving the child care crisis?"
Then, share your selfie video across your social media channels and tag #CouragetoCare and @letsgrowkids. Your voice, your insights, and your motivation are driving the child care movement, and your community members want to hear from you. Submit your video to info@letsgrowkids.org, and then we'll share your message across our digital channels.
What do I even say on video?
Sure, that public speaking thing can be intimidating, but you've got this! Keep it short, keep it conversational, and keep it true to you. A video 30 seconds or less is all you need. Here are some examples:
"I have the courage to care about quality, affordable child care because I want to give our kids the future they deserve."
"My kiddos love their teachers, and I have the courage to care about a child care solution that pays early childhood educators fairly!"
"My employees can't be their best professional selves if they can't count on accessible, affordable child care. That's why I have the courage to care about solving the child care crisis; let's do this for our kids, families, communities, and economy.
I'm ready. Where do I start?
Recording a selfie video is simple with a smart phone. Use the guidelines below to get a good-quality clip, and then submit it via email to info@letsgrowkids.org and share it across your social channels (#CouargetoCare).
Shoot vertically for selfie videos.

Shoot in a quiet room. If you're inside, avoid background noise like TVs and ceiling fans, and stand away from walls and windows that can reverberate sound. If you're recording outside, you want to be conscious of wind and crowds that can overpower your audio.

Pick a room or location that is well lit to avoid shadows. You'll also want to avoid standing in front of windows or other light sources, as they can make you look more like a silhouette.

Stand in front of a colorful background so you don't appear washed out. White walls do not work well.

Do not wear white, black, or outfits with intense prints (this can distort the picture). Avoid wearing hats or sunglasses.

A conversational tone is great. If you feel more confident working off a script, practice it out loud a few times so your cadence and rhythm sound more natural.

Talk a little slower than you normally would.
This is the moment when we must stand up and be courageous together! Authentic videos from Vermonters will help push the movement forward, promote the rally, show strength, and instill hope. If you have any questions along the way, don't hesitate to reach out to us. We're always here to help. We're excited to see your #CouragetoCare videos, and we look forward to seeing you on the State House lawn on April 12!