Blog: Vermont Child Care Campaign Mid-Session Update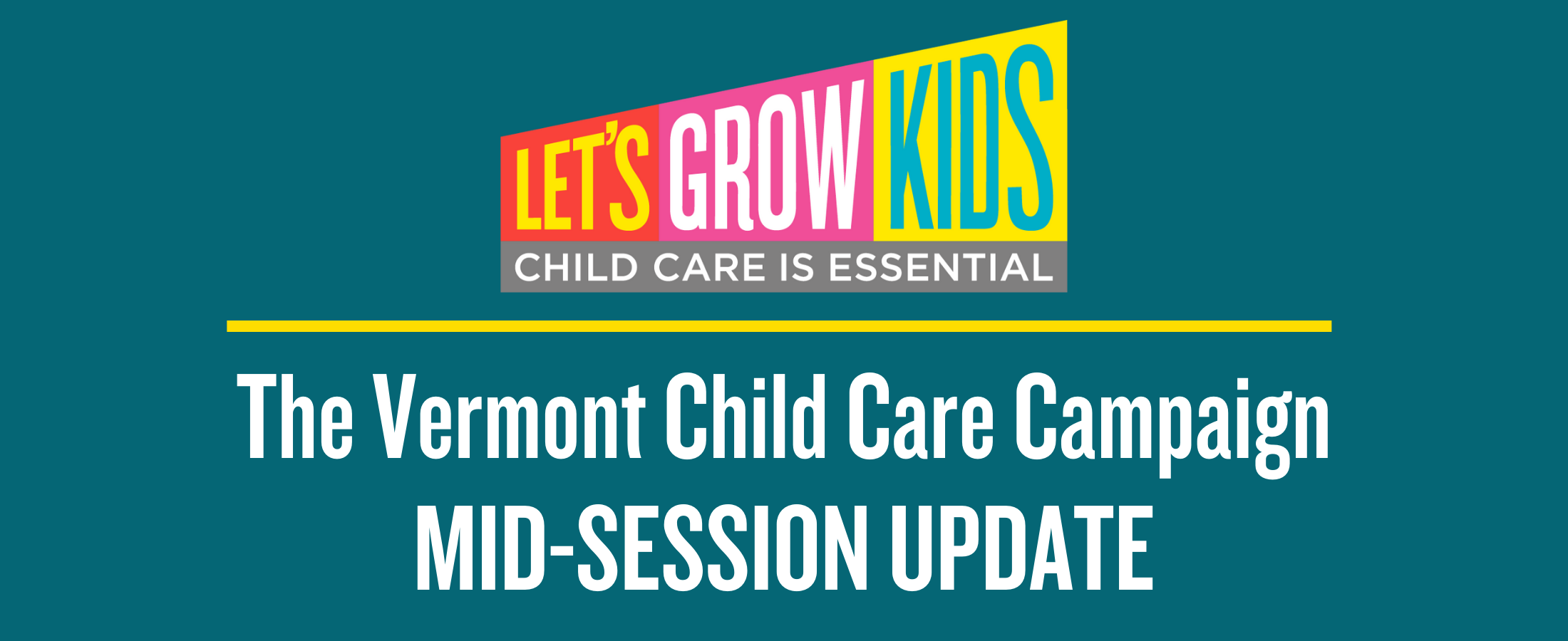 Our team has been busy organizing Vermonters and holding policy makers accountable to our shared goal: a strong and stable child care system for Vermont. Here's the official mid-session Child Care Campaign Update.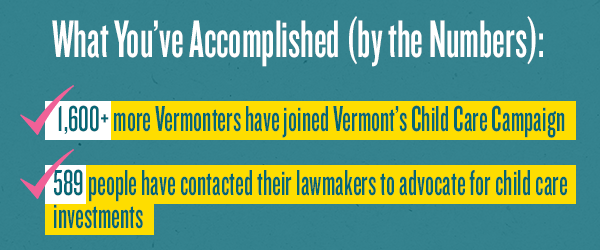 ---
UPDATE FROM OUR POLICY TEAM:
We have officially passed the halfway point in the legislative session, also known as "crossover," the date by which all bills need to have "crossed over" from either the House or the Senate to the other chamber. Our legislative agenda this year includes two primary goals: keeping the big-picture transformation of our child care system moving forward while also responding to the urgent early childhood education (ECE) workforce crisis. Here is what we've been able to achieve so far together:
Continued Work to Transform the System:
DONE: Fund the Financing Study established in H.171/Act 45
IN PROGRESS: Establish long-term infrastructure and supports for child care capacity building
IN SENATE: Increase funding for the Child Care Financial Assistance Program: $4.9M increase passed the House

Short-term Emergency Investments to Recruit & Retain Early Childhood Educators:
DONE: Retention bonuses for staff in ECE programs: $6M passed, signed by Gov. Scott
IN PROGRESS: Establish an ECE workforce recruitment and outreach initiative
NO ACTION: Health insurance assistance for ECE staff
NO ACTION: Expand the ECE student loan repayment support program
NO ACTION: Provide no cost child care for children of ECEs working in child care programs


We're making progress! But we can't stop now. We'll continue to advocate in the state house, and you can help us continue to drive towards our Child Care goals by contacting your legislators and asking them to continue to prioritize investments in child care and the essential early childhood education workforce.
---
CHECK OUT THE BUZZ AROUND LET'S GROW KIDS' STALLED AT THE START REPORT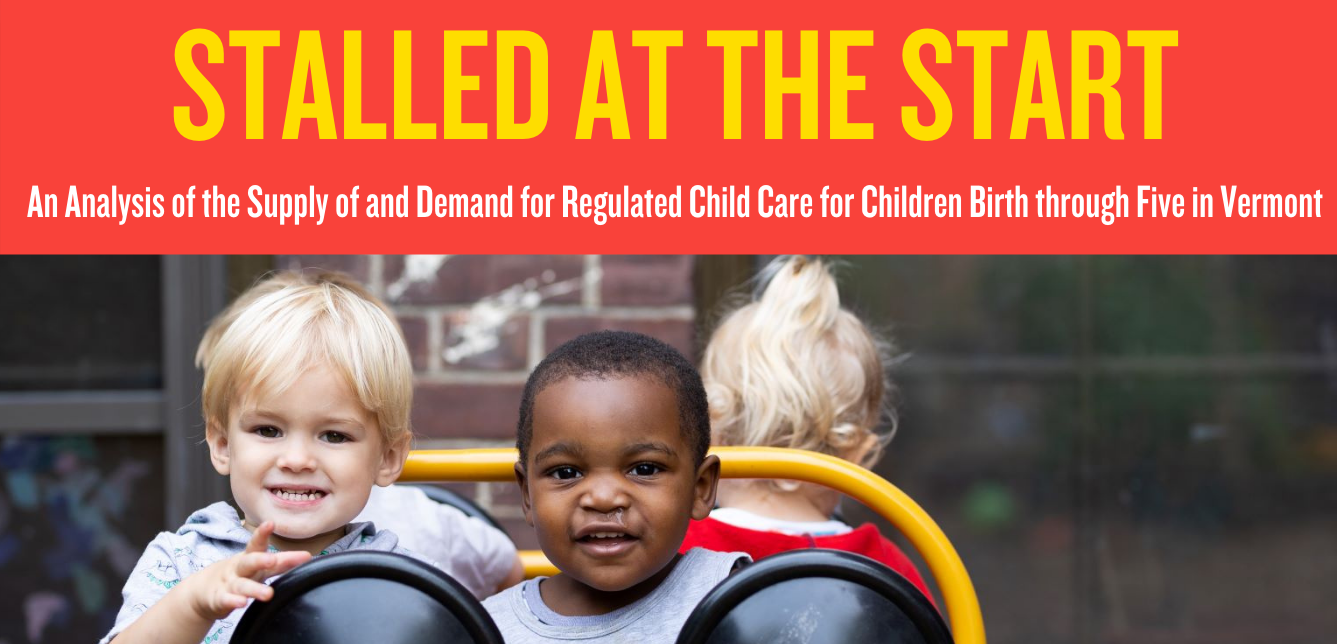 New numbers show Vermont's demand for child care still far outstrips the capacity. The latest "Stalled at the Start" report, from our partner, Let's Grow Kids, found that infant care still has the biggest gap between supply and demand. The report says about 5,000 more spaces are needed for each infant to be able to attend, about 1,000 more toddler spots, and about 2,700 more pre-school spaces. Check out the news coverage here!
---
CHILD CARE IN THE NEWS
A group in Bennington is planning to turn a former college campus into a child care center that will accommodate up to 125 children. This will be an amazing addition to Vermont child care and show the rest of the country that it is possible to provide families with access to high-quality child care.
Unfortunately, affordable child care isn't just a Vermont problem. Families all across the country are looking for ways to get access to affordable child care, and businesses are struggling to stay open when their employees can't find it. That's why we're working to set an example – with your help, Vermont can be the first state in the nation to guarantee affordable child care for all!
---
HONORING WOMEN'S HISTORY MONTH
Women, and especially women of color, are the backbone of the early childhood education (ECE) workforce. Yet, they're being underpaid, undervalued, and overworked. This Women's History Month, LGKAN has been advocating for equitable and fair pay for all ECE's.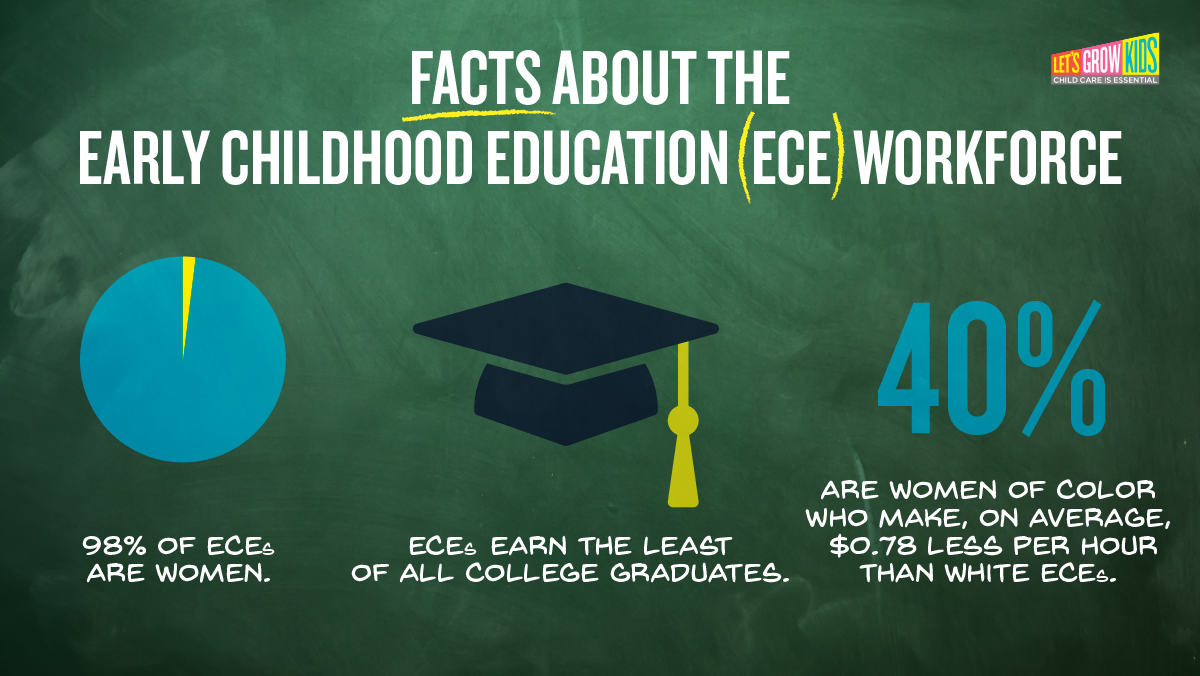 ---
NEXT STEPS
Are you ready to champion for children across Vermont? Check out our Action Center for ways that you can get involved in Vermont's child care movement!