Leading the Way for Vermont's Future

"Let's Grow Kids lead partners Bob and Christine Stiller, of the Stiller Family Foundation, along with their three children, Jules, David, and Christian, are deeply invested to ensuring a strong start and a bright future for every child. The Foundation's philanthropic pursuits prioritize three core principles:
Collaborating positively with others to achieve greater goals
Realizing the potential that lies within every person
Recognizing every individual's capacity for success
Using these principles to guide their philanthropy, the Stiller family chose Let's Grow Kids as an organization worthy of their generosity. In 2015 they committed $20M to lead Let's Grow Kids to achieve its mission by 2025.
Bob and I are proud to support Let's Grow Kids' work to create equal educational opportunities for all Vermont children. We believe in Let's Grow Kids' ability to succeed not only in Vermont, but to develop a national model to benefit all states' educational endeavors."
—Christine Stiller, President, Stiller Family Foundation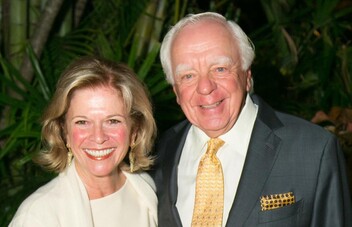 The Foundation is the culmination of Bob and Christine's decades of philanthropic work, and it is a continuation of the values upon which Bob founded and led Green Mountain Coffee Roasters. These shared values, of helping people improve their lives in meaningful and sustainable ways, are central to Let's Grow Kids' work to drive change in public policy, in child care programs, and in our communities across Vermont, so that all families have the care they need.
Of the Stillers' generous gift, Aly Richards, CEO of Let's Grow Kids, remarked, "The Stiller Family Foundation is at the heart of our work at Let's Grow Kids. It is thanks to their generosity and visionary leadership that we will accomplish our mission by 2025, and build a child care system that works for every child, for every family, and for Vermont."
Thank you, Bob, Christine, and the Stiller Family Foundation, for your visionary leadership.
Written
Jan 7, 2020
by Let's Grow Kids