Corporate Leaders Make Historic Commitment to Child Care in Vermont
Aly Richards, CEO of Let's Grow Kids
3 min
When Beth Rusnock, president of the National Life Group Foundation, called me last week to share the Foundation's decision to award Let's Grow Kids a $500,000 grant to support our leadership of Vermont's campaign for child care, I was instantly honored and humbled.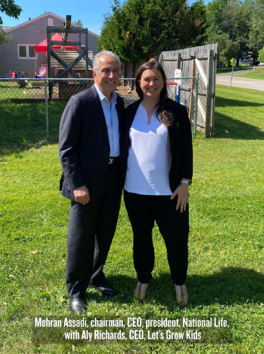 To receive a commitment like this one—the single largest grant in the Foundation's history—from the leaders at National Life reflects the team living their values, which the Foundation describes as "listening to the needs of our community and offering to help."
It's fitting that the leaders at National Life describe meaningful philanthropy this way. We see it as bold philanthropy from leaders who care deeply about the communities in which their employees live, work, and raise families.
"This investment is the right thing to do; it also makes good business sense," said Mehran Assadi, chairman, CEO and president of National Life and a member of the Foundation's board. "When parents know their children are in a quality child care setting, they're better able to pursue meaningful careers and advance Vermont's economy."
History of Let's Grow Kids' partnership with National Life Group Foundation

In 2018, National Life Group Foundation granted Let's Grow Kids $100,000 to help launch Make Way for Kids, LGK's child care capacity building and quality improvement program, which provides grants and technical assistance to early childhood educators to create new, high-quality spaces and improve the quality of existing child care programs.

Three years and thousands of new high-quality spaces later, the initiative launched with philanthropy from National Life Group Foundation and others continues its impact today thanks to significant funding appropriated by the Vermont Legislature through Vermont Child Development Division.

Today's announcement by the Foundation of their historic, leadership gift of $500,000 will make possible the work it takes to arrive at our end goal: a well-funded, equitable, and high-quality child care system supported by the state of Vermont.
I am grateful to the entire team at National Life for their commitment to solving Vermont's child care crisis; for being outspoken advocates for good child care policy; for their partnership with the Montpelier Children's House; for their internal policies that support employees to access child care; and for this extraordinary philanthropic leadership.
This gift acknowledges the momentum of Vermont's child care campaign; of Vermont's leadership toward becoming the only state in the nation where every child has equitable access to high-quality early childhood education. H.171—Vermont's landmark child care bill—sets us on a path to achieve true child care reform in the next couple of years because our entire community stands together behind transforming our child care system.
Thank you, National Life, for exemplifying the kind of leadership Let's Grow Kids requires to fulfill our promise to Vermonters: an equitable child care system by 2025 that's affordable for families, honors and compensates early childhood educators for their essential work, and nurtures and educates children birth to five so they can reach their full potential.
Gratefully,
Aly Richards
CEO
Inspired by National Life's leadership? Learn how your company can support Let's Grow Kids today!
Written
Jun 9, 2021
by Aly Richards, CEO of Let's Grow Kids