Why I Joined the Let's Grow Kids Bennington Action Team
My name is Abby Skidmore. I live in Bennington and I am the proud single mother of a beautiful little girl. I love being her mom! Every day is filled with learning experiences—for my daughter and for me—and it brings me such joy to see the positive changes happening in her life and to know I played a part in that. But it's not easy. Every day is a challenge. And I'm not talking about temper tantrums and tummy aches!
As most parents know—especially single parents—raising a child is expensive. And for many Vermont families, money is tight. Food, gas and rent take up most of our paychecks before we can even think about paying for child care, let alone saving money to provide our children with a college education. So for a lot of Vermonters, it's nearly impossible to give their children what they need for a strong start in life without help. And without being able to send her to child care, I wouldn't be able to work. Thankfully, my daughter and I qualify for tuition assistance through the Child Care Financial Assistance Program. But not everyone is that lucky.
My best friend and my sister just had babies and they are both stayat-home moms. They want to work but how can they do it? If they go back to work, the child care they'd need for their babies is so expensive that it would drain most of their paychecks. Don't blame the child care providers for this, though. In the time I have spent as a full-time and part-time child care provider, I have earned close to minimum wage. Did you know that the average Vermont provider earns just $24,850 a year? The truth is, parents and providers are both struggling with the cost of child care.
But even if my friend and sister decided to go back to work, who would care for their babies? In Bennington County, 75% of infants likely to need child care don't have access to programs recognized by the state as high-quality (4 and 5 stars in the STep Ahead Recognition System [STARS]). Sadly, this problem isn't confined to my hometown. Statewide, more than 79% of infants and toddlers likely to need child care don't have access to programs recognized by the state as high-quality. This means that for the more than 70% of Vermont's children who have all parents in the workforce—most of them likely don't have access to the kind of care that enriches and promotes learning and development, and prepares these kids for success in life.
This is Vermont's child care challenge and this is why I joined the Let's Grow Kids Action Team in Bennington.
Let's Grow Kids Action Teams are made up of parents, providers, clergy, business owners and community members around the state who are committed to developing their personal skills as advocates for high-quality, affordable child care. The teams are designed to play a leadership role in each community by organizing to take actions like: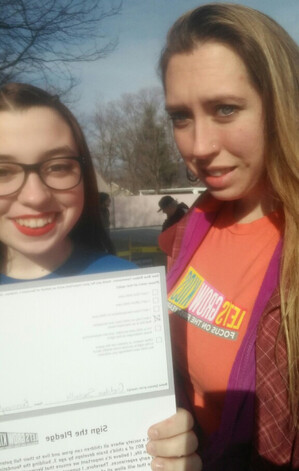 Talking to community members at local events
Encouraging Vermonters to share their personal child care challenge stories with legislators
Writing letters to the editor in support of high-quality, affordable child care
Organizing LGK trainings
Serving as LGK spokespeople with local media
Registering people to vote in their community
Keeping high-quality, affordable child care on the political agenda at candidate forums and through getting engaged voters to the polls
I'm excited to be part of my Action Team and to be surrounded by good people who are all committed to supporting Vermont's children. Together, I know we will make a difference for Vermont's children.
When our work is done, when we have reached our goal, there will have been real, positive, lasting change. All Vermonters (not just those with children) will understand the importance of quality early experiences. All Vermont families will have access to high-quality, affordable child care. All Vermont child care providers will be paid a livable wage and will be professionally-supported so that they can focus all of their energy on nurturing the children in their care and providing them with the learning opportunities needed for healthy development. And all Vermont children will be given the strong start and opportunity to succeed in life they deserve.
The only question is, who's going to help us reach these goals? Please join your local Action Team today by clicking here! And please consider telling everyone you know why you're standing up for Vermont's children (on social media, through email and in person). Your personal story can be a powerful force for change. And it's about time that change happened!
Sincerely,
Abby Skidmore
Bennington Action Team