Women, work, and child care
Report looks at child care, the economy and gender equity in Vermont
Ensuring Vermont has enough high-quality, affordable child care is essential to supporting gender equality in the workplace, according to a new report co-authored by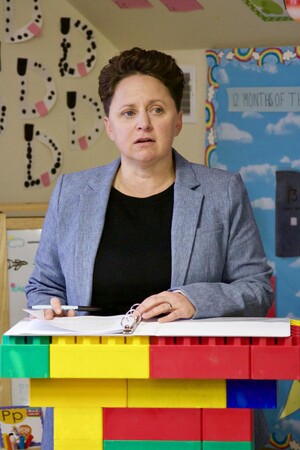 Let's Grow Kids (LGK) and the Vermont Commission on Women (VCW). The report outlines policy recommendations—including increasing investments in Vermont's Child Care Financial Assistance Program and passing paid family leave—as key strategies to supporting working women and their families.
The report, "Women, Work, and Child Care," was released during a press conference on International Women's Day (March 8, 2018) at a Williston child care center featuring remarks from LGK, VCW, Vermont Works for Women, a child care program director and a working mom. The report is available here.
"We need to level the playing field for Vermont women when it comes to economic opportunity and that means ensuring women have the supports they need to stay and thrive in the workforce," said LGK Campaign Director Robyn Freedner-Maguire.
LGK's February 2018 Stalled at the Start report found that more than half of Vermont infants and toddlers likely to need care don't have access to any regulated child care programs and 77% don't have access to high-quality programs.
"While we know some women intentionally make the decision to leave the workforce to care for children, we also know—and research has found—that many women feel like they don't have a choice in the matter because their families simply can't find or afford quality child care," Freedner-Maguire said.
Highly-qualified women are three times more likely than men to leave the workforce when families can't access quality child care, according to one national study.
"The fact is that women still earn less than men for doing the very same work. In Vermont, women earn 84 cents for every dollar earned by men. It's precisely because women earn less that it makes economic sense in many families for women to drop out of the workforce when quality child care is unavailable or unaffordable," said Marybeth Redmond, a VCW commissioner.
When women leave the workforce to look after their young children, the decision not only impacts their family's immediate economic stability but also their long-term economic situation, according to the report. For example, a woman earning Vermont's median income of $56,990 would face a projected loss of $610,050 over her lifetime if she had or adopted a child at age 35 and remained out of the workforce until the child was eligible to enroll in kindergarten.
Jen Oldham, executive director of Vermont Works for Women, emphasized how lack of access to quality, affordable child care is particularly challenging for single mothers and low-income families.
"According to the US Census Bureau, 13% of all Vermont families with young children under 5 years old have an income below the poverty line, but for women-headed, single-parent households, this number jumps to 44.6%. Women who don't have access to quality, affordable child care and paid leave after starting a family are more likely to be locked in a cycle of poverty," Oldham said.
Trisha Scharf, owner and director of Children Unlimited in Williston where the March 8 press conference was held, noted that Vermont's early care and learning workforce is made up largely of women who are barely making ends meet and struggling to support their own families. The median annual income for child care workers in Vermont is about $25,000, often without benefits—which is not a livable wage.
"Child care providers are a crucial part of Vermont's economy. The work we do allows parents to go to work, support their families, and pay taxes to help build and support the infrastructure of our state," Scharf said. "And, most importantly, we are literally building the brains of Vermont's future workforce. But without available, high quality, affordable child care, we are not going to be able to keep this future workforce in our state."
Victoria Marini, whose daughter attends Scharf's program, said she got on child care program waitlists before she even told her mother she was pregnant. After a five-and-a-half month unpaid maternity leave, during which time her family went into debt, Marini said she felt lucky to find a space at Children Unlimited.
"When my daughter grows up, I want her to be able to make choices about work and family without the barriers working women and their families face today," Marini said.
On Wednesday, March 14, hundreds of early childhood advocates will gather at the State House for Early Childhood Day at the Legislature to ask their legislators to invest in Vermont's youngest children and their families.
"As Vermont faces an aging population and shrinking workforce, we need to make sure we're doing everything we can to support working parents with young children. We can't afford to keep leaving women behind by failing to provide families with the supports they need to stay and thrive in Vermont's workforce," Freedner-Maguire said.
About Let's Grow Kids
Let's Grow Kids is a statewide public awareness and advocacy campaign designed to educate the public about the need for more high-quality, affordable child care in Vermont and to build public will for sustainable increased public investments in high-quality, affordable child care to better support our children, families, communities and economy. Let's Grow Kids is an initiative of the Permanent Fund for Vermont's Children, a privately funded nonprofit whose mission is to ensure all Vermont families have affordable access to high-quality child care by 2025. Learn more at www.letsgrowkids.org.
About the Vermont Commission on Women
The Vermont Commission on Women (VCW) is a non-partisan state commission advancing rights and opportunities for women and girls. Sixteen volunteer commissioners and representatives from organizations concerned with women's issues guide VCW's public education, coalition building and advocacy efforts. VCW offers many services to the public, including a toll-free information and referral service at 800-881-1561 and many publications, including the handbook The Legal Rights of Women in Vermont. For more information, please visit www.women.vermont.gov.
Written
Mar 8, 2018
by Let's Grow Kids