Vermont families call for more affordable child care
MONTPELIER, Vt. — They're calling it a child care crisis.
Parents and teachers with advocacy group 'let's grow kids' took to Vermont's state House steps, calling for more affordable child care.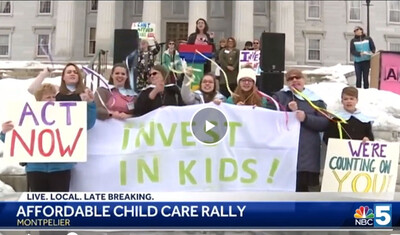 Click here to watch the video story on the NBC5 website.
The organization's CEO, Aly Richards, is still searching for care for her twin baby boys.
"We're doing what every single Vermont family is doing: looking, stressing, cobbling ... is that really the way we want to run our state?" Richards asked.
Inside, the House Committee on Human Services took testimony on a bill that would increase child care subsidies and work to attract more skilled workers to the field.
It could be voted out of committee by the end of the week.
But some lawmakers are already speaking up in support of frustrated families.
"Our policies do not make sense for the conditions on the ground," said Sen. Becca Balint (D-Brattleboro). "Our young families are really struggling. They're carrying more debt, they have higher housing costs, and they can't afford child care."
Faye Longo has a 5-year-old daughter and said, in the past, she's had to choose between paying for groceries or paying for child care.
It's a choice she doesn't want to see other Vermont families have to make.
"Not only can parents not pay more, but honestly, child care providers can't afford to make less," Longo said.
She thinks more state subsidies could help.
"Open it up to more families, and, like, bringing the rates to current would make such a big difference. Because right now, even if you receive subsidy, even if you receive 100 percent, it's not a 100 percent of what you're paying ... it's 100 percent of what the state established, like, 15 years ago child care should cost," Longo said.
Now the question is: If the state does expand child care subsidies, how would they cover the cost?
There's a bill in the House that suggests a once-a-year, $30 employee surcharge to pay for child care subsidies.
But being already halfway through the session, and it's unclear what will happen next with that particular piece of legislation.
Written
Mar 13, 2019
by Renee Wunderlich