Musicians Prepare For Church Street Flash Mob To Raise Awareness For Quality Child Care
If all goes as organizers plan, a 1,000-person flash mob will be singing and dancing on Church Street in Burlington October 1 in support of adequate early childhood care for Vermont's kids.
Earlier this week, a group of musicians and child care advocates met at a small, second-story recording studio in Burlington called Sound Loom. The group was working on an arrangement of their anthem for kids called "Something Beautiful."
The anthem is co-written by Kat Wright and Chris Dorman (better known as local children's entertainer Mister Chris), with contributions from guitarist Bob Wagner and bassist Josh Weinstein, of Wright's Indomitable Soul Band.
It's all part of a project called Kids Out Loud! organized by the group Let's Grow Kids.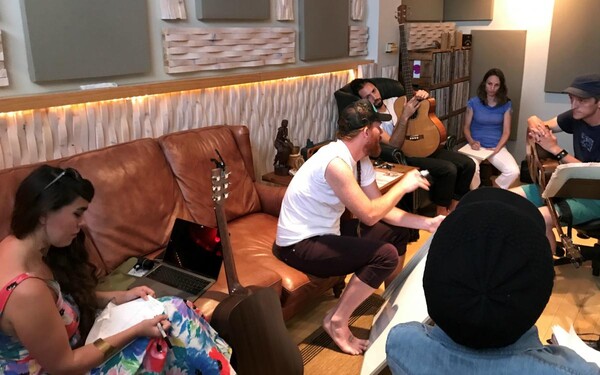 "We're trying to gather 1,000 advocates to have a public demonstration in support of early childhood and making kids a priority in the state of Vermont," says Let's Grow Kids Creative Director Megan Stearns, "and the vehicle that we're using to gather everybody is a flash mob."
Stearns says the hope is for adults and children to each play a part in the song and an accompanying dance. After the flash mob, local musicians will gather on a stage at the top of Church Street to jam out to an extended version of the song.
"We're going to be finishing recording the anthem this month, in July, and then making it available online for free for the public to download," says Stearns, "along with a video with choreography – very simple dance movements any child could learn."
Stearns says Let's Grow Kids is working with child care providers as well as music, theater and dance instructors across the state to help kids learn the song and the dance moves.
Let's Grow Kids is the advocacy arm of the nonprofit The Permanent Fund for Vermont's Children. It works alongside Vermont Birth to Five, which assists child care providers in raising the standard of care in the state.
It also partners with Building Bright Futures and other groups focused on Vermont families, businesses and education.
Let's Grow Kids director Robyn Freedner-Maguire explains, "Lets Grow Kids is a public awareness and advocacy campaign about the important role that high-quality and affordable child care plays in the healthy development of young kids and supporting working families and also, ultimately, supporting Vermont's economy."
Freedner-Maguire says the flash mob project, and the music video that will follow, are about inspiring people to support that mission.
"We know that there's a real need out there, and now we just need to be inspired for action," she says. "And we think this is just a fun way to pull together community members, to celebrate kids and think about what we can do for them."
Right now, in addition to perfecting the anthem, efforts are focused on recruiting people to teach the song and dance moves to families in their community. The next step will be to entice adults and kids to join in the flash mob on October 1.
Written
Jul 22, 2017
by Amy Kolb Noyes