Mob of caped kids rally for early education in VT
Caped youngsters and oldsters mustered by the hundreds Sunday morning in downtown Burlington to champion more public and private investment in early childhood daycare and education.
Toting megaphones, tambourines and signs, the throng flash-mobbed Church Street and joined soul diva Kat Wright in singing a newly penned anthem, "Something Beautiful."
The rally was organized by Burlington-based nonprofit Let's Grow Kids to support efforts in the upcoming legislative session to prioritize affordable, effective daycare for working parents. (Click here to learn more about the Kids Out Loud! event).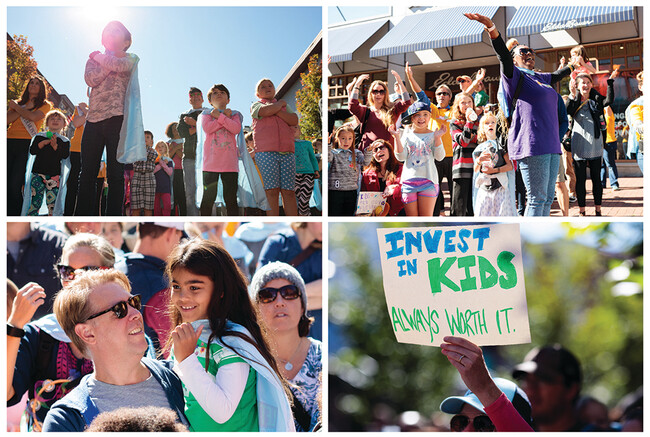 "Early childhood is the most critical time in a person's development," said Robyn Freedner-Maguire, the group's campaign director. "When you start them off young, you're setting them on the path where they're going to have healthy relationships, academic success, and grow up to be contributing citizens. There's years and decades of research that support that.
"We invest in the early years, we mitigate other costs like special education, corrections costs — we know that there's a strong return on investment," she added.
Affordability, for the parents as well as for daycare providers, remains a major obstacle, said Nan Reid, a licensed home daycare worker and early childhood educator.
"Low- and even middle-income families need subsidies to make it happen, particularly when there are two working parents," Reid said.
"There are costs associated with this," she continued. "At the policy level, it's too often an afterthought."
Reid signed a petition being circulated by Let's Grow Kids volunteers — an assemblage of signatures that aims to give greater voice to parents' and kids' needs.
Those needs will be spelled out later this month, said Sarah Squirrel of Williston, executive director of Building Bright Futures, a group formed to advise the governor and the legislature on early childhood policy.
quirrel said she was lucky to find stimulating, safe and affordable daycare for her own child, Charlotte, "and now we want that for all kids."
Kate Neufeld of Burlington, who is seven months pregnant with her second child, said word-of-mouth served her well the first time around.
Similarly, Mayor Miro Weinberger said his family had been lucky in landing spots for their two daughters.
"But I have certainly heard many, many horror stories about those who have struggled," the mayor said. It's been difficult for my chief of staff (Brian Lowe) to find something for his one-year-old. There's just not enough slots right now."
Earlier this year, Weinberger announced grants totaling $500,000 to boost capacity of early-childhood education programs in the city.
Let's Grow Kids' director Feedner-Maguire termed that investment an important advance in what so far has been a "patchwork" approach around the state.
But, she added, "there's no 'best model' out there."
Despite the seriousness of the message, a festive air prevailed.
Like Weinberger, Freedner-Maguire was among those who donned bright blue cape and wielded noisemakers for the occasion.
"We're all super heroes for our young kids," she said. "We're here to celebrate who they are, and what they're doing to become adults."
Contact Joel Banner Baird at 802-660-1843 or joelbaird@freepressmedia.com. Follow him on Twitter @VTgoingUp.
Click here to read this article and watch a video on the Burlington Free Press website.
Written
Oct 1, 2017
by Joel Banner Baird