"Let's Grow Kids" Takes Over Burlington's Church Street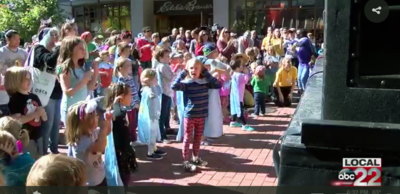 Burlington, Vt. - More than 1,000 people flocked to Church Street to sing, dance and advocate for the future of Vermont's children.
"Let's Grow Kids" was the message in Burlington Sunday morning as people from all over the state came to raise awareness about what they consider to be Vermont's critical shortage of high quality affordable child care by leading a parade and flash mob.
The owner of Sunshine Daydream Child Care Elen Drolette said quality care is crucial to a child's development.
"80 to 90% of brain development starts between 0 and 5 years old so there's a lot at stake so we need to get it right," Drolette said. "We need to make sure that families have access to quality childcare at a young age."
Drolette is concerned for families that are faced with choosing between quality and afforability. She said the parade and flashmob was so great because it's bringing attention to the issue.

Written
Oct 1, 2017
by Rebecca Reese