Let's Grow Kids' statement on 2020 child care investments
Today Governor Phil Scott signed the state budget into law that invests $7.4 million to expand Vermonters' access to high-quality, affordable child care. Of all the many priorities for legislators and the administration, child care rose to the top with unprecedented tripartisan support for much-needed investments including the first major state funding increase for child care financial assistance in nearly a decade.
This didn't happen by accident. It happened because Vermonters are calling for change. Every single week of the session, policymakers in the State House heard about Vermont's child care crisis from parents, early educators, business leaders, health care professionals and community members with more than 500 contacts into legislators. The investments approved this year demonstrate a serious commitment to Vermont's children, families, businesses and the early educators who support them.
Since 2014, over 30,000 Vermonters have joined Let's Grow Kids' statewide movement and many of them are bravely sharing their personal stories to make it clear that child care isn't just a problem for children and families; it's an economic and workforce development issue. And it's our best chance to level the playing field for Vermont's children.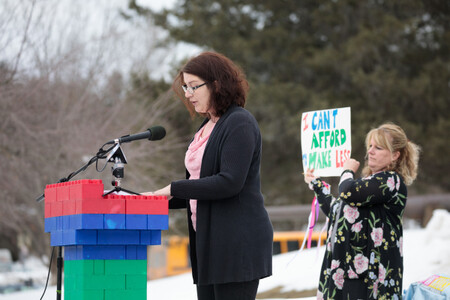 Faye Longo is a single mother from South Royalton who spoke at the State House Rally for Kids in March where hundreds of advocates demonstrated in support of increased public investments in high-quality, affordable child care. Faye spoke alongside legislators, a local business leader and early educators about having grown up in poverty and her commitment to giving her daughter every advantage she did not have.
"I don't want to see her start school less prepared than her peers because I know how hard it is to catch up and get ahead when you're starting out behind everyone else," Faye said. She told the crowd she has gone without groceries for the week to afford quality child care and that she's had to turn down raises at work several times because of the child care financial assistance she would lose. "I won't let my daughter miss out on quality early care that will set her up for future success, so I'm forced to sacrifice my career progress."
These investments will make quality child care more affordable for families like Faye's, which additionally benefits Vermont employers who rely on skilled, motivated employees like Faye to be able to show up and stay focused at work.
Investing in high-quality, affordable child care isn't just the right thing to do for children and families, it's the smart thing to do for Vermont; early childhood is our best opportunity to make the biggest possible impact on Vermont's future. Decades of research show that children who have high-quality early care and learning experiences are not only more likely to succeed in school but are less likely to develop addictive behaviors and chronic health problems later in life.
For all of these reasons, legislators and the governor deserve recognition for taking action this year and investing $7.4 million to begin tackling Vermont's child care crisis. We still have a long road ahead but this year's investment is a major leap forward. Please thank your legislators and the governor for making a commitment to children and investing in Vermont's future.
Let's Grow Kids is approaching the halfway mark of our statewide movement to achieve affordable access to high-quality child care for all Vermont families who need it by 2025. The time to join the movement and be part of creating historic change is now. Visit letsgrowkids.org to get involved.
About Let's Grow Kids
Let's Grow Kids is a statewide movement to make Vermont the best place to raise a family and our mission is to ensure affordable access to high-quality child care for all Vermont families by 2025. We work with business, education and health care leaders, elected officials and local communities to build a high-quality child care system and our network of over thirty thousand supporters includes dedicated volunteers who advocate for increased public investment in child care to make it affordable for all Vermont families. Learn more at www.letsgrowkids.org.
Written
Jun 18, 2019
by Let's Grow Kids