First With Kids: Child Care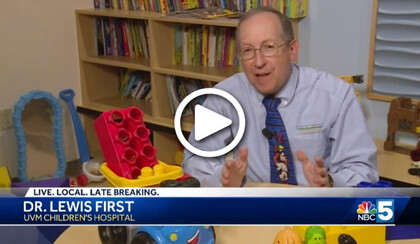 BURLINGTON, Vt. —Parents of infants, toddlers, and preschoolers have been eager to ask me questions about the benefits of child care. May 10 is National Child Care Provider Appreciation Day, so I'll provide information on the benefits of high-quality child care.
The American Academy of Pediatrics recently came out with a policy statement that stresses how important access to high-quality early education. Standards for achieving this level of care are lagging due to insufficient state and federal funding of child care programs. A parent not being able to afford child care, and inadequate training of providers, are just two examples.
Benefits of high-quality care
Yet when parents are working, child care becomes not just an option but a mandate. It is crucial to help your child developmentally, physically, and socially when a parent cannot be there. The infant's brain is building new connections every second, helping those connections progress in the right direction important. Providers can help by giving young children the opportunity to learn through play. They can also help teach children lifelong health habits such as handwashing, safe sleep, physical activity, etc. Some programs even provide healthy nutritious food for at least two meals a day if a family cannot.
High-quality child care is an investment in a child's future learning and development. It can set the stage for success in school, relationships, and life. Yet choosing the right child care for your child is easier said than done.
Which program should I pick for my child?
I suggest working with your child's health care professional to find a child care program that will work for everyone. For example, if you are still breastfeeding, will the center you choose allow you to come in and nurse or provide pumped breast milk? Are all caregivers trained in CPR and first aid? What is the medical backup for such things as infections or allergies? Is there daily physical activity and minimizing of screen time as much as possible?
Sadly not every child care facility is as high quality as they would like to be. It will likely take additional federal and state policies and funding streams to further strengthen the quality of early child care throughout VT and NY so all who need this high level of childcare have access to it. Thank your child's providers in that program not just on May 10 but every day you drop off or pick up the child for the great work they do.
Hopefully, tips like these will grow and develop your understanding of why high-quality child care can make such a difference in the health and wellbeing of the children who are enrolled in these programs.
Written
May 30, 2019
by Dr. Lewis First