Early Childhood Advocates Turn Out in Montpelier Despite Historic Snow Storm
Vermonters descend on the State House to tell legislators to invest in kids at 2017 Early Childhood Day at the Legislature
Montpelier, Vermont—Burlington's second largest snow storm in history didn't stop more than 80 brave and determined advocates and 75 legislators from participating in Early Childhood Day at the Legislature (ECDL) on March 15. A record 360 people from all over the state had registered for the day; many of those who could not attend in person participated via social media and by contacting legislators by email and phone asking them to invest in kids.
"It was incredible to witness so many passionate advocates talking to legislators at the State House about the need to invest in Vermont's youngest children," said Let's Grow Kids Campaign Director Robyn Freedner-Maguire.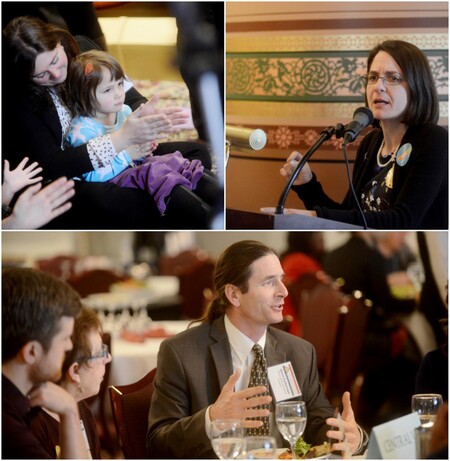 ECDL is an annual day of advocacy, organized by the Vermont Early Childhood Alliance, Let's Grow Kids and Building Bright Futures, that brings together early childhood professionals, parents, employers, policymakers and community members to focus on early childhood issues.
The day included advocacy seminars; remarks by Governor Phil Scott and Lt. Governor David Zuckerman; a Rally for Kids with speeches by advocates and legislators; and a luncheon attended by 75 legislators that gave advocates the opportunity to speak one-on-one with their legislators about key issues such as: high-quality, affordable child care; family and medical leave insurance; afterschool and summer learning programs; and funding for Children's Integrated Services (CIS). (For the full list of early childhood issues covered, visit: http://vermontearlychildhoodalliance.org/legislative-agenda/2017/2017-legislative-agenda).
The Rally for Kids, a peaceful demonstration in support of high-quality, affordable child care, was a new addition to ECDL this year. Advocates took over the Cedar Creek Room and listened to inspiring speakers including Sen. Becca Balint (D-Windham) and Rep. Jessica Brumsted (D-Chittenden).
Sen. Balint said fighting to make high-quality child care a reality for all Vermonters is not only the right thing to do for our kids but it's also an economic imperative for Vermont.
"We know that investment in early education pays us back many times over. We've seen the studies, we've seen the reports, we know the data, we have all personally witnessed the evidence—we know. So now it's time to do," Sen. Balint said.
Trisha Scharf, the owner of a high-quality child care center in Williston and one of the organizers of the Rally, spoke passionately about the important role early childhood professionals play in supporting the social, emotional and cognitive development of Vermont's youngest children. She also talked about the struggle to attract and retain qualified teachers.
"Just last month we lost one of our young, skilled and dedicated teachers to another profession because she couldn't afford to support her family on what she could earn in early childhood," Scharf said. Meanwhile, Scharf said, Vermont's child care shortage is so severe that she has families with one child in her program asking her when they can even think about getting pregnant with a second child so they'll know they have child care available, and that it breaks her heart.
Rep. Brumsted, who has four children in college, said we need to make Vermont a place where young people want to stay and raise their own families and high-quality, affordable child care is crucial.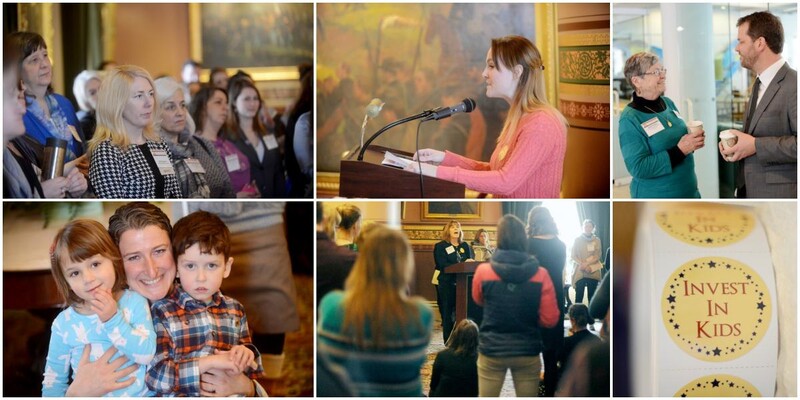 Paula Nadeau, the owner of an infant-toddler program and mother of two young boys, talked about her family's struggle to afford full-time preschool. Even though they struggle to make ends meet, her family doesn't qualify for the Child Care Financial Assistance Program (CCFAP), which provides tuition assistance for families making 300% of the federal poverty level or less.
Unfortunately, CCFAP has been chronically underfunded and, as a result, it's not meeting the needs of families like Nadeau's. Not enough families are eligible to receive assistance, it doesn't provide enough assistance to eligible families who are still paying up to 40% of their income on child care, and the rates it pays to child care providers on behalf of eligible families are based on what providers were charging in 2008 and 2009—not their current costs. This lack of investment is evidenced by the fact that almost 80% of Vermont infants and toddlers likely to need care don't have access to high-quality programs.
Let's Grow Kids is part of a group through the Vermont Early Childhood Alliance advocating for a $9.5 million increase in CCFAP funding, which would represent an important first step to implementing short-term recommendations issued last December by Vermont's Blue Ribbon Commission on Financing High Quality, Affordable Child Care.
In the words of Children's Defense Fund Founder Marian Wright Edelman, who Sen. Balint quoted at the Rally for Kids: "If we don't stand for children, then we don't stand for much."
Click here to see more photos from ECDL on our Facebook page.
Written
Mar 17, 2017
by Let's Grow Kids