Child care advocates rally at State House
MONTPELIER — Child care advocates lobbied for more state investment in early care and learning Wednesday.
Child care professionals, legislators, parents, children and supporters packed into the Cedar Creek Room at the State House for the Rally for Kids on Early Childhood Day. The gathering was held to stump for more money to help families with child care costs, free parents to go to work, and improve the early development and education of young children.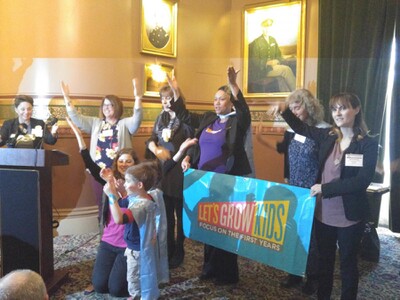 According to the statewide advocacy group Let's Grow Kids' 2018 report, "Stalled at the Start," more than half of Vermont infants and toddlers don't have access to regulated child care and 77 percent don't have access to high-quality programs because of high child care costs. The report also describes a shortage of facilities and low wages for child care professionals.
Some families pay as much as 40 percent of their income for child care, the report said, with 74 percent of women who left the workforce citing the need to care for their children.
"We are here because we want to level the playing field for Vermont's children," said Robyn Freedner-Maguire, Let's Grow Kids campaign director. "We are calling for more investment into our early childhood system because we know it is the best thing for our kids if we want to give them a strong start."
Freedner-Maguire said investment in child care was the best way to help build a strong workforce and economy in Vermont.
"We know it's the best way for today and for Vermont's future, but the bad news is we're not there yet," she said, noting that child caregivers earn an average of $25,000 a year without benefits. "It is not a livable wage."
Freedner-Maguire lauded child care "champions" in the Legislature including Rep. Ann Pugh, D-Chittenden, and Sens. Becca Balint, D-Windham, and Richard Westman, R-Lamoille, who have fought to increase state appropriations for child care programs in Vermont.
Pugh said she was a social worker and a "baby-boomer" who now looked to younger generations to build Vermont's future.
"The earliest years form the basis for everything else that happens in someone's life," she said. "Investments that we make early can have the greatest impact. We all know that during the early years the brain develops really rapidly. The research is clear that when children have access to high-quality learning opportunities … they have greater opportunities in school, in work, in relationships and in life."
Pugh said the Census Bureau showed that 13 percent of Vermont families with children under 5 have an income below the poverty level and the number climbed to 45 percent for single-parent families.
"That's unconscionable," Pugh said, adding that child care support helps reduce inter-generational poverty.
Balint said she ran for office when she discovered that 70 percent of the children at her local school came from low-income families that qualified for free school lunches.
"I knew I had to get off the sidelines and do something," she said. "I knew I had to do more to support Vermont families. Simply put, I felt compelled to act."
Balint said investing in a child's early development and funding child care is the best way to support Vermont's workforce and economy.
"The lack of access to high-quality, affordable child care is a serious impediment to Vermonters with young children who want to be in the workforce," Balint said. "When parents cannot find affordable child care, businesses lose out, communities lose out, our economy loses out."
Freedner-Maguire introduced Westman as one of the legislators who helped increase state funding for child care programs by $2.5 million last year, and as a "champion for young kids."
Westman noted there is a $9 million deficit in state subsidy funding for child care programs that have been level-funded for the past five years. He said the Legislature had budgeted $39 million this year for the child care subsidy program, which is $1 million less than last year.
"The work you're doing here is vital to keeping young people and young families here, and for me, young families are where we're most at risk," Westman said.
Montpelier resident Stacie Curtis, who attended with her two children, William, 7, and Natalie, 4, stressed the need to support subsidies for child care and early childhood development that allowed parents to work.
"As a parent and a working mom in the field, it was really challenging," said Curtis, director of the early education program in the Burlington School District. "It's really important to get the word out so that we can make sure we invest in the future."
Written
Mar 14, 2018
by Stephen Mills