Award puts longtime childcare provider in spotlight
Tiffany Danitz Pache
4 min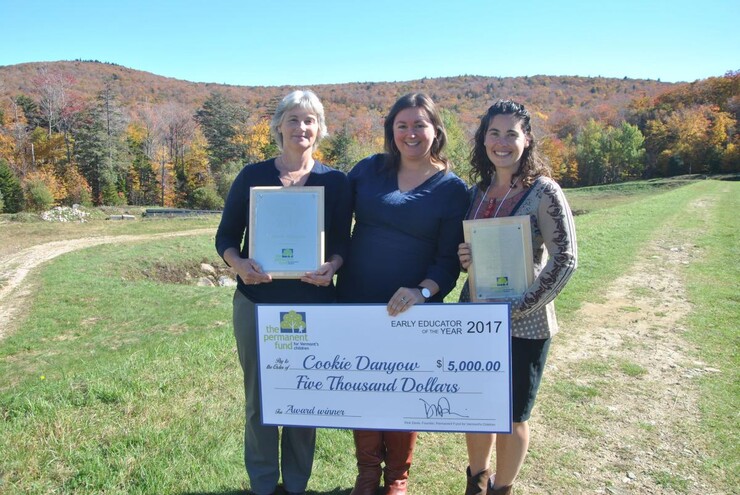 Early childhood educators recognized the work of a 30-year veteran at their annual retreat Thursday in Killington. Cheryl "Cookie" Danyow (pictured above on the left), who runs a preschool program out of her home in Addison, was named Vermont's Early Educator of the Year.
"Working with children has been the best thing in my life," Danyow said. "I live for it."
The award is presented on an alternating basis to either child care center operators or home-based child care programs during the annual Vermont Association for the Education of Young Children conference. Ellen Kraft, the owner of Honeycomb Kids in Richmond, was the finalist this year.
Both the owners who were recognized this year incorporate the outdoors into their programs.
Danyow's Mountain Road Preschool includes an outdoor classroom where she said children are able to safely explore their environment.
Kraft said children in her program often spend the entire day outside and nap in tents. "We go to farms and pick our own food, and we bake our own bread," Kraft said.
This is the third year the Permanent Fund for Vermont's Children has recognized child care workers through the award. The organization, which supports the Let's Grow Kids and Vermont Birth To Five campaigns, wants to use this award to help raise the status of early education workers.
"By honoring outstanding early educators like Cookie Danyow and Ellen Kraft, we are demonstrating to all Vermonters what high-quality early care and learning looks like," said Permanent Fund CEO Aly Richards.
More than 70 percent of Vermont's children under the age of 6 are in households where the parents work outside the home. Many of those children are spending 40 hours or more a week in day care at a time when experts have found that babies need interactive relationships with a caring adult, according to Let's Grow Kids, which advocates for more high-quality, affordable child care in Vermont.
The award helps erase the misconception that early educators are baby sitters and not teachers, said Danyow. She also praised Let's Grow Kids and Vermont Birth to Five for publicizing that early child care is just as important as elementary school. "It is essential for families to find quality child care in Vermont," she said, adding there is more need than spots in homes or centers.
Nearly 40 percent of Vermonters live in communities without any child care or with so few providers there aren't enough slots, according to a recent report by the Center for American Progress.
In Vermont, in recent years, people who run child care programs out of their homes have been closing shop and are not being replaced by newcomers, according to a Department for Children and Families study. At the same time, the state regulations governing child care programs have ratcheted up, although the study found no correlation.
Both award recipients said the new regulations can be intimidating for people just starting out. Kraft said she was the only home-based provider who was a member of the regulations review committee in Chittenden County. After spending more than a year on the panel, she felt as though her concerns were not listened to. But looking at the big picture, she said the regulations aren't that bad and don't ask much more of providers — they are just too wordy.
The regulations went from 13 pages to 119, according to Danyow. She didn't have any trouble complying because she had a history of doing more than required. "It wasn't a big jump for me, but for other programs just starting out in the field, it is a major hurdle," Danyow said.
Click here to watch videos about Danyow and Kraft and to see photos from the Early Educator of the Year award ceremony on the Permanent Fund's website.
Written
Oct 15, 2017
by Tiffany Danitz Pache