Attorney Trey Martin to join Let's Grow Kids as General Counsel and Chief Strategy Officer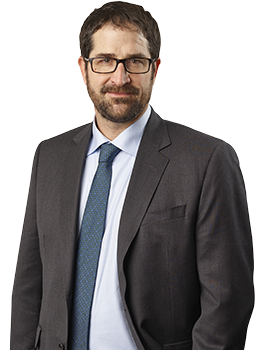 Burlington, Vermont – Let's Grow Kids (LGK) is pleased to announce that Calais attorney Trey Martin, currently a director at Downs Rachlin Martin PLLC (DRM), has been hired as LGK's general counsel and chief strategy officer. In this role, Martin will oversee LGK's overarching legal, policy and political strategy as the organization pursues its mission to achieve affordable access to high-quality child care for all Vermont families by 2025. Martin's first day at LGK will be July 15.
"We are thrilled to welcome Trey to the LGK leadership team. Trey brings dynamic energy, deep experience solving complex legal, fiscal and policy problems, and a passion for creating positive change. Vermont is emerging as a national leader in tackling the child care crisis and we're excited to leverage Trey's expertise as our movement continues to gain momentum," said LGK CEO Aly Richards. "We value our relationship with DRM and expect that relationship to continue."
At DRM, Martin has served in the firm's Energy, Environment and Telecommunications practice group with a practice focused on administrative law and government affairs. Prior to joining DRM, Martin was an attorney and official in the Administration of Peter Shumlin, including appointment as Governor Shumlin's final Secretary of Administration.

"Trey is an outstanding attorney and has been a major asset for DRM and our clients. We wish Trey much success as he pursues his passion for education and child care policy in Vermont," said DRM Managing Director Peter Kunin.

Before matriculating at Vermont Law School, Martin was a classroom teacher and school administrator from 1996 to 2005, including stints with kindergarten-aged students in Covington, KY and Hayward, CA. It was during this time that Martin witnessed firsthand how access to high-quality early care and learning environments transforms lives and communities.

"These last two and a half years with DRM have been fast-paced and exciting. It has been an honor and privilege to work with world-class colleagues and exceptional clients. I can't think of a better platform to grow as an attorney, and now I look forward with great enthusiasm to joining the team at LGK to tackle Vermont's child care crisis, build community and help grow Vermont's economy," Martin said.

Martin holds a bachelor's degree from Middlebury College, a master's degree in English from Middlebury College, a master's degree in educational leadership from St. Mary's College of California and a law degree from Vermont Law School. He and his wife, Roberta, live in Calais with their four children and their dog Sola.

About Let's Grow Kids
Let's Grow Kids is a statewide movement to make Vermont the best place to raise a family and our mission is to ensure affordable access to high-quality child care for all Vermont families by 2025. We work with business, education and health care leaders, elected officials and local communities to build a high-quality child care system and our network of over thirty thousand supporters includes dedicated volunteers who advocate for increased public investment in child care to make it affordable for all Vermont families.
Written
Jun 25, 2019
by Let's Grow Kids