What Vermonters are saying about pre-K
Universal pre-K is a smart investment
Investing in universal pre-K (Act 166) was not only the right thing to do for Vermont—it was a smart choice to make. When kids get a strong start with high-quality early care and learning, we give them the best chance to reach their full potential, and that benefits society as a whole.
Investing in high-quality, affordable early care and learning is one of the most effective ways to make Vermont more affordable for young families right now and, in the long term, we know that every dollar Vermont invests to expand early childhood programs will bring back $3.08 in return.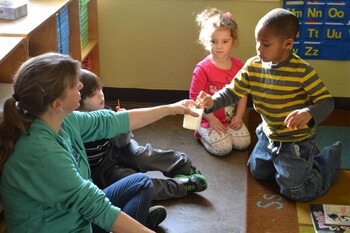 A step in the right direction
Under Act 166, all 3-, 4-, and 5-year-olds not yet enrolled in kindergarten are eligible for 10 hours a week of publicly funded pre-K for 35 weeks a year. This is a big step in the right direction. But with more than 70% of Vermont kids under 6 likely to need child care for up to 40 hours a week, there is still a lot more opportunity on the table to capitalize on this smart investment.
More kids have access to high-quality early learning
It's only been 8 months since the law went into full effect and Act 166 is already meeting with success. During the 2015–2016 school year, with only 30% of school districts voluntarily participating, 1,045 new children accessed high-quality pre-K programs, bringing the total number of kids in pre-K up to about 7,300. We can assume that number will go up when we have 2016–2017 data showing participation during the first year of full implementation.
Parent choice is important for 0–5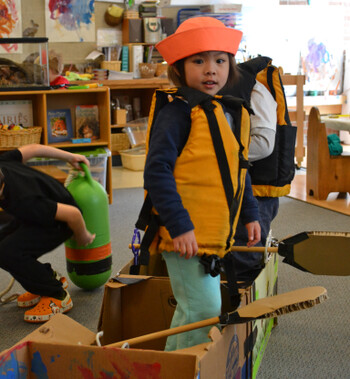 A critical element of Act 166 and a key contributor to its success is the fact that families are able to choose the best pre-K option for their children. Vermont's "mixed delivery" system—pre-K is offered in school, home and center programs—not only sets up kids for success by offering the right environment for every child, it also maximizes the total number of pre-K slots available by including programs operated by private providers. And that's extremely important considering the severe shortage of early care and learning programs in Vermont.
Let's look at what's working
We've seen many successful partnerships established between school-based and community-based programs across the state. Take, for example, the Orwell Village School, a K–8 school in a small, rural town. When the school was unable to find a qualified preschool teacher locally, they partnered with Mary Johnson Children's Center, a community-based early childhood program in Middlebury. Under Act 166, Mary Johnson is able to send one of its licensed preschool teachers to meet the need for pre-K at the school. This partnership is giving 21 children access to high-quality, part- or full-day pre-K, which is essential to working families in that community.
We've also seen families who couldn't otherwise afford to send their children to high-quality early care and learning programs taking advantage of the financial help Act 166 provides. Page Wheelock is a single mom who takes her two young children to Saxon Hill School, a high-quality parent cooperative preschool in Jericho. Here's what Page had to say about what universal pre-K means to her family: "Act 166 has allowed my family access to a high-quality program based on values important to my family, and a commitment to my children's education. Without this funding, I would be unable to access a real educational program, despite my commitment to setting my kids on a good path. I grew up on a farm, and did not have the opportunity that my children have and it impacted me socially and economically for most of my life. I believe access to this program will have a lasting and profound impact on my children's futures."
Making child care affordable
With middle-income families paying up to 40% of their income on child care, we need to be doing more to make high-quality early care and learning programs affordable for all families. Publicly funded pre-K helps us work toward that goal. Is Act 166 specifically helping more children from low-income families access pre-K? That's an important question and one that has been the subject of much debate this legislative session and recently in the news.
In April, the Agencies of Education and Human Services released a report to the Legislature that offers a "preliminary evaluation" of Act 166 (based on limited 2015–2016 data from partial implementation) and lays out recommendations to help ensure Vermont's universal pre-K program is meeting the needs of young children and their families. After clearly stating that there is not yet enough data collected to draw credible conclusions about Act 166, the report takes a stab at answering the question about children in poverty by using the measurement of kids participating in pre-K who are eligible for free and reduced lunch. Using this measurement, it appears that there has been no increase in the number of low-income children served.
It would be rash for us to make this assumption for two reasons:
As the report itself points out, we don't have real numbers yet.

Free and reduced lunch is only offered through public school programs, which only make up 40% of all programs participating in Act 166. So what about the kids at the other 60% of programs? Let's Grow Kids and our sister initiative, Vermont Birth to Five, have heard from providers and parents like Page Wheelock from all over the state who tell us stories of how the financial relief provided under Act 166 is helping children from low-income families access high-quality pre-K. We have more success stories on our website about pre-K programs in St. Johnsbury and Addison. You can also read more about the aforementioned stories in Jericho and Orwell.
It only takes a visit to local communities to hear about the positive impacts of universal pre-K in ways that aren't reflected in numbers—especially inconclusive numbers.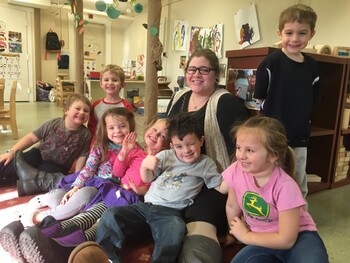 We do agree with the state's proactive approach in its report by calling for more technical assistance when it comes to data collection and program evaluation as well as continued cooperation between the Agency of Education and Agency of Human Services, which jointly administer universal pre-K.
Considering the large investment early childhood programs like universal pre-K require—and what's at stake when we fail to prepare our children for life—we need to make sure that our efforts are more than well-intentioned. That's why it's so important that true evaluations of Act 166 and subsequent policy decisions are made based on complete data—which we hope will be available soon.
In the meantime, we can look to communities like Orwell, where a small town is making a big difference in the lives of young children. Orwell Village School Principal Patrick Walters puts it this way: "Orwell's children will come into kindergarten more socially and emotionally prepared, with a stronger foundation, ready to learn. Our community owes them this opportunity."
Written
May 5, 2017
by Let's Grow Kids