These Signs Were Made for Talkin?
Nancy E. Baker, PhD, Speech Language Pathologist and Early Childhood Special Educator
5 min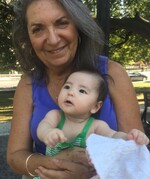 Nancy E. Baker has been helping children and families communicate and learn for over four decades. She has a doctorate in Speech Language Pathology (SLP), is a licensed Early Childhood Special Educator and holds the Certificate of Clinical Competence from the American Speech Language Hearing Association (ASHA, CCC). She is currently in private practice serving children and families birth to 6 years old as well as conducting workshops on early, emerging literacy and on language and communication development and has worked in many Vermont schools. She has been an instructor and clinical supervisor at the University of Vermont and continues to supervise graduate SLP students. She is a mother of three adult sons, lives with her husband in Shelburne and her most recent interest is her five-month-old granddaughter with whom she signs, gestures, talks, sings and plays!
At the heart of building strong, meaningful, trusting relationships with our children is the ability to effectively communicate, and for our youngest children not yet capable of the spoken word, sign language is a powerful way to deepen their relationship with their parents, grandparents and caregivers.
We use natural gestures daily to quickly convey a feeling or idea, such as nodding or shaking our heads to mean "yes" or "no." Lots of us have silently wiped our forehead or pretended to use a fan during hot summer days. Many natural gestures are easily understood worldwide, helping people communicate when they do not speak the same language. Babies also use their own gestures before speaking, which their caregivers learn to interpret, and to respond to.
Sign language is a manual, nonverbal method of communication understood in many parts of the world. It uses specific hand motions, gestures and facial expressions and has a structure—called a grammar—that allows ideas to be expressed in more than one word. These motions—called signs—can be combined to form sentences and full conversations. There are many formal sign systems in the world but American Sign Language (ASL) is usually what is referred to when we talk about using signs with young children.
Why Sign?
In addition to being a practical and fun way to communicate, signing and gesturing to children early and often encourages healthy emotional and cognitive growth in children, stimulating the brain at a time when one million brain connections are formed every second. Signing offers many benefits for hearing and non-hearing children as well as those with delayed talking and other challenges—and for adults, too:
Signing is a great opportunity for serve and return interactions. Face-to-face attention and imitation, combined with observation of and response to what your child is looking at, interested in and doing, can lead to a deeper bond between you and your child.
Signing provides a neutral way to communicate when your child is in distress, and can reduce frustration for both adults and children.
Although many adults are concerned that teaching signs to babies will delay their speaking, the opposite occurs! In fact, children learn language earlier and have larger vocabularies and a better understanding of language if sign language was their first means of communication.
Babies understand language before they are able to speak it. Since babies have better and earlier coordination of their hands than of their lips, tongue and voice before they speak, they are able to communicate through sign language much earlier than they would through speaking.
Sign language helps children gain the idea that one thing—like a sign or word—can stand for something else.
Children who sign are more likely and able to learn a second spoken language and have been shown to gain 12 points on their IQ.
When and What to Sign
A baby can be exposed to signing at a very young age, just as we talk to babies long before they understand the words we say. By 5–6 months, babies are gazing and maintaining eye contact long enough to see a sign, while hearing its corresponding word. Be realistic and allow your child to experience the sign and word for a couple of months before you expect the child to use it. Babies exposed to signs and gestures at 5–6 months will typically begin to use those signs by 8–10 months.
Signs for social needs (more, please, thank you) and basic words that you are already saying to your child (milk, eat) are often where people begin. Use the selected signs frequently and consistently, even if the child is watching you but not yet using the same signs. And just like with words (where the child calls his blanket "bankie"), we accept the child's approximation of the sign.
From there, you can go beyond the social signs, which are general, to specific signs for actions, things and people. This builds brain connections, from a very young age, and teaches your child that things, actions and people have names/words/signs. This develops the child's ability to use symbols and is called referencing.
Make sure to pick age-appropriate signs. Signs for their routines, feelings and common actions would be best to start with.
Most importantly, have fun! You and your child will have a blast understanding each other and you'll be happy to know that in doing so, you're also encouraging their healthy development.
For more information, there are many sign language resources available online including a free dictionary of signs; a database of illustrated and animated ASL words; and a website that includes an extensive animated dictionary with tips on how to teach signing and a guide to signing with children—and adults—of all ages, including those with special needs.
Written
Sep 22, 2016
by Nancy E. Baker, PhD, Speech Language Pathologist and Early Childhood Special Educator