There's No Place Like Home: Pre-K in Addison
Cookie Cummings, licensed pre-K teacher and owner of Mountain Road Preschool, Addison, VT
6 min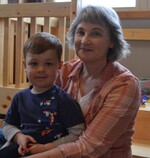 Cheryl "Cookie" Cummings has been an early childhood educator in Addison County for 30 years. She previously worked at the Otter Creek Children's Center and the Mary Johnson Children's Center, and has operated a family child care home for the last five years. She has a bachelor's degree from Johnson State College and is a licensed preschool teacher. Her 5-star child care program, Mountain Road Preschool in Addison, is the first and only certified outdoor classroom in the state of Vermont through Nature Explore.
Like so many others in the early childhood education field, I've taken the nontraditional route to get to where I am today. In high school, I completed the Human Services course at the vocational center and two weeks after graduation, I became a child care provider. While raising my kids and working fulltime, I obtained my associates degree from the Community College of Vermont and then my bachelor's degree from Johnson State College.
In March, with support from the Northern Lights Professional Development Center and Vermont Birth to Five (now Let's Grow Kids), I earned my early childhood teaching license from the Vermont Department of Education, which had been one of my goals for many years. One requirement for the license was that I document all of my experiences from 30 years in the field, which allowed me an opportunity to reflect on my career. I've worked with every age group—in the school system as a special educator assistant; in centers as lead preschool teacher, lead infant teacher, early childhood program coordinator; and now as a registered family child care provider in my own home.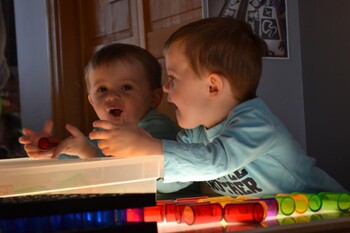 I love being in my own home, not just because it's a smaller environment, but because it feels more personal. I'm here at 7 AM when kids come in so that I get to touch base with the parents to see how the children are doing. And I'm here at 5 PM when kids go home, which allows me a chance to talk with parents about how each child's day went. This frequent communication helps me establish a mutual trust with families, allowing for a deeper understanding of the child's needs and interests and an opportunity to design my curriculum and space to nurture them.
I am inspired by the Reggio Emilia philosophy that the environment is the third teacher for a child. I pay attention to the children's current interests and offer activities and projects to capture their imagination. Children are fueled by their curiosity and so I use their interests to propel them toward learning experiences.
A typical day in my program begins with provocations—puzzles, block building, etc.—set up to gain the children's attention as they enter my home, making the transition from parent to provider that much easier. This is followed by what I call "free choice exploration," which could be anything from the sensory table or an art project to circle time with singing or story time. Whatever the children can touch in any of the rooms, they're allowed to play with, so everything is accessible to the children. The kids love it. Each day presents something new and exciting.

The outside space in my program is just as important as the inside. My outdoor classroom, certified through Nature Explore, is an open-ended nature-based play and learning space offering sensory stimulation and physical diversity. The kids and I also like to go for walks in the woods on my property where they can explore. They were excited the day they discovered a red newt!
In Addison County, where affordable, high-quality child care is so hard to find (81% of infants and toddlers likely to need care in Addison County do not have access to high-quality programs), universal pre-K through Act 166 drastically helps families. For some families, it would be very tight financially without that extra help. I have families that only take advantage of the 10 hours in the week funded by Act 166. And for families that couldn't afford any type of early care and learning program, Act 166 has given their children an opportunity to benefit from a well-rounded learning environment that helps to teach them the social and emotional skills they'll need to succeed in school.
Through Act 166, I partner with Addison Central Supervisory Union and Addison Northwest Supervisory Union because I have pre-K children in both districts. I've had such a positive experience with these school districts. Teachers have visited my program so they know I'm not just a babysitter. I provide a well-rounded learning environment for these children.
As a licensed pre-K teacher, I look at the learning experiences I provide as a sort of precursor to kindergarten. And I'm not talking about desks and worksheets. I have talked with several of the kindergarten teachers in Addison County to find out what they're looking for when these children come into their classroom. They all said the same thing: it doesn't matter if children know their ABCs and numbers when they enter kindergarten. What matters is that they are prepared with the social and emotional skills necessary to learn them. With all the blocks we count every day, my kids end up learning numbers without even realizing they're learning, but it's the social and emotional skills that are most important. My focus is on making sure they learn self-help skills (helping to dress themselves or going to the bathroom themselves) and how to work with others, to coexist.
It's not surprising there's a shortage of child care providers in the state (I have a 3-year waitlist right now, including people who are not even pregnant yet!). This is not an easy job. For starters, it's just me. In order to provide consistency for the kids, I schedule my appointments and errands for afterhours. I've taken one sick day in the last five years. And my days are not short ones. I work 10 hours each day with the children but, after my other responsibilities—cleaning, recording Teaching Strategies GOLD observations to help assess the children's development, curriculum development, pre-K meetings, etc.—my days are often 12–15 hours long. And yet … it's worth it. Every last minute.
I love seeing the children grow and learn on a daily basis. Every day, someone learns something new. It's an honor to be part of that learning process for the kids and it's really satisfying to know that what I'm doing—nurturing them, encouraging them, guiding them as they discover the world—is helping to build a strong foundation that will enable them to succeed in life. It truly is the most rewarding job.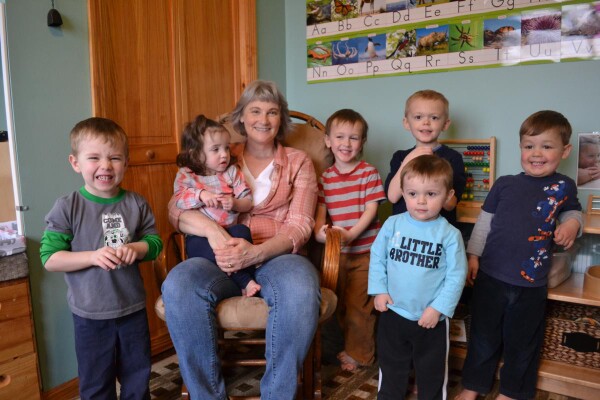 Written
May 5, 2017
by Cookie Cummings, licensed pre-K teacher and owner of Mountain Road Preschool, Addison, VT