The Reggio Emilia Approach to Child Care
Jeanne Goldhaber, Associate Professor Emerita in Early Childhood Education, University of Vermont
5 min
Jeanne Goldhaber is an Associate Professor Emerita in Early Childhood Education in the University of Vermont College of Education and Social Services. She continues to work closely with the UVM Campus Children's School which educates and cares for children ages 6 weeks to 5 years old and serves as the Early Childhood Programs' lab school. She is also a former early childhood teacher, service coordinator and consultant. Jeanne has organized Vermont delegations and participated in study groups to Reggio Emilia numerous times. She earned her BA from Syracuse University, her MEd from Antioch College and her EdD from the University of Massachusetts, Amherst. She is also a board member of the North American Reggio Emilia Alliance (NAREA). Jeanne has authored and contributed to numerous books on early learning.
The city of Reggio Emilia in northern Italy has received world-wide recognition for its system of high-quality early education and care. Over the past 25 years, I've had the good fortune to organize and participate in a number of Vermont study groups to Italy to learn about Reggio Emilia's infant-toddler programs and preschools. I visited schools that serve as declarations of a child's right to spend his or her days in spacious, light-filled, rich, stimulating environments, and marveled at its most recently built schools which serve as bold architectural statements of the central role early education can play in a community's vitality and well-being. I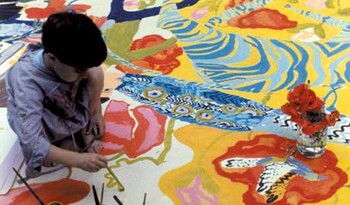 observed children at easels, carefully choosing from a multi-hued array of tempera filled jars, painting brilliant crimson poppies that deserve to be hung at the Metropolitan Museum of Art. I listened to teachers' presentations that chronicled and analyzed the mathematical, engineering and artistic challenges a group of 5 year olds encountered in their efforts to build an amusement park for birds.
Observations and reflections such as these lead me to ponder the question of what Vermont's communities might learn from Reggio Emilia. Clearly this city's accomplishments reflect its culture, geography and climate, resources and political history. Yet, there are three broad principles that may cut across differences in our contexts:
1. There is power in a shared vision.
In 1945, the citizens of war-torn Reggio Emilia built a school. On it they placed a plaque that reads, "Men and women working together, we built the walls of this school because we wanted a new and different place for our children." Loris Malaguzzi, the inspiring leader of the Reggio schools, described these men and women as understanding that "history can be changed, and is changed by taking possession of it, starting with the destiny of children." Fast forward 70 years, and we have powerful evidence of what a community can accomplish when it works together to create "a new and different place for its children."
2. How we see children drives the decisions we make in regard to the environments and opportunities we offer.
The educators of Reggio Emilia coined the phrase "the image of the child," words that challenge us to look beyond the child as he or she is culturally constructed or depicted in the media. For example, there is a clip on YouTube of toddler twins talking to each other in their own invented language that has to make you laugh. But if we consider the magnitude of their accomplishment—co-creating a communication system that effectively conveys meaning, desires, emotions—then we are more likely to scratch our heads in amazement at their invention of a cultural tool that belongs to a society of two.
Certainly, viewing children with affection and even humor is a lovely and necessary place to begin. But Reggio asks us to take time to look more closely, to listen, and, as importantly, to consider the meaning of children's actions, gestures and words. Children arrive into the world ready to learn. This is equally true for children with special needs, or as the educators of Reggio Emilia say, special rights. If we see children as "rich" from the get go—curious, eager, ready to engage in the world—it follows that, like the citizens of Reggio Emilia, we would aim to create environments and opportunities for ALL children that recognize and promote their unique capabilities and potential.
3. High-quality early learning environments are grounded in an approach that stays close to children's meaning making.
Every child creates and lives in a unique reality. Much of what children think and wonder could go unnoticed and unheard unless there are people in their lives who recognize their efforts to make meaning, to make sense of the new environment they were born into. The educators of Reggio Emilia have demonstrated the power of observation and reflection as teaching tools that bring us closer to children's realities, their wonderings, their questions and their theories.
The accomplishments of Reggio Emilia are those of a city that set its sights on the future. Bound by a shared vision, motivated by a strong and rich view of children who deserve equally strong and rich environments and opportunities, and committed to an approach that respects children as protagonists of their own development and learning, the citizens of Reggio Emilia created a system of early learning and care that draws thousands of educators, policy makers and parents from across the globe to learn about its schools.
Not unlike Reggio Emilia, communities across Vermont are coming together to dream and to take possession of their futures by the improving the opportunities they offer to all of their children. What will our story be as told by our grandchildren? Let's write one that reflects a vision "starting with the destiny of children."
Written
Mar 3, 2016
by Jeanne Goldhaber, Associate Professor Emerita in Early Childhood Education, University of Vermont