The Price We Pay for High-Quality Child Care
Tracy Patnoe, director of Mud City Kids Child Care Center, Morrisville, VT; and Stephanie Tetreault, Morrisville, VT parent of children enrolled at Mud City Kids
10 min
In its report to the Administration and Legislature, Vermont's Blue Ribbon Commission on Financing High Quality, Affordable Child Care emphasized the fact that high-quality child care is expensive for both parents and providers. In Vermont, too many families are living paycheck-to-paycheck while the average child care provider makes less than a livable wage.
These child care challenges are a problem statewide and, although what follows are just two perspectives—that of Tracy Patnoe, owner and director of Mud City Kids Child Care Center in Morrisville, VT; and Stephanie Tetreault, mother of two boys enrolled in Mud City Kids—they represent the stories of thousands upon thousands of Vermonters who struggle every day to ensure that all Vermont children have a strong start.
The Price of Quality: A Child Care Provider's Perspective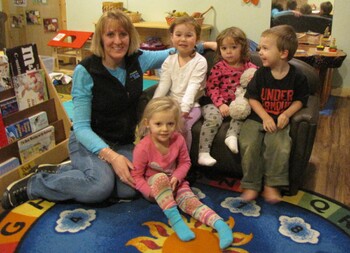 The first child care challenge I faced was as a parent.
Like so many Vermont parents before and after me, when my second child was born, I struggled to find a slot in a quality child care program. With no other options, I started my own registered home program. My plan was to continue until my son went off to school, but after realizing children and the early childhood community were my passion, I chose instead to make a career out of it. I purchased a building in Morrisville, renovated it and opened a licensed child care center.
The second child care challenge I faced was as a child care provider.
My name is Tracy Patnoe and I am the owner and director of Mud City Kids Child Care Center, a licensed, 4-star child care and early learning program in Morrisville that serves 40 children, ranging in age from six weeks to five years.
Mud City Kids used to employ 18 people but staff turnover was a regular struggle, as was finding quality staff to replace those who left. Because of the pay and benefits, in one 4-year span, we employed three licensed teachers. In order to offer quality consistent care, we made the difficult decision to reduce our size. Today, we have eight employees.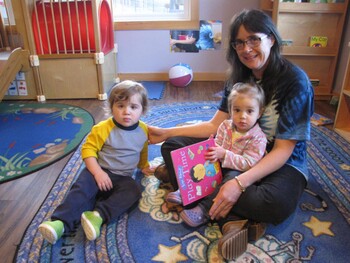 One of the key components of quality at Mud City Kids is the small group size in each room. Though state regulations allow eight infants and toddlers for every two teachers, we set our limit at four children and one teacher. Our 2-year-old room has a group of five children with a teacher (state regulations allow 10 kids with two teachers) and our preschool rooms have eight children with a teacher (the state allows 20 children and two teachers).
We know small groups make a huge difference in a child's development, but this significantly impacts our limited budget. At Mud City Kids, our infant and toddler program loses almost $32,000 a year and our 2-year-old program breaks even, which leaves our preschool program to try to make up the difference.
Another component of quality is the physical space we use. All of our classrooms have their own bathroom, sinks at the child's level, a separate kitchen sink and counter for sanitizing toys throughout the day, lots of windows for natural light and floors with radiant heat, which is amazing for babies and toddlers playing on the floor. We have over three acres of fenced-in wooded and open land to explore. While this is what we want for our children, it comes with a huge price tag: $41,000 a year in mortgage payments and $9,500 in property taxes.
Another important aspect of the high-quality child care we offer is our food program through which we provide breakfast, lunch and afternoon snacks. We know from experience that when children are fed they are better able to learn. Before we offered breakfast, we saw a lot of tantrums and behavioral problems and we learned that some children were arriving in the morning having not eaten and unable make it until lunch. After we started serving breakfast, their behavior greatly improved.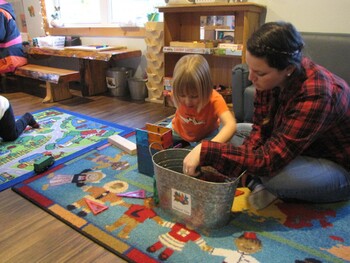 We served 12,648 meals and snacks to children in our program last year at a loss of $24,000 (not including my personal time spent on menu planning, Child and Adult Care Food Program reimbursement claim submissions and grocery shopping). Every year, when we decide our budget, we are forced to choose between avoiding a significant hit to our revenue or caring for children who aren't getting the nutrition they need.
Quality care also requires professional development funding and opportunities. With the revised licensing regulations set to come out this year, I knew I'd need a Bachelor's degree in order to be allowed to direct the program I've operated for the last 11 years. I completed my degree after attending school 2–3 weekends per month for 16 months, and, after repeatedly struggling to find, hire and retain a licensed teacher for pre-K collaboration, I submitted a 375-page portfolio to the Peer Review Project to become a licensed early childhood teacher. This professional development left me with $26,000 in new debt.
Like many early childhood professionals, I rely on alternative sources of funding to afford the quality care Mud City Kids provides, but the amount and sources of funding often change, making them unreliable resources. For example, I was able to significantly increase quality through incentives offered through Vermont's voluntary quality recognition and improvement system known as STARS but those funds shifted into the Child Care Financial Assistance Program, leaving me with $34,000 less per year in funding. I know I can't ask parents to pay more because they have bills to pay, too.
I love so much about my job: the true love a child give us when she wraps her arms around our necks, the way a child's whole face lights up when he smiles, and knowing we're making a positive difference in each child's life.
The work we do at Mud City Kids is important. Each new day, our quality care helps the children in our program move one step closer to realizing their full potential. It's my wish that there will come a day when a majority of our society values our work enough to help make that care sustainable.
The Financial Stress of Child Care: A Parent's Perspective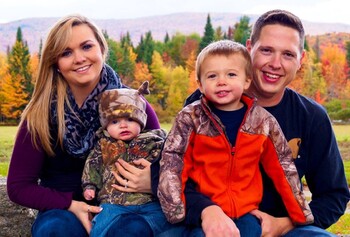 My story is a story familiar to most Vermont families with young children.
I live in Morrisville with my loving husband and our two sons. My oldest son, Tanner, is a happy, energetic, loving little boy who listens well and loves dinosaurs. My youngest son, Bentley is such a good baby who always seems to be smiling. My husband, Nick, is a hard worker and is the one who makes everybody laugh.
My husband and I are responsible Vermonters with good, full-time jobs trying to make ends meet while taking care of our children. Nick works about 50 hours a week as a sales representative for Farrell Distributing and I range between 35 and 40 hours a week as a cosmetologist. We need to work to support our family and to pay our bills, and in order to work, with no extended family who can support us, we send our children to child care. We'd prefer that the kids stay home with me, but we can't afford that luxury.
My name is Stephanie Tetreault and this is my child care challenge.
We send both of our boys to Mud City Kids 8:00 AM to 5:00 PM Tuesday through Friday every week. Tanner has been going to Mud City since May 2014 and Bentley started going in June of this year.
When I drop off the boys at Mud City Kids in the morning, I feel comfortable and thankful for the quality care they're about to receive. For starters, I know they'll be safe there. The space is always clean. Tracy is an excellent boss who knows how to get the very best out of her employees. The staff always carry a clipboard and do headcounts multiple times a day. There's a great big outdoor space that's completely fenced in, which allows kids the adventure of exploring age-appropriate, natural playgrounds while always under a watchful eye.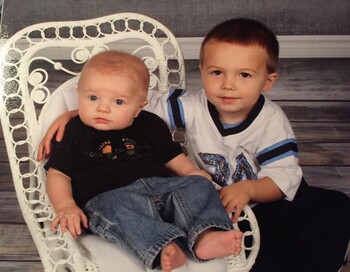 I also know how beneficial this high-quality care is to the children's development. The Mud City Kids teachers do so much for our boys. Tanner's development has been incredible to watch. He can now count, he's a great talker, he has manners that would make any mother proud, and, most importantly, he's learned how to interact with other kids and to share. These are all things we've taught him at home, too, but when we can't be there for him during the day, it's reassuring to know Mud City Kids will be there. I can't wait to see all the ways Mud City Kids will positively influence Bentley's development!
I admit that we're fortunate to be able to give our boys such high-quality child care. And yet, I feel anxious every day.
Our combined annual household income is $80,000. As a four-person family with two adults and two children, this means we earn approximately 330% of the Federal Poverty Level. And yet, since having children, we have been unable to save money, to afford family trips or a new vehicle, to put money into our home, or to buy the amount of groceries we'd like to. Nick and I live paycheck to paycheck. What's one of the main factors for our financial stress? Child care.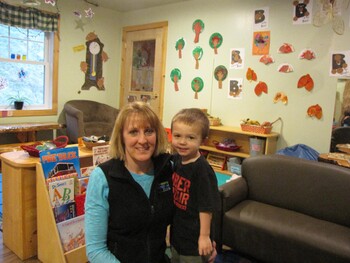 It used to cost $376 a week to send our kids to Mud City Kids, which works out to more than $19,500 a year. Thankfully, in September, the Child Care Financial Assistance Program extended its eligibility requirements, which allowed us to receive 10% in tuition assistance. We now pay $339 a week, which is still roughly $17,600 a year.
I know that we can't expect Mud City Kids to give us a discount. Tracy and her staff have bills to pay, too. It's just frustrating to be living the life you wanted—a loving spouse, decent-paying jobs, amazing kids, good health—and to still feel overwhelmed, depressed and discouraged.
What's equally frustrating for me is that my family is not alone. As I said before, our story is a story familiar to most Vermont families. Communities around the state are filled with homes struggling with the same child care challenges that we face. We have placed such an enormous financial weight on the backs of Vermont families to the point that those backs are slowly breaking.
It's my hope that Vermonters will recognize that our state's children, children like Tanner and Bentley, are our most important investment, and will join together to demand change.
Written
Nov 30, 2016
by Tracy Patnoe, director of Mud City Kids Child Care Center, Morrisville, VT; and Stephanie Tetreault, Morrisville, VT parent of children enrolled at Mud City Kids