The Importance of Healthy Meals & Snacks in Child Care
Ginger Farineau, Early Childhood Nutrition Specialist, Hunger Free VT
5 min

As the Early Childhood Nutrition Specialist at Hunger Free Vermont, Ginger Farineau works to incorporate nutrition as a priority in advocacy efforts to strengthen and expand early childhood education in Vermont. She understands how important proper nutrition is to the growth and development of the brain and what a vital role it plays in the health and well-being of children and their families. Prior to joining the staff at HFVT, Ginger worked for the Burlington School District, where she taught nutrition to middle school children, was the District Wellness Coordinator and facilitated the district's Coordinated School Health Team. She lives in Colchester and has 3 daughters, Whitney, Gabrielle and Sophie.
We at Let's Grow Kids know that having enough healthy food to eat during a child's first years is integral to their growth and development. For too many families, it can be hard to afford enough healthy food, which is why access to high-quality, affordable child care programs that serve meals is so important to Vermont's kids.
Healthy Meals & Snacks at Child Care Can Help Fight Hunger and Malnutrition
More than 25,000 kids in Vermont live in homes where there isn't enough food to properly feed them. This is because many parents are working at low-paying jobs and have a very hard time affording nutritious foods. Sometimes parents are working two jobs just to make ends meet and don't have the time to shop and cook homemade meals very often. In these cases, families might feel forced to make the tough choice of opting for low-priced, unhealthy convenience foods, instead.
At Hunger Free Vermont, we know that when a child doesn't get enough healthy food early in life, it's harder to grow and develop properly. Kids living in food-insecure homes are more likely to struggle in school both academically and socially. They are at greater risk for increased aggression, depression and hyperactive behavior. These children are less likely to go on to college or to learn a trade. They can become stuck in a cycle of poverty, working long hours at low-paying jobs and struggling to put healthy food on the table for their own kids.
If all of these children had the opportunity to eat nutritious meals and snacks during the day—at home or in a child care program—they would be in a better position to grow up healthy, do well in school, get higher paying jobs and—as adults—to provide fresh, nutritious food for their own children, breaking that cycle of poverty.
Through the Child and Adult Care Food Program (CACFP), many children do have the chance to eat nutritious foods. If a child care center or home-based program is enrolled in CACFP, the provider is able to serve up to two nutritious meals and one nutritious snack per day to each child in their care, no matter the income of the parents.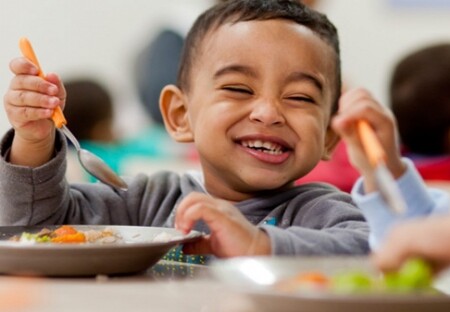 This program has helped many child care providers serve meals. Susan Mascola, the Director of the Robin's Nest Child Enrichment Center in Randolph shared, "CACFP has allowed us to have a well-rounded developmental program that meets the needs of the whole child. Without proper nutrition, children cannot perform up to their potential."
Unfortunately, CACFP does not work for all child care providers in Vermont. Many providers are not eligible, or do not have a large enough group of children to make it financially feasible. That's why Hunger Free Vermont works with providers to find a way to serve meals without the program, and teaches easy tips for providing nutritious food on a budget. We also advocate for changes at the state and federal level that would help more child care providers serve meals to their kids. This year, Congress is reauthorizing The Healthy, Hunger-Free Kids Act of 2010, which provides funding and nutrition guidelines for programs that feed kids, including CACFP. A coalition of nonprofits, state agencies, and those who work with children have partnered to ask Congress to increase program access, improve nutrition quality, and protect CACFP services for children in child care. To learn more about this important bill and to get involved, visit www.hungerfreevt.org/vcnrc.
We believe that all children should have access to high-quality child care that is affordable and includes healthy and delicious meals. As Chef Erinn Simon of the Burlington Children's Space says, "Just think how wonderful it would be for all child care establishments to be able to offer free, nutritious meals to all of their children!" We're working on creating that world together.
For more information on the importance of nutrition in early childhood and how you can help, check out Hunger Free Vermont's Early Childhood Nutrition Hub or contact Ginger at gfarineau@hungerfreevt.org.
Written
Apr 21, 2017
by Ginger Farineau, Early Childhood Nutrition Specialist, Hunger Free VT