Standards for High-Quality Child Care, Part 3: Teaching
Elizabeth Casey, early childhood educator at Trinity Children's Center, Burlington, VT
4 min

Elizabeth Casey is an early childhood educator at Trinity Children's Center, a 5-star, nationally-accredited child care center in Burlington. Elizabeth received a Bachelor's of Science in Family Science from The University of Maryland and a Masters of Education in Early Childhood Special Education from The University of Vermont. Elizabeth completed Vermont's first Early Childhood Leadership Institute through the Snelling Center for Government and has 11 years of experience teaching in nationally-accredited early childhood programs.
Program Standard (as defined by the National Association for the Education of Young Children): "The program uses developmentally, culturally, and linguistically appropriate and effective teaching approaches that enhance each child's learning and development in the context of the program's curriculum goals."
As an early educator and a mother of an observant and curious 8-month-old, I know the first five years are the most crucial to a child's healthy development. And as I prepare to send my child to child care this fall, I also know the critical role early childhood teachers play in helping to ensure all of Vermont's children are given the chance to reach their full potential in life.
Children who are given quality early experiences have healthier relationships with their classmates and friends and develop better language, math and social skills. Teachers foster these outcomes by:
Maintaining a safe, stable environment
Acting as participants in play, modeling healthy social emotional skills and supporting children to expand their play experiences
Encouraging children to explore individual or group interests
Creating learning environments that promote interactions, independence and open-ended playschemes
Planning activities and incorporating materials that foster all learning areas—social emotional, cognitive, physical, language and literacy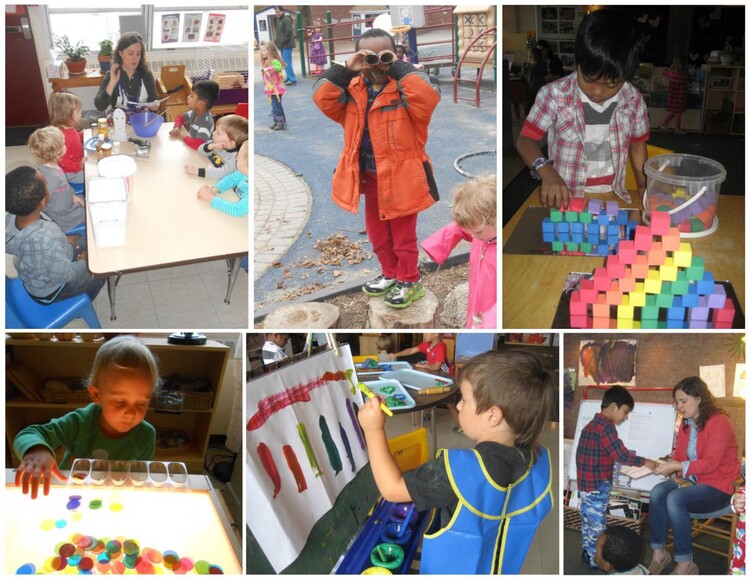 For many early childhood professionals, the beginning of the year sparks feelings of excitement and anticipation as we embark on new relationships with our children and families. For me, planning begins well before the classrooms are filled with eager children. One of the many privileges of being a teacher is creating environments and planning experiences that offer diverse opportunities for children to:
Investigate. Children are natural investigators. On the playground, children closely observe ants crawl into their tunnels. In our classroom, they investigate ways to make block structures taller and more stable.
Express. Children express their understanding of their world through play. In my classroom, children express their understanding through dramatic play, art, structure building and conversation.
Create. Children create playschemes, art and structures that allow them to test and explore what they know about their world. When building in the block area, they may try to change a structure to test concepts of balance and weight, creating a new structure and a new understanding.
Question. Young children are often referred to as scientists. Their curiosity prompts them to seek firsthand experiences and utilize trusted adults to help facilitate their interests.
Once the year starts, for many programs, the first six weeks are dedicated to building a classroom community that fosters positive social emotional skills, an understanding of daily routines and relationships with children and their families. As these relationships grow, teachers create experiences and add materials to the classroom that reflect diverse interests, learning styles and backgrounds, increasing and expanding on accommodations to support each child.
My favorite moments as an early educator the past 11 years have been those spent observing children's play expand as their knowledge of their world grows. In my classroom, this is often witnessed through our classroom project. At the start of a project, children share their understanding of and what they want to learn about a topic the classroom has chosen. This year, one of our topics was bicycles. The teachers planned firsthand experiences such as field trips to bike shops, bike scavenger hunts and visits from experts with different bikes available to manipulate. We even wrote a letter to the University of Vermont to get our very own bike rack. Just one example of how this curriculum supported development is vocabulary—it increased considerably. As one child said, "My shocks absorb the bumps from the mountain."
As teachers, our time with each child is short but we can ensure a lasting, positive effect by promoting meaningful and valuable experiences that encourage exploration and problem-solving skills and give children insight into their community and relationships. This is a teacher's mission: to guide children so that they can become confident learners who will have a powerful, positive impact on the world.
This is part 3 in a series of 10 monthly articles written by early-childhood experts and detailing standards of high-quality child care. Click here to read part 1, part 2, part 4, part 5, part 6, part 7, part 8, part 9 and part 10.
Written
Aug 4, 2016
by Elizabeth Casey, early childhood educator at Trinity Children's Center, Burlington, VT