Standards for High-Quality Child Care, Part 2: Curriculum
Kara von Behren, director of the Williston Enrichment Center and a master instructor through the Vermont Northern Lights Career Development Center
4 min

Kara von Behren is director of the Williston Enrichment Center, a 5-star child care program in Williston with a staff of over 25 teachers and a capacity of 75 children. Kara is a master instructor through the Vermont Northern Lights Career Development Center and teaches curriculum, leadership and program management courses through Union Institute and Community College of Vermont. In addition, she serves on multiple committees within the state aimed at designing systems to ensure high-quality early education for Vermont's children.
Program Standard (as defined by the National Association for the Education of Young Children): The program's curriculum is consistent with its goals for children, and promotes social, emotional, physical, language and cognitive learning and development. A well-planned curriculum—including goals for the content that children are learning, planned activities linked to these goals, daily schedules/routines and materials to be used—helps teachers balance different activities and approaches to maximize children's learning and development.
Young children need a curriculum that encourages all aspects of child development—social, emotional, physical, language and cognition—in a variety of ways. They need a curriculum that is appropriate for their age, challenges them to think in new ways, enables the mind to create meaning, sparks interest and encourages experimentation and exploration.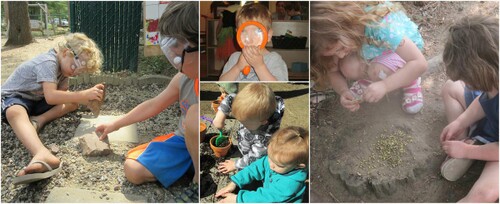 At the Williston Enrichment Center, we use the Emergent Curriculum approach to child care, based on schools in the Italian town of Reggio Emilia. The idea behind this approach is that the curriculum—the experiences, materials and opportunities—is inspired by the children's interests and is fostered through the kinds of questions and ideas that teachers explore with the children. In other words, the "what" is directed by the children and supported by the teacher while the "how" to do new things is facilitated by the teachers.
Children learn best when the activities and materials are ones they enjoy and that excite them, such as playing dress-up, or making a mess in a mud kitchen, or spending hours in the sand box, or repeatedly building and knocking down towers. Play is the true work of children and it is only through those intentional experiences that children can become the creative and critical thinkers that our world needs. To provide such resources, teachers need to observe what the children in their classes love to do. The teachers become researchers and investigators, alongside the children. As the children explore bugs that appear outside after the long winter, the teacher must also explore those bugs and find out what makes them so exciting to a young mind.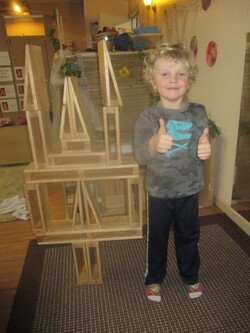 It is important to remember:
What the children count is not as important as the fact that they are given opportunities to count and understand number concepts
What words children see is less critical than the fact that they see print language all around them and connect the spoken word with the written language as a method of communication
Whether they use blocks, sand or sticks to build doesn't matter as much as the fact that they are building and learning how to make something sturdy
The materials that children learn to take care of, use responsibly and share with others are not as important as the fact that they are learning those skills
Children are wired to learn through experimentation and by acting out scenarios they see in the adult world. When the curriculum honors what children need and gives them the real challenges of how to make something work and how to work with others, children can form healthy brain connections and have the potential for nearly limitless learning and growth.
This is part 2 in a series of 10 monthly articles written by early-childhood experts and detailing standards of high-quality child care. Click here to read part 1, part 3, part 4, part 5, part 6, part 7, part 8, part 9 and part 10.
Written
Jul 7, 2016
by Kara von Behren, director of the Williston Enrichment Center and a master instructor through the Vermont Northern Lights Career Development Center