Standards for High-Quality Care, Part 9: Physical Environments
Elizabeth Reed, teaching and learning consultant, White River Junction, VT
6 min
Elizabeth (Beth) Reed is an educational consultant. She also teaches early childhood courses for the School of Education at Granite State College, and master level courses in the neurodevelopmental approach to teaching at Plymouth State University, Southern New Hampshire College and University of New Hampshire. Beth is a certified teacher and also holds both a Program Consultant and Faculty Early Childhood Master Professional Credential.
Program Standard (as defined by the National Association for the Education of Young Children): "The program has a safe and healthful environment that provides appropriate and well-maintained indoor and outdoor physical environments. The environment includes facilities, equipment, and materials to facilitate child and staff learning and development. An organized, properly equipped, and well-maintained program environment facilitates the learning, comfort, health, and safety of the children and adults who use the program."
Early childhood educators know that one of the best ways for children to learn is through play. This is why the physical environment—the space in which children play—is often called "the third teacher" (with the parent and classroom teacher as the first and second teachers). A high-quality child care program provides a physical environment aimed to foster learning and development. This is accomplished in a number of ways.
Safety
Above all else, environments and materials used by the program should be safe. There should be no broken toys, furniture or other hazards in the area. Rooms for infants and toddlers should have safe spaces to crawl and practice walking without being stepped on. Because very young children explore everything with their mouths, their environments must be checked carefully for choking hazards. For children under three, there should be no toys or pieces of toys small enough to fit in the opening of a paper towel roll. All areas should be designed to allow teachers and caregivers to easily supervise all children by sight and sound.
A Place for All
A program featuring appropriately-sized furniture for the children and adults using the space is one that is welcoming and inviting. Child-sized furniture, sinks and toilets allow children to develop a sense of self-confidence and self-reliance as they play, eat and take care of their own personal needs. The environment should also include a space for each child and adult to call their own—a place to put coats, extra clothes and a toy or picture from home. One local center, short on space, used small baskets in a bookcase inside the classroom for smaller items and cubbies in another room for bigger items like snowsuits and boots.
Space
Special care should be taken to arrange the environment with designated areas inside and out for quiet activities as well as noisy, active play. Outside spaces should have fences or natural barriers to prevent curious children from wandering into danger. The size of the area also matters. Small, cramped spaces can be frustrating and stifle creativity; however, too much space can intimidate or overwhelm a young child learning how to be independent. Open spaces encourage running whereas spaces broken up into centers or smaller areas allow children to focus more on the activity. A room broken into focus areas of books, art, blocks, and dramatic play allows children to engage with the materials and each other.
Choice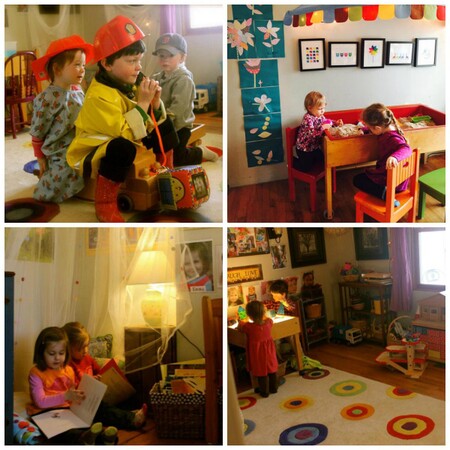 A healthy environment includes plenty of opportunities for choice. One choice children can make is whether to play with others or independently, and there should be room available for both scenarios. Providing young children opportunities to interact with others as well as time and space to learn how to take a break from others when needed encourages the development of strong social and emotional skills, which lay the foundation for success in life.
Another choice children make is deciding on an activity. Providers should make available a variety of toys that extend to all interests and developmental ages of the children present. For popular items, there should be multiples of the same toy, especially for younger children who have a hard time waiting for their turn. Teachers should observe the children's interests and rotate toys as those interests change. Several of the centers I work with in Vermont use themed dramatic play kits—such as a doctor's office, pizza shop or recycling center—which can be stored in copy paper boxes and clearly labeled. Each time they are used by a classroom the children can choose to create new items to add to the box.
Color, Texture and Light
When designing a child care environment, consideration should also be given to the children's senses, including sight and touch. Bright primary colors are exciting but too much of them can be overstimulating. Warm, neutral colors and earth tones are best for early childhood environments because they promote calm, focus and centered feelings. Similarly, natural sunlight, lamps and warm light sources are comforting while fluorescent lighting can increase stress, hyperactivity and anxiety. In addition to child-safe plants, natural materials and soft pillows, there should be some soft places to snuggle and feel comfortable. These steps will help foster a welcome, homelike atmosphere that encourages healthy learning and development.
Play
The environment should be filled with rich, direct experience that encourages play. Children should have access to open-ended toys that allow for exploration and discovery, such as blocks, books, art materials, and dress-up or pretend play props. Outside spaces should offer opportunities to run, jump and climb. Water and sand play with tools for digging, carrying and moving the sand and water teaches children about the physical world.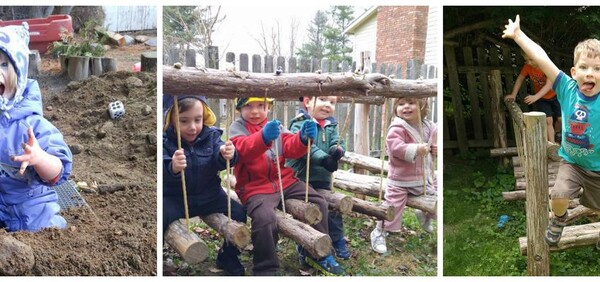 Social interactions provide valuable lessons for young children, so materials should encourage interaction with other children and caregivers. Screen time serves as a barrier to these important interactions and should be avoided.
By organizing, equipping and maintaining their programs' physical environments to these standards, providers are helping to foster the healthy development of the children they serve.
This is part 9 in a series of 10 monthly articles written by early-childhood experts and detailing standards of high-quality child care. Click here to read part 1, part 2, part 3, part 4, part 5, part 6, part 7 and part 8 and part 10.
Written
Apr 7, 2017
by Elizabeth Reed, teaching and learning consultant, White River Junction, VT