Standards for High-Quality Care, Part 5: Health
Kim Toland, child care director at The Family Place, Norwich, VT
6 min

Kim Toland is the child care director at The Family Place, a 5-star program serving 16 infants and toddlers in Norwich, VT. Kim has more than 20 years' experience in early childhood education as a teacher and director, including many years operating her home-based program, "Kim's Corner Care." More than half of the children at The Family Place are from families enrolled in the Families Learning Together program, an onsite parenting, education and work-skills program serving young parents.
Program Standard (as defined by the National Association for the Education of Young Children): The program promotes the nutrition and health of children and protects children and staff from illness and injury. Healthy and safe programs support children's healthy development and learning.
One key to supporting the healthy development of children is to provide them with a safe and healthy environment in which to grow. Nutritious meals feed the brain the fuel necessary to learn while good health and safety practices help to prevent the toxic stress that can stunt a child's development.
There are a number of ways a program can promote the health and safety of its children in order to strengthen brain development and build a solid foundation for future success in life.
Safety
It's important for children to take risks. Trial and error helps them determine their comfort zones and what they can and cannot do. Adults need to give guidance while letting the child explore and decide what risks to take. Children have different comfort levels and our job is to offer age-appropriate challenges in a space with safety features like furniture with padded corners, secured to prevent tipping over; gates to prevent children from wandering into an unsafe area; and outlet covers to stop curious baby fingers.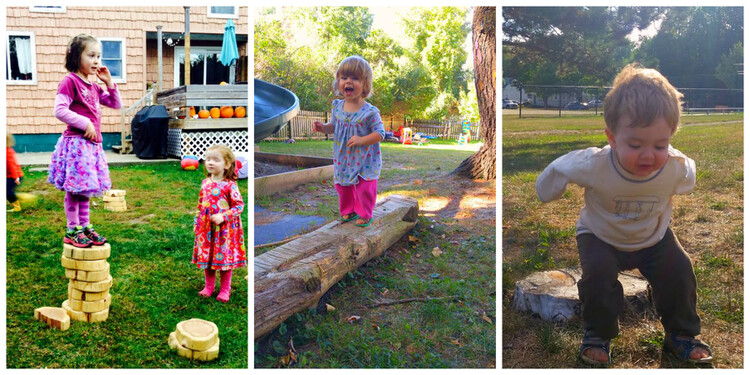 Age-appropriate challenges for infants include a flat but textured area—rugs, interlocking foam floors, grass—which allows them to feel different sensations, and clean, safe mouthing toys (free of sharp edges and chemicals, and too big to be a choking hazard) that provide opportunities for sensory and fine motor development. For toddlers, risers are great for sitting, stepping or building; tree stumps are perfect for practicing jumping; tunnels are fun to crawl through; and cardboard boxes with soft materials inside them are perfect hideaways when quiet time is needed.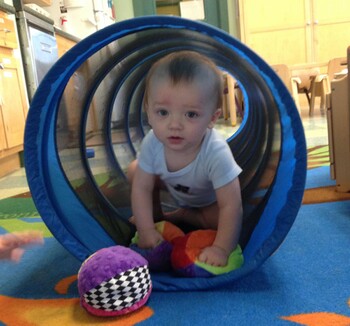 Most importantly, kids need space to explore with watchful eyes at all times. Adults should be ready to engage and expand on things kids discover.
Nutrition
At the Family Place, we support good nutrition by example, through advice, and with communication.
We provide fresh fruit and homemade foods (prepared onsite)
Children's parents in our Families Learning Together program—onsite parenting, nutrition lessons, education and work skills—prepare the foods for the child care program
At drop-off, parents log what their children ate the night before and for breakfast, which invites conversation about eating habits and nutrition, and helps teachers understand how the child started the day
Parents are encouraged to bring healthy snacks and to provide healthy snacks at home
Classroom activities can be designed around healthy eating such as when kids make fruit pizzas and explore colors, shapes, texture and taste
Health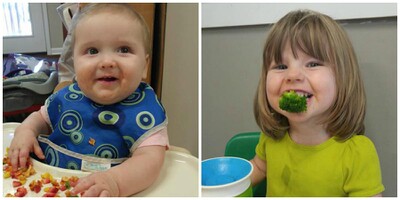 We support good health through activity, education, resources and good practices.
Outdoor play space is an extension of the classrooms and offers so many learning opportunities. Ours has a large, lovely tree in the middle, which provides great shade in the summer. We spend a lot of time outside in all seasons and weather—babies love the snow!—and often with the Families Learning Together program parents.
We work with parents to ensure children have appropriate clothing and footwear for outdoor play. Parents are supported, when needed, to get shoes, warm jackets, etc., and we are grateful to the community for donations of these items.
At intake, and midway through the year, we survey parents to ensure each child (and parent) has medical and dental insurance, and we assist families in accessing these.
At the Family Place this fall, we'll be hosting a Child Development Division-training for parents through the Child Wellness Consultant program called "What to do when my child gets sick?"
Clean sanitation practices including frequent handwashing are observed by adults and children.
We remind staff to stay home when ill and support them. When a child is ill, teachers and parents work together to determine what's best for everyone. Sometimes, the best thing is for the child to come to child care if they are not contagious. Otherwise, teachers can help parents identify "back up" resources for care.
To allow children an opportunity to recharge their body and brain, we provide rest time each day. Infants nap whenever they need rest and most toddlers sleep after lunch with gentle backrubs and soft lullabies. Children who don't rest are given quiet activities—books, puzzles, art projects.
One of the most important ways a program can encourage the health and safety of its children is to have a healthy relationship with each family to ensure the parents or caregivers feel comfortable sharing any concerns or struggles they may be having and the teacher can share any concerns with the parent. We check in with each family on a daily sheet, which inspires conversations about sleep patterns/habits and the importance of bedtime routines. This open dialogue allows teachers to share appropriate advice and to connect parents with resources that reinforce the advice, ensuring that no health or safety concerns are left unchecked.
It's our duty to provide healthy and safe learning environments so that brain development can be strengthened and children are given the best chance at the strong start in life they deserve.
This is part 5 in a series of 10 monthly articles written by early-childhood experts and detailing standards of high-quality child care. Click here to read part 1, part 2, part 3, part 4, part 6, part 7, part 8, part 9 and part 10.
Written
Oct 6, 2016
by Kim Toland, child care director at The Family Place, Norwich, VT