Standards for High-Quality Care, Part 4: Assessment of Child Progress
Rebecca Webb, project manager at the Vermont Child Health Improvement Program
5 min

Rebecca Webb is a project manager at the Vermont Child Health Improvement Program and an independent consultant who supports, mentors and trains early care and education providers. She is a former administrator for the Vermont Birth to Five Teaching Strategies GOLD Project. Rebecca received a Bachelor of Arts in English Literature from Saint Michael's College and a Master of Education in Early Childhood Special Education from The University of Vermont. She has held many roles in the early childhood community over the last 18 years.
Program Standard (as defined by the National Association for the Education of Young Children): "The program uses ongoing assessment methods, culturally sensitive to each child, to provide information on children's learning and development and to help teachers plan an individually-appropriate challenging curriculum and monitor progress."
Two questions that parents frequently ask are:
How do I know how my child is growing and developing?
What can I do to support them?
Early care and education providers often have the same questions. When we're looking at children's development, a team approach is best, with the parents and provider working together. Assessment is one way to work together toward ensuring children's skills are on track and their development is supported.
Assessment in the broadest sense is looking at children's skills through a particular lens, but as parents and providers we need to think deeper about the purpose of the tool. Are we looking specifically at a child's skills because we have developmental concerns or to have concrete information as we share information and design curriculum? Are we participating in universal developmental screening? Each of these questions requires a different lens.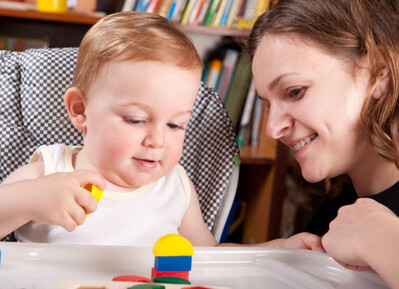 Concerns about a child's development are best addressed with a screening tool such as the Ages and Stages-3 and companion tool the Ages and Stages: Social-Emotional-2. Coupled with an overall system to monitor children's development, these tools are used to identify children who would benefit from practice/support in specific areas and/or children who are at risk for developmental delays. These tools analyze skill development in areas such as:
Communication ("Does your child say four or more words in addition to 'Mama' and 'Dada'?")
Gross Motor ("Does your child move around by walking rather than crawling on her hands and knees?")
Fine Motor ("Does your child stack three small blocks on top of each other by herself?")
Problem Solving ("Does your child drop several small toys, one after another, into a container like a bowl or box?")
The American Academy of Pediatrics recommends children receive developmental screenings at least three times before their third birthday (at 9, 18 and 24/30 months) and a screening for autism at 18 and 24 months. In Vermont, many key stakeholders have recognized the benefit of looking at a child's skills in different environments such as home, child care and medical offices.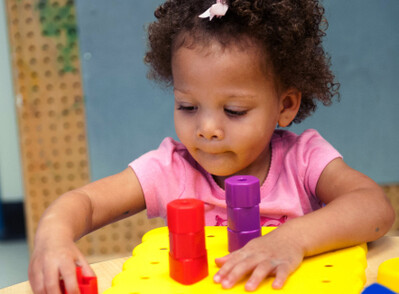 Ongoing observation and curriculum development is best addressed by using a tool such as Teaching Strategies GOLD (TS GOLD), which is designed to identify goals and objectives for the individual child in the classroom by giving the teacher a framework for determining what skills the child is expected to demonstrate next in the these 10 areas of development and learning:
Social-Emotional (manages feelings; interacts with peers)
Physical (balancing skills; uses writing and drawing tools)
Language (follows directions; engages in conversations)
Cognitive (remembers experiences; shows curiosity)
Literacy (identifies and names letters; retells stories)
Mathematics (understands shapes; counts)
Science and Technology (uses tools and other technology to perform tasks)
Social Studies (demonstrates knowledge about self)
The Arts (explores dance and movement concepts)
English Language Acquisition (demonstrates progress in listening to and understanding English)
TS GOLD's Assessment® system has the added benefit of suggesting activities and strategies for supporting children's growth in skills. TS GOLD® has also been designated by the Vermont Agency of Education as the assessment tool required for measuring the pre- and post-outcomes associated with Vermont's universal preschool system (Act 166).
Assessment tools are an effective way for early childhood environments to promote children's learning and development. When we observe and document children's learning, it provides us with a picture of how far they have come and how we can best point them in the direction of future success.
This is part 4 in a series of 10 monthly articles written by early-childhood experts and detailing standards of high-quality child care. Click here to read part 1, part 2, part 3, part 5, part 6, part 7, part 8, part 9 and part 10.
Written
Sep 8, 2016
by Rebecca Webb, project manager at the Vermont Child Health Improvement Program