Erin McKenny works full time as a designer at a four-year liberal arts college in Vermont. She is a mother of three, and a visual artist. She enjoys gardening, cooking and making art with her family.
My Child Care Challenge
I am the mother of three children—two sons who are eight and five, and a two-year-old daughter. My husband and I work full-time out of financial necessity and we have depended on child care outside of the home for all of our children. Like most families, in an effort to provide them with high-quality early experiences, we've encountered significant obstacles in terms of affordability, availability and quality of Vermont's child care options.
To highlight those challenges, I want to share with you the child care challenge we experienced with two of my children.
Before entering kindergarten, my second son started with a home child care provider for two years where he received loving care, but he did not have opportunities to draw, paint, sing, play games, or even spend time outside—all essential to his healthy development.
When he was two, we decided to send him to an amazing child care center. However, we weren't able to afford to send him full-time for the next several years, which took a toll on him behaviorally. He had difficulty with transitions and negotiating the different rules and schedules between home, child care and at school. We felt strongly that he needed the challenge and stimulation of a center, but with a third child on the way, we simply couldn't afford the full-time situation. At the center's advice, we found him help with adjusting to transitions, but it was very stressful for our family.
My two-year old daughter has already had four child care providers. After she was born, I needed to find child care that could take both my daughter and my son. It was like a part-time job; I made calls, conducted online research and sent emails to anyone I knew looking for quality providers. When we finally found a provider, I had to pay a substantial deposit to save the spaces. We ended up switching providers a week before I went back to work because we found someone who was a better fit for us. However, we had to forfeit the deposit for the spaces we had reserved. And I understand this—many providers themselves can barely make ends meet, so they have to cover their costs, too.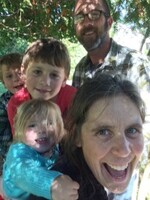 A year later, our beloved new provider took a job in a school system. I couldn't blame her—better pay, summers off, benefits! She found us another situation that was similarly wonderful. But within a year, we were told that our new provider had to close. We were given only a one-day notice. We were shocked and worried about finding someone within a few days. We couldn't afford to send her full time to our wonderful child care center. Ultimately, my in-laws offered to pay to send her three mornings a week to this center, and we found a wonderful home child care provider for the other days. I can't help but wonder what families do who don't have that kind of a safety net?

I think our child care providers need to be paid more for the extremely important work they do for our children, and to ensure that great providers don't leave the profession for better paid jobs with better hours and benefits. And yet, parents need to be able to afford to provide quality early experiences for their children--and to find quality programs with availability when the need arises. We must increase investments on both sides of the equation to ensure that every Vermont child is getting the strongest start possible.
Note from Let's Grow Kids: Are you a parent who struggles with the costs, quality, or availability of child care? Click here to tell your story!
Written
Feb 13, 2015
by Erin McKenny