Let's Grow Kids & ECHO Partner on New Exhibit
Let's Grow Kids Announcement
4 min
Treehouses and Boats and Learning! Oh My!
Let's Grow Kids is thrilled to announce its partnership with ECHO, Leahy Center for Lake Champlain in offering Vermont's youngest children fun, high-quality learning experiences through ECHO's new permanent early education exhibit, "Champ Lane," opening Saturday, February 13! We at LGK are excited about this partnership with ECHO because we believe that every child deserves a strong start, we appreciate that ECHO has put so much thought into making learning fun, and we think the treehouse is pretty awesome!
Champ Lane was designed to offer many different opportunities for children ages birth to 6 to learn through play: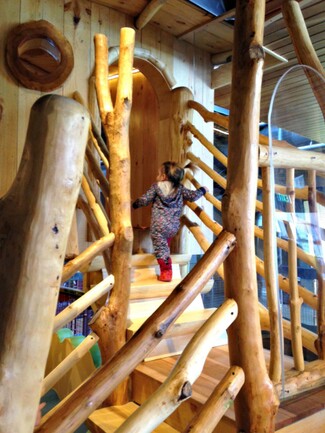 Climbing – A treehouse, bridge and slide provide an opportunity to practice physical coordination and build confidence in a safe environment.
Streetscape – A café, market, home, puppet theater, boats and more offer the chance for social interaction and practice of emerging skills like problem solving, planning and teamwork.
Science – A research vessel, water table and a kid-friendly animal care lab inspire children to experiment and be creative.
Book Nook – A quiet space featuring tabletop activities and books as well as a place for children to connect with their caregivers, helps to foster nurturing relationships that are key to emotional development.
In order to support the early education objective and the science center's mission, Champ Lane was designed with the following standards as its focus:
Communication: Sharing explanations of the world.
Logical Thinking: Recognizing cause-and-effect relationships.
Inquiry: Asking questions, making predictions and testing theories.
Persistence: Pursuing challenges and keeping focus during activities. Learning to ignore distraction and cope with challenges.
Science Identity: Seeing yourself as someone who engages with science, and having confidence in your own skills.
Director of Programs and Exhibits Nina Ridhibhinyo said, "I hope children visiting the exhibit will grow up to be scientists, engineers, artists, writers, accountants, and that we can help lay a foundation for them to succeed in doing whatever they choose. The deliberate design keeps caregivers in mind, too, helping them understand the ways in which critical skills develop to better aid the children they influence."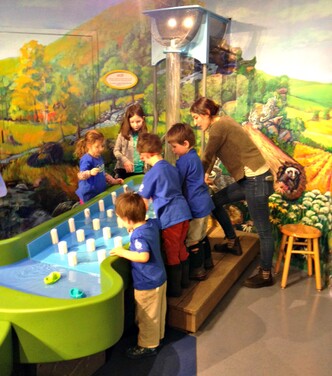 We know that, for our youngest children, playtime is more than just fun: it's an opportunity for learning and development. During the first years, a child's brain forms 700–1000 new connections every second, laying a foundation for social-emotional development, learning and skill-building. Connections that are used are strengthened, while those that aren't stimulated are lost through a natural process called pruning. This means that a child's earliest experiences influence his or her brain development—and that helping our children build strong brains means giving them stimulating learning opportunities from day one! But not every child in Vermont has this opportunity and the result is that many young children have trouble with things like playing with others, sharing, communicating their needs, and other social and emotional skills.
"Champ Lane is poised to offer a highly interactive learning space and tools for furthering the skills of families, preschool teachers and caregivers to meet the cognitive and social needs of their children," said ECHO Executive Director Phelan R. Fretz. "Champ Lane will elevate early education from all sides, and when combined with ECHO's Open Door access program, will provide the community with a critical resource."
We at Let's Grow Kids look forward to using this wonderful space to connect with like-minded Vermonters who are passionate about giving children a strong start—whether through formal gatherings for parents or child care providers or simply through engaging one-on-one in an inspiring place full of children learning through play.
We are grateful to ECHO, Leahy Center for Lake Champlain for teaming up with us on this great project for the benefit of Vermont's children.
Now let's go play!
Written
May 5, 2016
by Let's Grow Kids Announcement