Early Educators Need Supportive Work Environments to Help Vermont Kids Grow
Dr. Caitlin McLean, Dr. Marcy Whitebook, Dr. Lea J.E. Austin, Center for the Study of Child Care Employment, at the University of California, Berkeley, CA
3 min

The Center for the Study of Child Care Employment (CSCCE) at the University of California, Berkeley conducts research and proposes policy solutions aimed at improving how our nation prepares, supports and rewards the early care and education workforce. Dr. Caitlin McLean is a Workforce Research Specialist at CSCCE; Dr. Marcy Whitebook is the Director of CSCCE; and Dr. Lea J. E. Austin is a Specialist at CSCCE.
Early educators working in schools, child care centers and family child care homes across the nation do the important work of facilitating learning and development of young children, yet they face persistently low wages and work environments which lack the benefits and supports afforded teachers of older children, as our work at the Center for the Study of Child Care Employment has documented. Early educators are currently among the lowest-paid workers in the country, even though the work they do is crucial for children, families and businesses. As a result of their low pay and status, early educators face economic stress, and the early childhood field suffers from high turnover and difficulty retaining and recruiting the skilled, experienced workforce necessary to help children learn.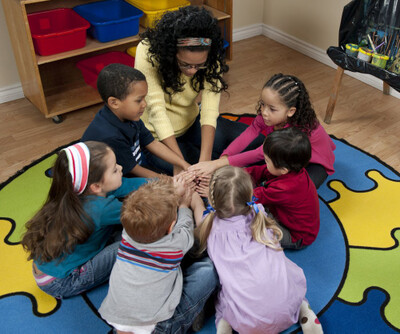 Our report – the Early Childhood Workforce Index – documents these issues on a state-by-state basis, demonstrating that all 50 states and Washington, D.C. fall short of the optimal combination of appropriate compensation, professional work environments and training that early educators need to help children succeed.
How do early educators in Vermont fare?
In Vermont early educators' wages are only about two-thirds of the typical (median) wage for Vermonters across occupations ($17.81/hour). Specifically, those classified as child care workers earned $11.25 per hour in 2015, only a 1% inflation-adjusted increase since 2010. For preschool teachers, the median wage was $14.13, a 7% decrease since 2010. In both cases, early educators earn substantially less than the median hourly wage of $25.52 earned by kindergarten teachers in the state.
According to the Index, Vermont is taking some positive steps to address conditions for the early childhood workforce by making sure that:
Early educators in all licensed settings are required to have foundational knowledge represented by a Child Development Associate Credential;
Crucial workplace supports such as paid planning time are included in the Quality Rating and Improvement System: STep Ahead Recognition System (STARS);
Federal funding opportunities such as the Race to the Top-Early Learning Challenge Grants are utilized in order to increase investment in early care and education.
But in several areas, the state is falling short. Areas for improvement are:
Vermont is not among the several states taking active steps to increase compensation for early educators, including requiring pay parity for pre-K teachers compared with K–12 teachers; or implementing a wage supplement initiative such as WAGE$ to boost the take-home pay of early educators outside the pre-K system.
Per child, Vermont spends less than half on pre-K what it spends on K–12 education, despite the critical importance of the early years for lifelong learning.
Without raising early educators' pay and making other needed investments in the early care and education system, Vermont won't be able to attract and retain the skilled and effective early childhood workforce needed to provide high-quality learning experiences for Vermont's children.
Written
Dec 7, 2016
by Dr. Caitlin McLean, Dr. Marcy Whitebook, Dr. Lea J.E. Austin, Center for the Study of Child Care Employment, at the University of California, Berkeley, CA