Building a Village: Pre-K in Jericho
Michele Campbell, director of education, Saxon Hill School, Jericho, VT
7 min

Michele Campbell began teaching at Saxon Hill School in Jericho, VT in 1979. She has taught in all of its programs for children ages three through six and, as a Saxon Hill parent, she served as the preschool's treasurer and registrar. She retired from teaching in 2013 and has been the director of educational programs since 2000. She has a Bachelor of Science from Trinity College and has studied the early childhood programs in Reggio Emilia, Italy.
Saxon Hill in Jericho, VT, is a National Association for the Education of Young Children (NAEYC)-accredited parent cooperative preschool and licensed kindergarten serving children ages three through six. We opened our doors in 1964 and, over the years, we have noticed that it's no longer just parents who are parenting children, but also families. Families are actively involved here, serving on school committees and the school board, and taking turns as the classroom helper.
"Parent helper day is a big day in our house," said Katie Hamm, parent of two Saxon Hill children. "My kids love sharing who they enjoy playing with, the things they like to do here, what they like to play with."
Families also spearhead our fundraisers. We generate a significant portion of our operating revenue through fundraising, which helps us offer competitive tuition rates, tuition assistance and scholarships. That, combined with implementation of Act 166—which provides 10 hours a week of free pre-K to all three-, four- and five-year olds in Vermont—has really helped families in this community. I know it's the only way for some of our families to access quality early childhood care. And that access makes a huge difference. We are helping these children develop the social and emotional skills needed to be ready to learn in kindergarten. That's no small task!
Saxon Hill has a Reggio Emilia-inspired, emergent-curriculum philosophy in which the materials and opportunities provided to the children are inspired by the children's own interests. At Saxon Hill, the environment is one of the "teachers" in the room. We think carefully about what the children are interested in and then create an environment in the room to engage those interests. Children, families and staff collaborate and research to find answers to our curiosities. Discovery is engaging, energizing and ongoing.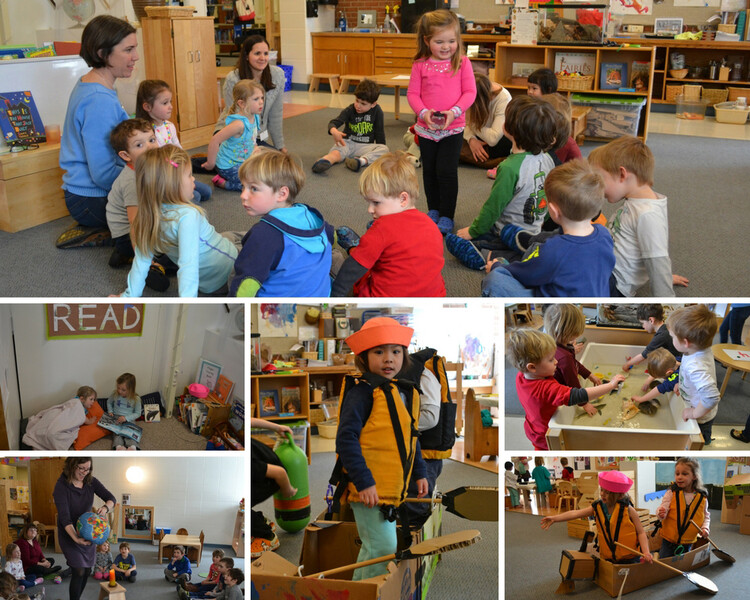 For example, with the first melt of snow, children were really showing an interest in things that move in puddles, at the bottom of our sliding hill, and in the river. Our staff members worked to change the classroom and to introduce play with water. And then the kids took over. We watched as children created the scenario of a boat rescuing a girl who had fallen into shark-infested waters. They used a sled as a boat and pushed and pulled the sled to shore. Then a hospital was made and three kids became the patients, others were doctors and nurses, and the rescue workers kept going out with the boat to get more patients. The kids asked us to look up what was needed for rescues, so we got a book out to look that up. The family helper that day happened to be a chiropractor so he was explaining possible injuries.
This active, hands-on learning process happens here every day. And it wouldn't be possible without the creation of a safe environment that encourages collaborative, open-ended discovery and learning. This is why we're so fortunate to be in the space we're in today.
When Saxon Hill lost its longtime home in Jericho's Red Mill Park area in 2015, we scrambled to relocate. We wanted to stay in the Jericho area because our roots were here and because there weren't a lot of early education programs around. The process was challenging and many families were panicked, so when the Chittenden East Supervisory Union came to us and said they might have a solution to our problem, we couldn't believe our luck. School age populations have decreased and the merger of our school district in 2015 left some buildings with empty classrooms. CESU offered to rent out two of their classrooms to Saxon Hill.
"Our school district was really pleased and eager to help Saxon Hill when they were looking to find a new location because it's been really clear to us that high-quality early education is so important for children," said David Wells, principal for Underhill ID School. "Data from our kindergarten readiness survey clearly shows that kids from high-quality pre-kindergarten programs are more ready for school. And it's not just about learning their letters and numbers. It's about gaining social skills and learning to interact, share and play with a wide variety of children."
CESU was welcoming and made it clear to us that this was our own space. So we took down white boards, painted, moved our playground and made this our new home. In our first two years here, it's become clear to us that this is more than just a home. We're also building a village:
We do our own cleaning and our own garbage collecting, but the 4th graders take care of our compost.
When a federal Pre-K Expansion Grant program moved into another empty room here, they weren't able to use the school's playground because it wasn't age-appropriate. So we offered to share ours!
The 6th grade teacher wanted to give her students an experience that would encourage empathy and community-mindedness and so we established a buddy program with our 4 year olds.
The 3rd graders come in once a week to read to our 3 year olds.
We have access to the library and the gymnasium and we borrow snowshoes and snowboards.
Our room is next to the speech and language pathologist and special educator who can come take a quick look/listen if we have a question about how best to accommodate our work with a child.
I've been invited to serve on the school district committee that's looking for a new early education coordinator.
This partnership has been beneficial for all of us, and especially for the children and their families.
"Little kids look up to big kids and they're sort of mystified by them. Sometimes they just stand there in awe," said Allison Coeyman, a Saxon Hill teacher. "To be able to connect with an older kid, to make your own friend who isn't your own age, that's important. Kids are often divided by age and that can be isolating. But when you get to know someone from a different age group, then they're not so mysterious and you feel like you're more a part of the community. It makes the world more understandable."
This kind of collaboration is exactly what our state needs. We need to make sure we don't see ourselves as competitors. We are educators who can work together to give Vermont's children the quality early learning experiences they deserve. I've been doing this for a really long time and change is slow, but it's happening and the world will be a better place for it.
Written
Mar 30, 2017
by Michele Campbell, director of education, Saxon Hill School, Jericho, VT