Mister Chris & Friends in Concert - Woodstock
Feb 08, 2020 | 11 AM
Woodstock Town Hall Theatre, 31 The Green, Woodstock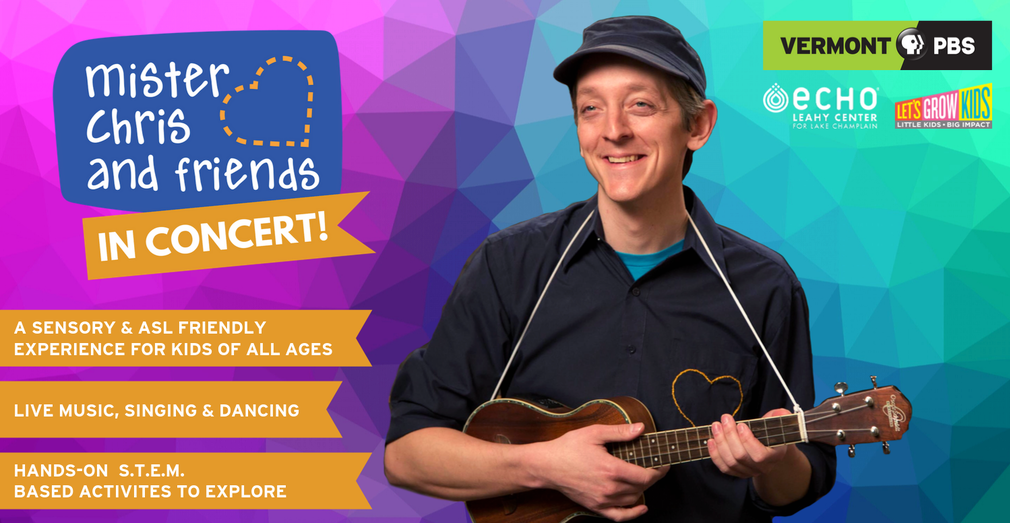 Jump, jump, jump up and down! Dance and sing along as Mister Chris and his band of special friends perform new and familiar songs, including favorites from the popular Vermont PBS music series for kiddos, Mister Chris and Friends! Featuring Caleb Bronz (Drums), Tyler Bolles (Upright Bass), Emma Cooke (Keys, Guitar, Vocals) and Ethan Tischler (Guitar, Banjo, Vocals).
Accessibility and inclusion are paramount to the mission of Vermont PBS and Mister Chris and Friends, so the entire concert experience has been designed so those with light and sound sensitivities can play and sing along too.
Vermont PBS and ECHO, Leahy Center for Lake Champlain will provide interactive Science, Technology, Engineering, and Mathematic (STEM) activities (11:00 AM) before the Mister Chris concert (12:00 PM) creating a fully immersive, hands-on learning adventure for the whole family.
This Month's Events
No Events Scheduled This Month