With great responsibility must come recognition and compensation
Rhian Evans Allvin, chief executive officer of the National Association for the Education of Young Children (NAEYC).
6 min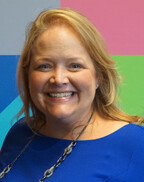 Rhian Evans Allvin is the chief executive officer of the National Association for the Education of Young Children (NAEYC), the largest national professional association for early educators. Before joining NAEYC, Rhian was a guiding force in Arizona's early childhood movement and cowrote the citizens' ballot initiative that created First Things First (FTF), which set aside $130 million in annual tobacco tax monies to support the health, development and education of children aged birth through five. As FTF's chief executive officer, Rhian led the organization in a variety of statewide early childhood systems-building efforts, including panels that adopted the Arizona Model Early Childhood System Framework; the development of FTF's 10 School Readiness Indicators; and the development and roll-out of Quality First, Arizona's quality rating and improvement system. Rhian has received widespread recognition for her work on behalf of children, including the Smithsonian Early Enrichment Center's Excellence in Early Education Award in 2015, the Southern Arizona AEYC's Board Award in 2014 and induction into the Northern Arizona University College of Education Hall of Fame in 2016. She lives with her family in Falls Church, Virginia.
Early educators are responsible for preparing young children for lifelong health, wellness and learning. I have a hard time imagining a more important job. And so, it was not at all surprising to discover that nearly 9 out of 10 voters—across political parties and demographics—believe early childhood educators are an integral part of our society, valued in the same way as firefighters and nurses.
And yet, 84 percent of early educators across the country who want to make early childhood education their long-term career say low pay is a serious barrier to staying in the field. How can it be that the people we entrust with the care and education of young children during the most critical time of human development aren't earning enough to support their own families?
Early childhood educators working in child care and preschool, earn far less than their counterparts teaching kindergarten and the elementary grades. Consequently, they struggle to meet their families' basic needs. The median salary for a child care worker in Vermont is $27,600, often without benefits. This is far below the $44,600 a Vermonter living in a two-adult household with two children must earn in order to afford basic needs like housing, transportation, food and child care. We need to fix this problem.
As CEO of the National Association for the Education of Young Children (NAEYC), I have the privilege of advancing the work of early childhood educators. Governor Phil Scott invited me to meet with him and discuss the importance of investing in the early education workforce to improve outcomes for children, families and communities. I came to Vermont because Vermonters are investing in solutions. The $7.4 million child care package included in the state budget, which garnered unprecedented tripartisan support in the Legislature, includes important initial investments to help sustain and grow Vermont's early education workforce.
The same week I was in Vermont, the president of the Vermont Business Roundtable, Lisa Ventriss, was on the evening news talking about the inter-relationship of child care and the state's workforce crisis. Her interview came on the heels of a major credit rating agency downgrading Vermont's bond rating, citing the state's aging population and shrinking workforce.
Vermont's business and political leaders understand that increasing access to high-quality, affordable child care is essential to ensuring young families can afford to live and work in the state. But it will be impossible to solve the child care crisis in Vermont or the rest of the nation if qualified early educators can't afford to enter or stay in the field.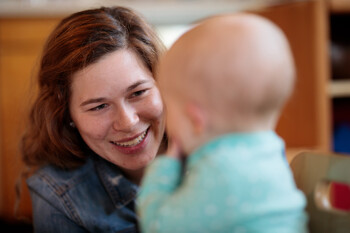 Remember earlier when I mentioned Americans saying they value early childhood educators on par with nurses? Think about this: A couple of generations ago, nurses were dismissed as "pillow fluffers," but today their work is recognized as a critical highly skilled profession. A similar transformation for early childhood educators is underway.
While in Vermont, I was also able to meet with leaders from NAEYC's state affiliate, the Vermont Association for the Education of Young Children (VTAEYC) and Let's Grow Kids. VTAEYC is leading a project to ensure Vermont's early childhood workforce is included in the national movement to create an effective, prepared, diverse and well-compensated early childhood education profession. In the past 9 months, VTAEYC met with over 725 early educators. At the same time, Let's Grow Kids is investing in early educators through its Make Way for Kids program, which offers grants and technical assistance to help create more high-quality child care spaces for Vermont's children.
Early educators support a thriving economy by providing critical services to working families. Most importantly, early educators play a crucial role in supporting healthy development and giving children a strong foundation for a happy life. We've all heard the phrase "With great power comes great responsibility." Likewise, with great responsibility must come recognition and appropriate compensation.
In order to realize the full benefits and economic potential of early education for young children, their families and society, we have to put the right structures, policies and supports in place to ensure that well-prepared and well-compensated early childhood educators are in each and every program. Whoever you are, you have a role to play in achieving this vision.
If you are an early educator, please visit www.vtaeyc.org to learn more and join the conversation around advancing the profession. If you are a parent or caregiver, show your child's early educator you value what they do by advocating on their behalf. If you are a policymaker, business owner, philanthropist or Vermonter concerned about your state's future, there is a role for you, too. Visit www.letsgrowkids.org to find out ways you can join the movement for high-quality, affordable child care in Vermont by 2025.
Written
Jul 30, 2019
by Rhian Evans Allvin, chief executive officer of the National Association for the Education of Young Children (NAEYC).