Strengthening Families: Parental Resilience
Aricha Drury, early care consultant for Child Care Resource, Williston, VT
6 min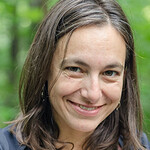 Aricha Drury is an early care consultant for Child Care Resource, supporting Chittenden County child care providers to help make child care work better for kids, providers and families. She also teaches classes for CCR. She has an MEd in educational psychology from the University of Virginia and previously taught in 3rd grade, middle and high school, as well as in both center- and home-based child care programs. Aricha especially likes supporting providers around challenging behaviors and using positive language with kids.
Parental Resilience (from Strengthening Families Protective Factors framework): "No one can eliminate stress from parenting, but a parent's capacity for resilience can affect how a parent deals with stress. Resilience is the ability to manage and bounce back from all types of challenges that emerge in every family's life. It means finding ways to solve problems, building and sustaining trusting relationships including relationships with your own child, and knowing how to seek help when necessary."
Parenting, even on the best days, is hard work. When life throws in challenges, it can be difficult to manage the stress and keep parenting well. When we are stressed, we are less likely to use positive discipline and be available to our kids when they need us. If stress and problems become overwhelming, it increases parents' risk of using overly harsh punishment, being inattentive, or even abusive or neglectful of children. This creates a toxic stress environment for children, which disrupts the structure of the developing brain, increasing the likelihood of poor outcomes for the child. Therefore, it is critical that parents are supported during stressful times so that their children are given quality early experiences.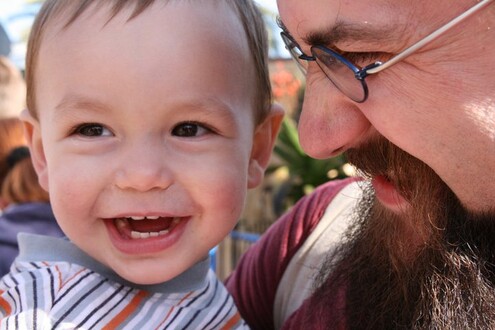 Strengthening Families is an approach to working with families that encourages the healthy development of children. The Strengthening Families protective factor, Parental Resilience, helps parents navigate challenges in their lives in order to reduce the likelihood of child abuse and neglect.
When we manage our stress, we can provide a safe, loving environment for our kids. Resilient parents—those who can "bounce back" from stress—have tools to manage the stress of everyday life. They recognize their own strong feelings like anger, frustration, sadness, or anxiety and handle them so they don't get in the way of parenting. People who feel self-confident and believe they can solve problems and achieve their goals are more likely to bounce back when they run into problems.
Like most parents, when I am feeling overwhelmed by challenges or worries, it can make parenting much harder. I might be more impatient with my kids, become frustrated more easily, or be distracted and checked out. When something stressful happens, I have to find a way to recover and parent well despite the stress. It is helpful to have a "toolbox" of strategies that I know will reduce my stress level. For me that means taking a walk, having coffee with a friend, or taking some "me" time to read, listen to music, or just relax. This recharging time makes it easier to clear my mind, stay positive, and focus on solving the problem causing me stress. I am more patient and present with my kids and I am able to help them learn how to handle their own problems better.
It's not always easy to bounce back from challenges, though, and it isn't always easy to stay positive when things go wrong. Sometimes parents need a little help. Help might come from a spouse or partner, a friend, or a therapist or counselor. Child care providers can also support parents in times of stress and are key contributors to the Strengthening Families framework. Providers can help parents feel part of the community, connect them with resources and information, and work with them to set goals and find solutions.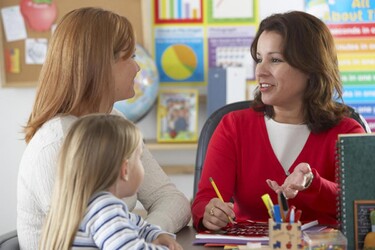 Here are some ways child care providers can support parents:
Get to know the parents. Greet parents by name when they arrive in the morning; ask questions about their interests, activities, or hobbies; find out what they like to do with their kids when they aren't in child care.
Encourage parents to participate in activities at the child care program such as an open house, art show, or spaghetti dinner, or by volunteering to read to children at drop-off or making playdough to share with the group.
Ask parents about their hopes for their children. When parents have concerns, work together to make a plan and set goals, then check-in regularly to see how things are going.
Make a special effort to connect with families who are new to the program or who might have a hard time connecting with other parents.
Offer information in a few different ways— newsletters, books, classes, discussion groups, blogs, photos, and handouts—to ensure parents receive it.
Offer a kind word and some encouragement; sometimes that's all parents need. Warm smiles, sincere compliments, and kind words can go a long way to help someone feel more positive and hopeful.
In our state, thanks to generous funding from the Race to the Top Early Learning Challenge Grant and the Child Development Division, Vermont Birth to Five (now Let's Grow Kids) helped to establish Strengthening Families projects in six regions: Northwestern Counseling and Support Services in St Albans, Kingdom Child Care Connection at Umbrella, Inc. in St Johnsbury, Suzy's Little Peanuts in Springfield, Sunrise Family Resource Center in Bennington, The Lamoille Family Center in Morrisville and here at Child Care Resource in Williston. Each project supports approximately ten family child care providers to train them in building protective factors, make a strong connection to community resources and help to connect families to needed supports and services.
Parents and child care providers make a good team when it comes to raising kids. By caring for the whole family, providers support adults through the many demands of parenting. They give parents the resources they need to bounce back from family stress and parenting challenges to give their children the best chance at succeeding in life.
Written
Jun 16, 2017
by Aricha Drury, early care consultant for Child Care Resource, Williston, VT