Small Town, Big Dreams: Pre-K in Orwell
Patrick Walters, principal of Orwell Village School
5 min

Patrick Walters has been in education for more than 25 years as a teacher and a principal, and is now serving in his fifth year as the principal at Orwell Village School in Orwell, VT.
Orwell, located in the beautiful southern Champlain Valley, has 1,250 residents, and its centerpiece, the Orwell Village School, has roughly 14 students in each of its grades. We are a small school in a small Vermont town. But we have grand aspirations and I am proud of the lengths to which this school, its staff, and this community have gone to ensure that our children are prepared to meet the challenges of today's world and succeed in life. This includes acknowledging the importance of and the need for quality early care and learning opportunities for our youngest children.
We give an assessment at the beginning of the school year for all children and, unfortunately, our kindergarten students have scored very poorly every year. Although we were a K–8 school, we knew we had to do what we could to help Orwell's youngest children form strong brain connections and build a solid foundation so they would be prepared for all future learning and development at our school and beyond.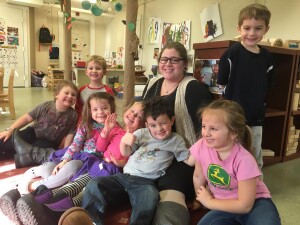 The minute I walked through the door five years ago, I kept hearing "we want a preschool, we need a preschool." This school year, those dreams finally became a reality as we converted a basement room into a bright, vibrant, appropriate space for 21 part- and full-time preschool kids. But Orwell is a small town and finding certified professional preschool teachers out here is a tall task. Thankfully, we were able to partner with the Mary Johnson Children's Center* in Middlebury, which, in my opinion, has the finest reputation in the state for preschool programming.
We rent the preschool space to Mary Johnson for free in exchange for their programming and the early care and learning experiences they're providing for Orwell children. Because we currently don't have any licensed preschool teachers, Mary Johnson sends Kristen Dunne, a licensed teacher and pre-K mentor, to our school each week (see below for Kristen's thoughts on the benefits of this pre-K partnership).
It's wonderful to be able to look out the window to see kids on the preschool playground or when they come up to take advantage of music, art and gym with our teachers, who have really extended themselves to the preschoolers. Some of our middle school kids do buddy reading with the preschool children, which they love. It's important to form that bridge from preschool to kindergarten and up; to instill a sense of community in all of our children.
It's important to understand that the preschool kids don't go home each night and say "we sat down and learned math today" or "we did our numbers and letters today." Everything is just embedded in what they do every day, whether it's through games, music, stories, creative movement, fun projects or challenges. They're having fun and they don't even realize that they're learning so much!
It's my hope that, with the help of our preschool partnership with Mary Johnson Children's Center, Orwell's children will come into kindergarten a little more socially and emotionally prepared, with a stronger foundation, ready to learn. Our community owes them this opportunity.
*Note: The Mary Johnson Children's Center–Orwell Village School partnership was funded in part by a grant from the Vermont Community Preschool Collaborative (VCPC).
Kristen Dunne, licensed teacher and pre-K mentor from Mary Johnson Children's Center, on benefits of pre-K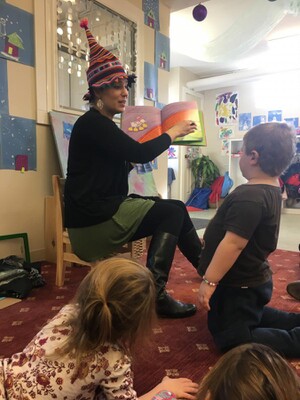 "As part of Act 166, each center-based program needs a licensed teacher for at least 10 hours a week. Right now, I'm meeting that need for Orwell two days a week. During this time, I model things for the teachers, like circle time or projects. I also play with the kids and get to know their interests. We've been working on an emergent curriculum based on the children's interests. I'm here to help the teachers understand it, to be excited about it, and for the children to be excited, too, because learning doesn't happen unless you're excited about it.
The preschoolers get to interact with older students throughout the year, whether through the leadership program or different projects. They also get to see the kindergarten teacher they'll have when they move up. He's like a rock star when he comes down to say hello.
I think it's wonderful that there's this universal pre-K option in the state because children really benefit from a peer community that both challenges and supports their learning in meaningful, exciting, and thought provoking ways. They're able to build relationships, make social-emotional connections with others, express their feelings and work out problems."
Written
Mar 2, 2017
by Patrick Walters, principal of Orwell Village School