Creating Transformative Change
Aly Richards, CEO of Let's Grow Kids and a Save the Children Changemaker for Children.
4 min
Local leadership. Bravery. Innovation. Doggedness. These are all key ingredients for creating transformative change.
And transformative change is precisely what's happening right here in Burlington, Vermont.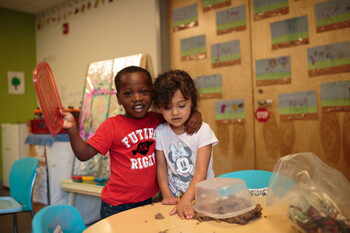 Since 2015, Let's Grow Kids has been partnering with the City of Burlington—a city where 300 infants and toddlers live in poverty—to develop and pilot an initiative to address the city's severe shortage of high-quality and affordable early care and learning opportunities available for children ages birth to three.
Burlington Mayor Miro Weinberger, the son of a kindergarten teacher and husband of an early educator, was inspired to launch the Burlington Early Learning Initiative (ELI) after learning about groundbreaking early childhood initiatives like the Harlem Children's Zone. In his own words, "There's little more important in the long-term trajectory that we have as individuals than the care and nurturing that we get in the earliest stages of life."
I couldn't agree more. That's why Let's Grow Kids honed in on high-quality, affordable child care as the single crux issue that can have the biggest impact on our future. We need to change the way we are doing business in Vermont when it comes to early childhood.
The Burlington ELI has become a community-based, locally driven movement led by a brave and undaunted policymaker, and made up of an entire community of early educators, local leaders and decision-makers. Together, they have created a policy that directs sustainable municipal funds to support low-income families and early childhood education programs.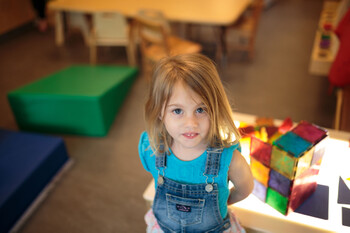 Through grants and customized support for child care programs, this initiative has created 85 new high-quality child care slots (70 for infants and toddlers). In August, a scholarship program for low-income families began, helping 15 children ages birth to three access high-quality child care for the first time.
The mayor talked recently about a mom who had to leave her job because she couldn't afford child care. The ELI scholarship made it possible for this mom to go back to work because her child is in a high-quality child care program.
This initiative is not only exciting because of the real impact it's having on children and families in Burlington. It's also giving us a model that can be leveraged in other communities throughout Vermont and across the country.
The lessons we learn in Burlington will help us build the most effective statewide policy solutions and increase public investments in child care that we know are necessary to build a better Vermont.
The Let's Grow Kids team and I are energized by the true community effort of the Burlington ELI—it's success stories like this one that prove change is possible. This work isn't easy, but it's within our reach. So that's why I'm grateful to community members and advocates like you for sticking with us to make child care work for kids and families across Vermont. We all benefit when we get this right.
Last year, I had the privilege of hosting best-selling author Paul Tough, who wrote three books inspired by the Harlem Children's Zone, which in turn helped inspire Mayor Weinberger to make early childhood a priority for his Administration. Paul came to Vermont to talk with us about his research on what children need to succeed, and how supporting children and families in the early years can positively impact communities for generations to come.
When we achieve our mission of affordable access to high-quality child care for all Vermont families who need it, I'll invite Paul back to Vermont so he can start working on his next book:
The story of how a small, rural state became a national leader on how to ensure every child gets the strongest start possible.
Written
Sep 12, 2019
by Aly Richards, CEO of Let's Grow Kids and a Save the Children Changemaker for Children.